One often overlooked facet of a house is the gutters. Many people either don't think that they need to take care of their house's gutters (at least more than they normally should), and some don't even have an idea that they should.
This is probably why the idea of gutter guards sounds foreign or even unnecessary. In truth, taking care of your house's gutters has many benefits.
For one, installing proper and well-fitting gutter guards helps cut back maintenance time in the future. While gutter guards don't necessarily act as the end all and be all for gutter cleaning, it does help to reduce how often it needs to be cleaned and the effort it takes to clean them.
Thus, it is good to always bear in mind that no matter what is installed, it will still be absolutely necessary to clean them out once in a while.
Apart from that though, gutter guards can help protect houses far more than people know. If enough debris – no matter what it may be – ends up clogging the gutters, it can send water flowing over the side of the gutters.
The danger here is that this water can end up damaging the foundation plantings and the foundation of the house as well.
These illustrate well how necessary, useful, and effective gutter guards are. There are many available in the market that are ready for you to install and use. However, the question now is whether all gutter guards are created equally.
There is no more need to wonder anymore, as we have insights to some of the best and most effective gutter guards that you can purchase from the market.
| | | |
| --- | --- | --- |
| 1 | 2 | 3 |
| Gutterglove | A-M Gutter Guard | Amerimax |
| | | |
The 3 Best and Most Effective Gutter Guards in 2023
Gutterglove's Raptor Stainless Steel Micro-Mesh Gutter Cover
First on the list is the Raptor stainless steel micro-mesh gutter cover by Gutterglove. This specific model is on top of the list of many homeowners and reviewers alike.
For starters, the micro-mesh style of gutter guard is one of many that gutter guards come in. These mesh screens are attached to a frame. The frame is then attached to the rain gutter.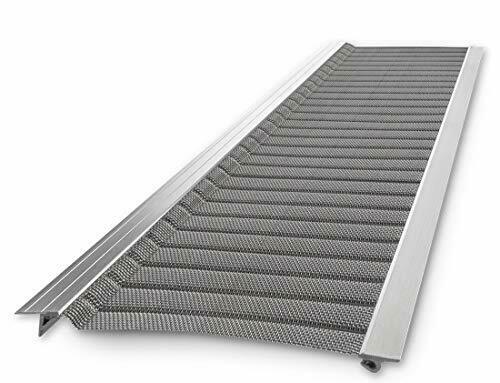 Gutter guards like these consist of very fine micro-mesh screens. They are so fine in fact that it keeps even the smallest debris from entering. This even includes dirt. Despite that, it can still allow water to pass through.
Many people say that micro-mesh screens may be the best type of gutter guards available.
Gutterglove's Raptor is indeed one of the best micro-mesh gutter guards. As stated, it lets water in but keeps small debris out. These include things like dirt, pine needles, and seeds.
Apart from safeguarding the gutters though, Gutterglove has ensured the durability of the product. The Raptor's micro-mesh is made of stainless steel. Thus, homeowners can rest assured that this gutter guard will not rust, or bend and warp to the forces of nature.
The Raptor is an easy and secure fit for standard 5" gutters. When bought, it comes in four separate 4 foot strips. It is very easy to install, making it an ideal gutter guard for DIY projects at home. Installing it is as simple as slipping it under the low row of shingles.
The outer edge can also be attached to the gutter via several screws that are included in the packaging.
Other great add-on values that Gutterglove offers is the 25-year warranty that comes when buying this product. This shows that this gutter guard will be useful for many years.
If you are in the market for the best and most effective gutter guards, Gutterglove's Raptor Stainless Steel Micro-Mesh Gutter Cover is definitely part of that list.
A-M Aluminum Gutter Guard
The next gutter guard we'll be taking a look at is A-M's Aluminum Gutter Guard. As opposed to Gutterglove's micro-mesh style, A-M's gutter guard utilizes an aluminum screen style.
While screen gutter guards look close to micro-mesh, they can be made up of aluminum, steel, plastic, and other materials.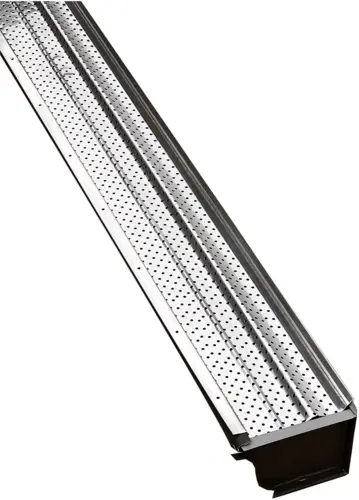 The biggest difference is the holes in the screen. With micro-mesh, the holes are very small. With screens, the holes are a little bigger. The gutter guard can still block twigs, animals, and many types of debris while also letting water through. However, smaller things may still get in. The difference in hole size largely varies across gutter guard models.
The biggest benefit though of the large holes that screen gutter guards have is that they are much easier to clean. These gutter guards can be cleaned with a high powered hose.
A-M's Aluminum Gutter Guard is one of the best choices if you are keen on concealing your gutter guards. These 5" gutter guards are very lightweight and can fit really well within the gutter. Once in, people who pass by won't even know that a gutter guard is installed.
Amerimax Home Products Lock-In Gutter Guard
Last on our list is Amerimax's Home Products Lock-In Gutter. This is another micro-mesh style gutter guard that is three feet long. Buyers have options to get anywhere from a one-pack to a 25-pack. There are also choices for the width at four, five, or six inches wide.
The gutter guard is rustproof with the warranty coming in at 10 years.
So what is special about Amerimax's Gutter Guard? For people who want to instantly and easily install gutter guards, this one is your choice. It is one of the absolute easiest to install. Similarly to Gutterglove's gutter guard, it slips right under the first row of shingles and snaps on at the edge of the gutter.
Anyone, even those without much experience installing gutter guards, will have an easy time installing Amerimax's Home Products Lock-In Gutter Guard. If done correctly, no extra tools need to be used for installation.
Guard Your House
The gutters of a house are one thing that many people neglect or don't know the significance of. Taking care of those gutters is tantamount to protecting the very house that you live in.
Installing the right guards will help keep debris out, minimize maintenance time and effort, and protect the very foundations of your home.
Gutter guards are a simple yet effective way to ensure that all of these take place.
Last update on 2023-05-02 / Affiliate links / Images from Amazon Product Advertising API
Hi, I'm Jim. I was a roofing constructor for 20 years, before deciding to start myrooff.com and gather the best content about roofing. I love woodworking and construction and it was only natural for me to start this passion project of mine. Thank you for visitng.