Whether at a construction site or doing DIY home improvements, a metal cutting circular saw is a vital piece of equipment.
Many people may have seen a metal cutting circular saw and wondered whether or not there would be notable differences between this type and the standard circular saw.
This is a valid concern, as standard circular saws can be fitted correctly to cut metal. However, the question now is if it should be done.
The fact of the matter is that manufacturers have developed the metal cutting circular saw in order to improve upon the standard circular saw.
For starters, the metal cutting saw have lower RPMs. This lower speed allows it to cut through metal in a more efficient manner. Apart from that, the specialized models already take into consideration the various things people will encounter when cutting metal. For instance, many models are equipped with closed housing debris collectors.
If more control is something that is appealing, then smaller blades can be utilized to further lessen the speed or RPM.
With that said, let's get down to the brass tax and see the best metal cutting circular saws that will get you your money's worth.
Multi-cutter versatile saw
66-tooth, Carbide-tipped blade
8 times faster than portable saw
Multi-cutter versatile saw
66-tooth, Carbide-tipped blade
8 times faster than portable saw
Buyer's Choice Circular Saw
Buyer's Choice Circular Saw
Tool-less blade cover removal
Tool-less blade cover removal
3 Best Metal Cutting Circular Saws in 2023
Evolution Power Tools RAGE4
First on our list is the  Evolution Power Tools RAGE4. When initially looking at this multipurpose cutting saw, its physical appearance is nothing to jump out of a chair about. With that said though, as we all know, looks can be deceiving and this is no more true with this tool.
Within its small frame and behind its relatively affordable price tag, the Evolution Power Tools Rage4 contains a surprising power that can cater to all your metal cutting needs.
The fact that is small also means it is lightweight, handy, and easy to bring around. It is a great choice for you if you need to bring it from the house to the work site and vice versa, often. A 10 amp motor is installed in it, with RPMs reaching 3,500 .
In terms of cutting, its 20 tooth blade makes it possible to cut through most materials. The 7 and a half inches of the blade allow it to cut through wood, rebar, plastic, nails, screws, and pipes just to name a few.
Another great thing about this saw is that it can cut through most material without the need to change the blades.
It also is handled with an ergonomic grip that makes it easy to use without the pain that these types of tools can induce on the user's wrists.
While the Evolution Power Tools RAGE4 doesn't have many of the advanced features or bells and whistles that other more expensive models have, it has what it takes to get multiple jobs done. With a comparatively lower price than other models in the market, it is a great choice of tool that can be well-suited for a variety of jobs and tasks.
It is also a great model whether in the hands of veterans or beginners alike.
Makita 4131 Metal Circular Saw
Makita is a dependable manufacturer whose name is synonymous with quality tools that have long staying power. It is no surprise then Makita's 4131 Metal Circular Saw is one of the best in the market today.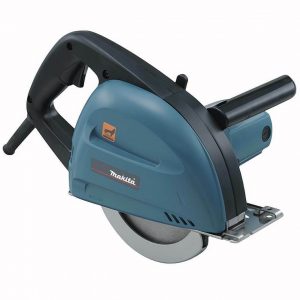 Coming in at just upwards of 11 pounds, it is one of the lightest metal circular saws in the market. This factor, along in its compact packaging, lends to ease of use and easy transportation.
Despite the small size though, it still produces a significant amount of power that can cut through most anything that you'll need with similar tools.
The motor generates 13 amps of power, translating to a no-load speed of 3,500 RPMs. This means that when you place it side by side with other larger models in the market, the Makita 4131 can absolutely hang, and more importantly, deliver.
One of the great features about this metal circular saw is the CERMET tipped blade. For starters, this blade makes slicing through a quarter inch of steel. This allows for projects to finish much faster.
Apart from that though, the special blade produces little to no sparks as metal is being cut. Heat also doesn't build up when using the saw. Thus, it can be used continuously for longer, allowing workers to keep on with their projects. The result is nicely cut materials, and a nicely cut deadline.
It is easy to see that Makita has thought long and hard about the development of this product and how people interact with it. If all that weren't enough, it also comes built in with a chip collector that makes cleaning up as easy as cutting through those sheets of metal.
DEWALT DW872 14-Inch
For the best overall pick, we have the DEWALT DW872 14-Inch metal cutting circular saw. Just like Makita, DEWALT is another organization that has been creating quality tools for almost a hundred years. This gives you an idea of how the DW872 will be. It is a circular saw that has power, versatility, durability, and a slew of other useful features.
Sale
DEWALT Metal Cutting Saw, 14-Inch Steel Blade (DW872)
Multi-Cutter Chop Saw offers versatility by cutting a wide variety of materials including ferrous and non-ferrous metals
Utilizing a carbide-tipped blade of the metal chop saw allows the depth-of-cut to remain constant throughout blade life
The metal cutting saw cuts 4-times faster than chop saws and 8-times faster than portable band saws in 2-inch x 2-inch x 1/4-inch angle iron
14-inch, 66-tooth, carbide-tipped blade delivers a lower cost-per-cut compared to cutting with abrasive wheels
Specially designed carbide teeth deliver fast, precise, and virtually burr-free cuts reducing the need for preparation grinding and finished cuts that are cool to the touch
Within our list, this model comes with the strongest motor at 15 amps. This allows it to be used for some of the toughest materials and tasks that you need to get through, all easily.
The blades within the saw are designed with 70 carbide tips. This allows it to cut sheets of metal eight times faster than other saws. Even with the speed of the cutting, it also allows for precision and control with the cuts.
DEWALT's DW872 14-Inch is a power and high quality tool that can get the job done for years to come.
Cut Correct
If you have a job to do, it is important to have the right tools at hand. Having the right tools will not only save you time, but ensure quality work at an easier pace. The metal cutting circular saws in this list are the absolute cream of the crop and will be an invaluable tool for many jobs.
Apart from using the right tool, be sure to always have safety in mind. These tools are powerful and very useful, but the right tool in the wrong hand could end up cutting the job well short before the finish.
Choose the best metal cutting circular saw for what you need done and cut correct.
Last update on 2023-07-04 / Affiliate links / Images from Amazon Product Advertising API
Hi, I'm Jim. I was a roofing constructor for 20 years, before deciding to start myrooff.com and gather the best content about roofing. I love woodworking and construction and it was only natural for me to start this passion project of mine. Thank you for visitng.