If you look up, chances are you'll see a roof over your head. These roofs are actually an integral part of human life. They provide defense against rain, snow, sleet, wind, heat, and so much more.
In reality, the roof is an integral part of a home. It allows for people to live comfortably. This comfort allows for relaxation and a secure place to progress through life positively.
Inevitably, time and nature's elements wear down the roofs of even the sturdiest homes. When that happens, it is time for re-roofing. One of the best tools that you can have in your arsenal for this is the roofing nailer.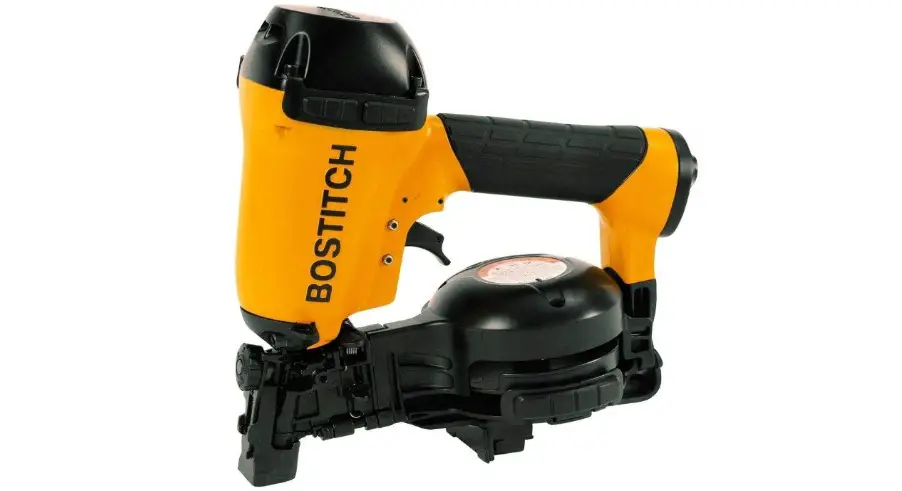 Like many other things, there are a variety of roofing nailer units in the market today. Fortunately, we're here to help by talking about the best roofing nailers that will help you with all your roofing needs.
What is a Roofing Nailer?
If it is your first time hearing about the roofing nailer, that's quite alright. We're here to fill in those gaps for you and get you everything you need to fix your roof.
A roofing nailer is a sort of nail gun that is used for roofing or re-roofing. This tool is made to be used on asphalt, fiberglass, and insulation boards.
The big difference between a nail gun and a roofing nailer is the compatible ammunition, if you will. The roofing nailer can drive coil nails which are a set of nails connected via steel wires. If you are having a hard time imagining it, think of the machine gun bullets you see in movies that are connected together.
The fact that the roofing nailer utilizes coil nails offers a big benefit to the person doing the roofing work. The coil nails mean that people can do more work on the roof without going down and reloading the roofing nailer.
This reduces work time by 75% as with other nail guns where you need to climb down the ladder to reload.
Moreover, since the magazine of the roofing nailer is ideal for coil nails, it has a more ergonomic design. This means that you'll have an easier time gripping and bringing around the roofing nailer. This is important as you won't need to awkwardly move around the roof while making the repairs and fear falling off.
With that out of the way, let's get to what the best roofing nailers are in the market today.
The Best Roofing Nailers
First on the list is one of the absolute best roofing nailers that you can get. It is the Metabo HPT Roofing Nailer. This roofing nailer is part of the Metabo Hitachi power tools which is one of the oldest and most dependable models out there.
Sale
This model supports ⅞ inch to 1 ¾ inch nail lengths, with a magazine that can fit 120 nails. It also utilizes an air compressor, with an ideal PSI of 70 to 120. It also comes with a five year warranty.
| | |
| --- | --- |
| PROS | CONS |
| A powerful model that can accomplish all your roofing needs. | The best of anything always comes with a price. Unfortunately, this model is a bit pricey. |
| Easily brought around due to its light nature. | While lightweight, the design of the unit is a bit large which could be unwieldy. |
| The five year warranty. | |
Another great roofing nailer choice in the market today is the Bostitch RN46-1 Roofing Nailer. It can use both 3/4-inch to 1-3/4-inch coil nails. It even sports a lockout mechanism that prevents any misfiring from happening.
BOSTITCH Coil Roofing Nailer, 1-3/4-Inch to 1-3/4-Inch (RN46)
The sliding nail gun has lightweight aluminum housing for job site durability
Zero nail lockout feature of the siding nailer eliminates dry firing and indicates when to reload the magazine
Nosepiece of the coil siding nailer features carbide inserts for long-life performance
Aggressive wear guards and skid pads protect the tool from damage on abrasive surfaces
Quick-set adjustable depth guide sets nails to desire depths quickly and conveniently
This unit also utilizes an air compressor, with PSI similar to the Metabo HPT. For shingles, it has a shingle guide installed which allows you to space the shingles easily. The warranty is seven years.
| | |
| --- | --- |
| PROS | CONS |
| An all-around great roofing nailer that can get the job done without the price tag. | The nail cartridge has a tendency to come loose from time to time. |
| Versatile tool that allows for various nail sizes and drive depths. | People may want a bigger magazine size or other features that may cost more. |
| Good safety features. | |
| The seven year warranty. | |
DeWALT's roofing nailer roofing nailer is a nice fast-paced tool. At 120 PSI, you can drive a maximum of 10 nails.The simplicity of the tool is one of the big attractive features of this unit. Even with little to no experience, DeWALT's DW45RN Pneumatic Coil Nailer will feel good and easy to use in your hands.
This ease of use is integrated well in many facets of this unit. For instance, this unit weighs from 4.5 to a little more than 5 pounds. This low weight makes it that you will have more accuracy when you drive the nails in.
| | |
| --- | --- |
| PROS | CONS |
| Lightweight and very easy to use. Comfortable in your hands. | Requires a power cord to operate. The cord may be a hindrance and get in the way. |
| High capacity magazine with a quick fire rate. | Fast fire rate may cause some double shots from time to time. |
| Tool longevity allowing you to use it for years. | |
For those who want to do roofing work on a budget, look no further than 3PLUS' HCN45SP Coil Roofing Nailer.
3PLUS HCN45SP 11 Gauge 15 Degree 3/4" to 1-3/4" Coil Roofing Nailer
Drives 3/4-Inch to 1-3/4-Inch full head coil roofing nails;
Adjustable shingle guide for quick shingle spacing;
Integrated side skid pads prevent the tool from sliding off roof when placed on its side;
High-capacity magazine holds up to 120 coil nails at a time; Tool free adjustable depth of drive for consistent and controllable nail fit; 360° tool-free air exhaust.
Interchangeable trigger for single shot or bumper fire function.
This is a newer brand of roofing nailer. However, that doesn't take away from its dependability. With that said though, the user ratings for this unit may be high due to the lesser costs required.
For nails, it can use 11 inch gauge nails with lengths from ¾ to 1 ¾ inch. The magazine capacity goes up to 120 nails.
| | |
| --- | --- |
| PROS | CONS |
| Offers a variety of features that will get the job done at an affordable price. | You get what you pay for. Build quality and functions are inconsistent. |
| Comes with an adjustable exhaust that allows you to direct air in any and all directions. | Requires high-pressure and regular oiling before use. |
Another great option for people on a budget is Wen's Pneumatic Coil Nailer. Despite the price, you get more value for what little you'll be paying for.
WEN 61783 3/4-Inch to 1-3/4-Inch Pneumatic Coil Roofing Nailer
Fire 11-gauge nails (.12 inches) anywhere from 3/4 to 1-3/4 of an inch
Adjustable shingle guide and depth control makes for easy shingle spacing during jobs
Holds up to 120 nails at a time with a quick release for easily fixing jams
Uses pneumatic operating pressure anywhere from 70 to 120 PSI
Includes a blow mold carrying case, oil, and hex wrenches
This unit fires 11 gauge nails, with lengths from ¾ to 1 ¾ inch. The magazine capacity comes in at 120 nails. Apart from that, it also comes with a shingle guide for simple spacing.
It also comes with oil, hex wrenches, and a blow mold carrying case.
| | |
| --- | --- |
| PROS | CONS |
| With all the features, versatility, and the price of the tool, it offers the most bang for for your buck. | Best for personal projects. May not hold up for professional roofing projects. |
| Good ergonomics for a comfortable grip. | Short warranty period. |
Ready for Roofing
We hope that this guide has helped get you ready for roofing. Take a look at the best roofing nailers above and pick out the model that will help you accomplish all your roofing needs.
Remember, a roof is an important part of your home. When damages appear, take care of your roof the way it takes care of you. Have a safe and productive time roofing!
Last update on 2021-09-10 / Affiliate links / Images from Amazon Product Advertising API