How to reshingle a roof? Reshingling a roof can be an easy task as long as you have the right guide that can help you. Following these steps religiously can certainly aid you in accomplishing s this task effectively.
This article will give you the right insights and tips on how you can successfully reshingle your roofing system.
Reshingling a roof is definitely one of the common types of roofing projects. Shingles are definitely an ideal way to make sure that your house will look good.
Proper roof shingling is certainly the best thing to do guarantee that your house will definitely look good.  How to reshingle a roof tips are all you need to start this project. You can do it yourself, but it would still be best if you have a family member or a friend who can help you do this job
Before you start reshingling the roof, it is  imperative that you  plan the project first like choosing the right materials for reshingling the roof.
This is imperative because when you are fully prepared then you can make this project easy. Wood or other types of roofing materials will surely create a new look to your house. If you want to install asphalt shingles, then it can be a unique process.
Reshingling is important because you don't have to replace a large part of your roof, especially if other shingles are still useful. This is a project that you have to do as roofing materials are prone to wear and tear, as well as different types of weather conditions.
Remove the Old Shingles

Now that you are  ready to do the project to replace your roof shingles, the first thing to do is to effectively remove the old ones. Removing old shingles must be done with the use of the right equipment and technique.
You can use a flat garden shovel, pitchfork or a shingle scraper. When removing the old shingles, be sure that the nails are included as you remove them.
Remove the Fragments
Once the old shingles are  removed, the next thing to do is to clear the area by removing the leftover debris. Remember that you need a clean slate to do the project, so you must be able to remove all of the shingles, including the nails.
You also must secure any  loose boards, as well as nails that might have worked up or are sticking up.
Cover large holes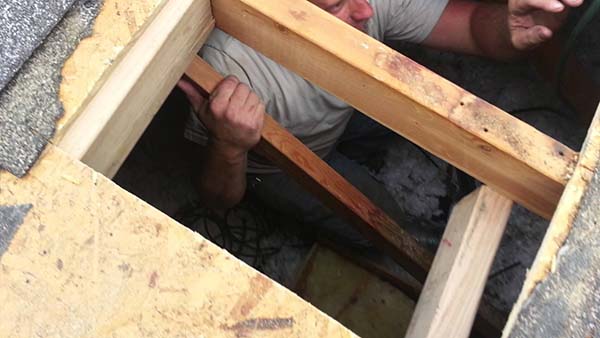 The next step when reshingling the roof is to cover any large holes. It would be excellent if you could employ tin snips when cutting  aluminum flashing. You can use a hammer for tacking the nail aluminum into the hole. Then, leave some uncovered small holes for you to start the reshingling project.
Install the roofing felt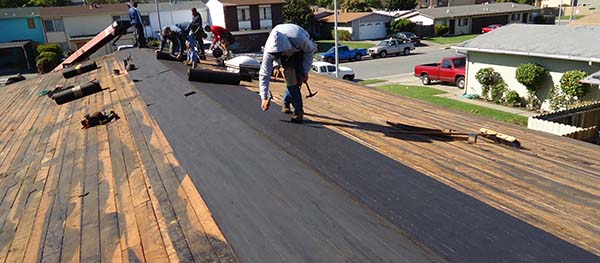 After covering the holes, you can now lay the strips of felt within the roof. It should be placed on the bottom part of the roof.
You can also use a hammer or staple gun to staple the felt into the roof. Place the staples at about six to eight inches apart from your felt. This is imperative because you can use this to give reinforcement to your new roof shingles.
Install New Shingles
Once you have successfully installed the roofing felt,  it is now  time for you to install the new shingles. Start by nailing a horizontal row of the shingles over the drip edge. You can hammer your nail at the top portion of every shingle.
It should  jut out from one fourth to three eight or seven to one centimeters over the drip edge. Go on with nailing the shingles in horizontals rows and each row must overlap by one fourth inches. 
Doing this will make sure that the roof shingles will look good and will be attractive after the project is done.
Secure the Shingle Ridge Cap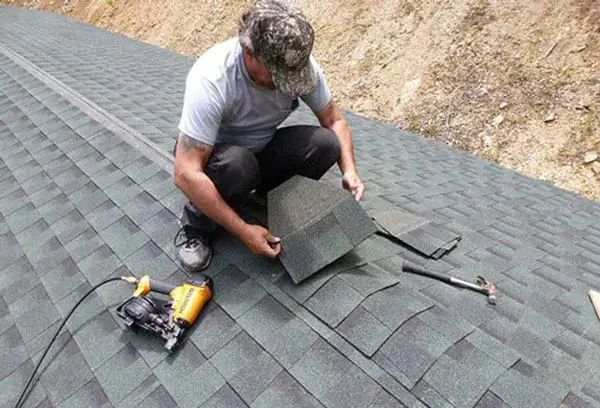 Once you have installed the roof shingles, the last but not the least thing to do is to secure the shingles by the use of ridge cap shingles. You can use the cap to put in reinforcements for your roof shingles to look perfect.
You will need to make sure that they are properly installed. After this you can now remove the old shingles, as well as nails, and  dispose of them and  then you will have a beautiful home.
The Cost of Reshingling
The cost of reshigling the roof actually depends on numerous factors or elements, but the two most obvious ones are the kind of shingle material that you will select and of course the actual measurement of your roof.
Each type and kind of shingling material may vary according to the types and materials. Keep in mind that all kinds of roofing materials are priced or sold for every square. The roofing design also plays a great role in this endeavor.
So, one needs to select the right one, and that depends on your budget, as well as the needs of your home.
Kinds of Shingles
When you are selecting shingles, be sure to consider the ones that are applicable according to your unique needs or requirements.  As there are several roof reshingling materials available out there, one needs to be educated first.
Even if asphalt shingles are  a very common kind of shingle material that is being used, you can also select from tile slate, wood, fiberglass and others. Since the cost is per square meters, it may have a price from $160- 341 dollars, which will again depend on the size of your house.
Before you start the job, it would be beneficial if you would do your homework first, as this is the only effective way you can get the right information you need.
Do It Yourself or Hire Professionals
Even though you can do the reshingle job by yourself or with the help of your family member or a friend, it would still be best if you can hire someone who can help you do the job. Hiring someone means you are getting the best help from a professional who knows  how to install the shingles effectively.
It would be beneficial if you  get  professional help because you can be assured that the project can be done in no time. Sometimes hiring a professional is a great help instead of doing the job yourself because you might not be able to complete the job because you are not fully skilled or have the knowledge on how to do it.
In conclusion, the right planning and budget preparation is definitely all you have to do to make sure that you can succeed with this project.  It can be an easy task.
Last update on 2023-07-04 / Affiliate links / Images from Amazon Product Advertising API
Hi, I'm Jim. I was a roofing constructor for 20 years, before deciding to start myrooff.com and gather the best content about roofing. I love woodworking and construction and it was only natural for me to start this passion project of mine. Thank you for visitng.