Sooner or later, many homeowners decide to replace their roof with a completely new one. Sometimes this is for practical purposes, such as it's required after a major storm. Other times, though, it is for purely aesthetic reasons.
The choice of a new roof color can significantly change the way you look at your home, as well as the way that passersby and potential homebuyers will view your house if you ever decide to sell it. So what is the best roof color for your house?
Climate and geography
There are a number of factors that go into defining what's "best." One of your first priorities, of course, should be to base the color choice on your geographic location and local climate conditions.
If you live in a very warm or sunny climate, you will likely want to select a light colored or white roof, because this will help to reflect the heat and keep your house cooler when the sun is out.
However, a white roof would be very impractical for colder climates, because your goal here is to retain heat. For this purpose, a dark-colored roof makes more sense than a light roof for your house.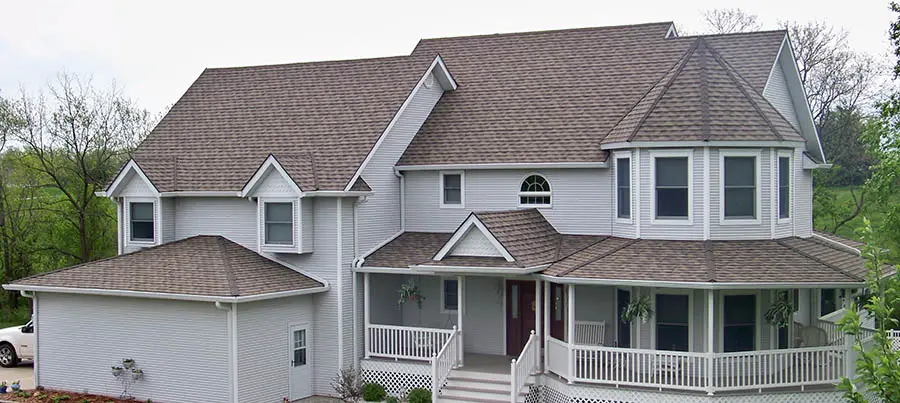 Exterior aesthetics
Next you will need to take into account the way your house will look from the curb. In other words, what will passersby see when they are going for a walk in the neighborhood? And what will potential buyers see when they arrive at your home for the first time?
In general, light-colored roofs cause homes to look bigger, and they make roofs look taller. In contrast, dark-colored roofs cause homes to look physically smaller.
Dark tones – such as brown and dark gray – will also minimize the height differences between the lowest and highest parts of your roof.
All of this has to do with the how the human eye perceives color. Thus, even though the total footprints of two homes are exactly identical, visitors, guests and buyers will tend to view your home as being bigger based on your roof.
In addition to this perception issue, you will need to take into consideration the overall exterior facade of your home. Make a mental note of elements like chimneys, brick exteriors, painted trim and exterior siding.
All of these features will need a complementary roof color, or else the outside of your house will just look too busy. At the same time, you will want to compare various colors during periods of both direct sunlight and shadow.
After all, some shingle colors may appear different in the morning than at night.
Generally speaking, if you have lots of decorative features on your home, you should opt for a low-contrast roof. This will keep the eye of the viewer on the important architectural details and flourishes.
However, if you have a relatively simple exterior (say, all brick), then you have much greater freedom. The greater the contrast, the more remarkable and high profile the silhouette of your home will become.
And the more the color of your roof matches the exterior of your home, the more your home will blend in to the surrounding neighborhood.
Popular color combinations
While choosing a roof color might already sound more complicated than you first imagined, the good news is that there are several general rules about the types of color combinations that work well together, depending on the color of your home:
Dark gray and black roofs – Best for homes that are gray, yellow or blue.
Brown, gray and black roofs – Best for houses that are yellow, green or red.
Brown and earth-tone roofs – Best for green, brown, cream and tan exteriors.
The important point to keep in mind here is contrast. For example, you could put a black roof on a gray home, but that might not create the right amount of contrast.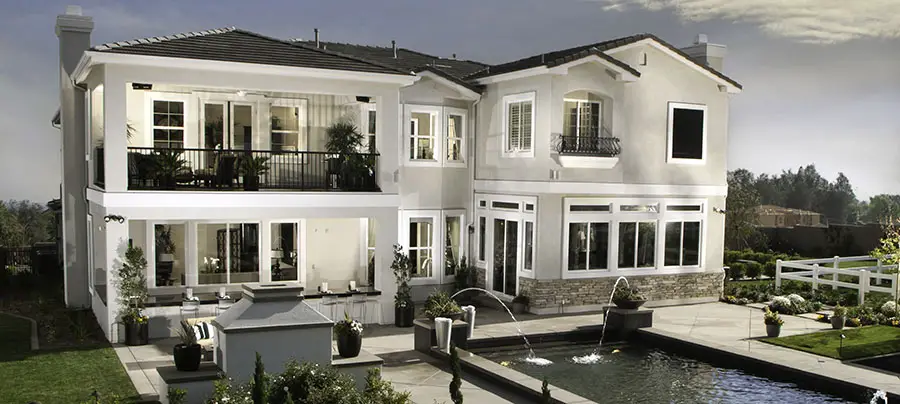 Materials
You have a wide range of materials that you can use for your roof beyond just asphalt shingles or architectural shingles. For example, all of the following can be used to change the exterior appearance of your roof:
Cedar, redwood and pine (tiles)
Clay, concrete and slate (tiles)
Aluminum and steel (sheets or shingles)
Copper
If you are planning on using one of these materials, you will also need to take into account how well they complement certain popular architectural styles.
Popular style combinations
While asphalt shingles can be used on just about any type of home imaginable, your options are more limited if you choose to go with less traditional roof exteriors. With that in mind, here are some popular style pairings:
Cedar, redwood and pine – Best for homes with natural wood tones and textures.
Clay, concrete and slate – Best for homes in the Colonial, Mediterranean, European and Mission styles.
Aluminum and steel – Best for cottage-style homes and contemporary-style homes.
Copper – Best for historical and European-inspired homes.
A case study in color
So, for the sake of example, let's consider that you are a homeowner who is planning to add a new roof to a cream-colored, Mediterranean-style villa in the middle of sun-baked California.
You can see immediately that since you are living in a warm climate, a lighter color roof is optimal. In other words, you shouldn't put dark shingles on your villa!
In order to match the Mediterranean style of the exterior, your preferred option would be clay or slate tiles rather than asphalt shingles.
And, finally, since the color of your home is cream, it's advisable to opt for an earth-tone color roof. (If your Mediterranean-style home were located on some exotic Greek isle, then a home and roof of the same color might actually look OK.)




Final takeaways
You have much more flexibility when it comes to the appearance of your roof than you might think. Just because you are putting shingles on your roof doesn't mean that they have to be the same color as all the other houses in your neighborhood.
By following a few basic ground rules that cover factors like climate and the overall architectural style of your neighborhood and then applying a few ideas about color and contrast, it is possible to find the perfect color for your roof.
Hi, I'm Jim. I was a roofing constructor for 20 years, before deciding to start myrooff.com and gather the best content about roofing. I love woodworking and construction and it was only natural for me to start this passion project of mine. Thank you for visitng.