When one considers repairing or replacing their roof, they often think about heat absorbing, tar coated asphalt shingles that disintegrate and break quite easily.
This results in further damage and leaks in your house. Luckily, there is an alternative available to you. If you do not know about metal roofing, you should definitely consider it for replacing your old and damaged roof.
You might be skeptical about the benefits that a metal roof have on offer. The first thing that would likely come to mind is that this kind of roof is unsightly and probably produces a lot of noise.
However, these modern roof panels are designed be as noiseless as possible. Also, you can use any design possible. Apart from that, this design has a lot of other benefits to offer as well.
These roofs last longer
If a metal roof is installed properly, it lasts a very long time. These roofs seal out water, survive wind and shed snow for many years without needing any kind of repair.
With a metal roof, your roof becomes resistant to fire, mildew and rot. As compared to the traditional roofing materials, metal can survive even the harshest conditions for a much longer period.
Different manufacturers offer varying warranty periods, usually from 20 to 50 years and an average warranty of 30 years.
Lightweight
Metal roofing is extremely lightweight. Most varieties have an approximate weight of just 50-150 pounds per squares .
When compared to that, a normal tile weighs 750 pounds per square while concrete tile weighs 900 pounds per square. This clearly indicates that metal roofs are significantly lighter than other kinds.
Whether it is black or white metal, these roofs can even be applied over an existing roof. There is no need to tear off the existing material or build any extra structural support.
As a result, these roofs are very easy and quick to install. This can be particularly beneficial if you are in urgent need of a roof replacement.
If you use metal as the material, you can shorten the entire process by at least a day or two.
Heat conduction
The primary disadvantage of some roofing materials is that they absorb a lot of warmth. This increases the temperature of your home, making it difficult to live in. This means that you have to use air conditioning to cool down your house.
Metals, on other hand, reflect the radiant heat from sun, which minimizes the overall temperature. These roofs keep the building cooler even in hot weather, and they do not use any electricity during the process.
Furthermore, even if metals get very hot to the touch, they generally cool down much faster than traditional tiles or shingles.
If black is your preferred roof color, you might think that a black metal roof would absorb more radiant heat since it is dark.
However, that is not the case when it comes to modern roofs. Thanks to modern technology, there are several dark colored metal roofs that have highly reflective pigment.
So, even if the color is black it still offers good reflection. You no longer have to be limited to just a white or silver roof to have an energy efficient roof.

Fire resistant and maximum shedding
Metal roofs are the most fire resistant kind of roof, mainly because they are non-combustible. So, your house is safe from fire if you use such kind of roofing .
If you use combustible materials like wood shingles, the chances of your roof catching on fire are very high. If you live in a location where the roof might be prone to fire, it is recommended that you use metal roofing.
Another great feature of metal roofing is that it is almost impervious to snow and rain. These roofs are designed to interlock and the surface is slippery and hard, which allows the maximum shedding of snow and rain.
If the house is in a location where it rains or snows quite often, these roof panels serve as the perfect option.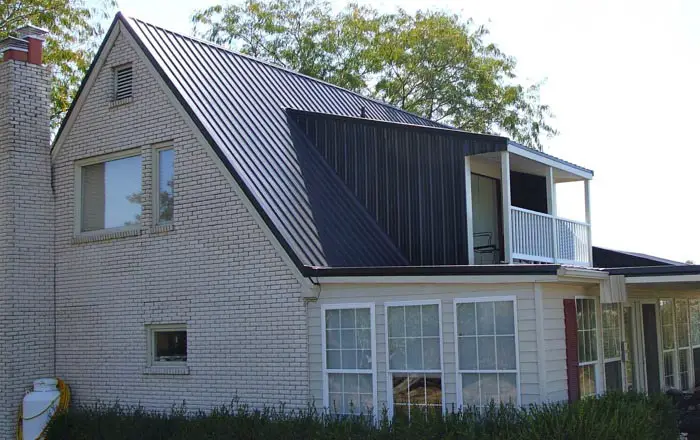 Using a black metal roof
Nowadays, many options are available when it comes to choosing the color of your metal roof.
From a simple white color to a combination of colors, the options available make it difficult to choose one. If you're looking into colors, you should consider black as the color of your roof. Being a neutral color, it attracts a lot of people.
With a black metal roof installed, your home will not only look good, it will also benefit from all the advantages of a metal roof.
Hi, I'm Jim. I was a roofing constructor for 20 years, before deciding to start myrooff.com and gather the best content about roofing. I love woodworking and construction and it was only natural for me to start this passion project of mine. Thank you for visitng.