Fiberglass flat roof. Any flat roof is going to require quite a bit of maintenance, especially if you live in a climate that receives a lot of rainfall.
One solution is to install a fibreglass flat roof. What makes this roof so unique is that it is designed to be permanent. This type of roof will last for 25-30 years with absolutely no signs of deterioration.
What also makes this solution unique is that it has no seams, no joints and no welds. All of that means it is almost completely waterproof.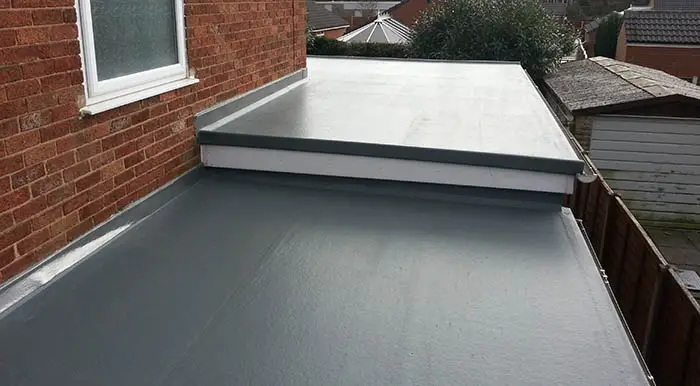 Moreover, water cannot even pool on top, which is the source of many problems for flat roof owners.
Thus, if you are looking for a high-performance, low-maintenance roofing option, this is definitely one that you should consider.
Materials and types of fibreglass flat roofs
When most people talk about a fibreglass flat roof, what they are really talking about is GRP flat roofing. GRP is a term that stands for Glass Reinforced Plastic.
In general, GRP flat roofing involves a single-ply laminate applied to a good quality deck. The roof is finished with pre-formed GRP edge trims and a coat of pigmented topcoat.
This pigmented topcoat is what enables owners to paint the roof any color they want. GRP roofs are available in just about any color (light or dark). As a design option, then, these roofs are quite flexible.
If you are painting them a lighter color, for example, they add to the energy efficiency of a building. If you are painting them a darker color, they can be adapted to the unique aesthetic look of surrounding buildings.
GRP is a high-quality waterproofing material that that has been around for more than 50 years. It is also used to coat and paint the sides of boats, water tanks, car bodies, roof lights and swimming pools.
As you can see, it's designed to be used in all situations involving water where performance is paramount.
How to install GRP flat room systems
There are many different options when it comes to installation. There are also specific use cases depending on the climate of the surrounding geographical area, as well as how you plan to use the roof.
Generally speaking, the more severe the climate is in a certain area, the more attractive this type of roofing system becomes. In general, a fibreglass GRP installation consists of the following steps:
Strip the existing covering
Lay the new deck
Fix the edge trims
Secure edge trims with hammer and nails
Prepare the roof (also known as laying out the bandage)
Size the fibreglass mat
Apply the resin layer
Sand the joints
Apply the topcoat
Also remember, the roof must be laid onto a dry deck in dry conditions at a temperature not below -5 Celsius. This will guarantee the best possible fit and protection for your roof.
A word about the cost of a fibreglass flat roof
In general, a GRP roof is going to cost more than a traditional bituminous (asphalt and tar) roof. That's just a proven fact, and there's not much you can do about it.
That's why most people only use this option for large-scale jobs where the roofing is designed to be permanent. On a large-scale job, you are able to spread out the costs much more efficiently on a per square foot basis.
Generally speaking, this type of roof is much more likely to be found on a multi-family or commercial structure rather than a traditional single-family residential structure.
Advantages of fibreglass flat roofing systems
In exchange for the higher costs, you also get a lot of advantages. In fact, after reviewing the list of "pros" below you'll be convinced that adding a layer of fibreglass is really the way to go to protect your flat roof. Just consider some of the advantages:
Seamless – It will not leak from water building up on the surface.
Impact resistant – It will not shatter if objects hit the surface.
Chemical resistant – You don't have to worry about toxic chemical spills.
Energy efficient – You will save money over the long term.
Fire resistant – You don't have to worry about fires.
Available in any color – You have incredible flexibility with design.
Long-lasting – You don't have to worry about replacements.
Environmentally-friendly – You are doing your part to "go green."
You can get some of these advantages from installing a traditional bituminous roof, but certainly not all of them!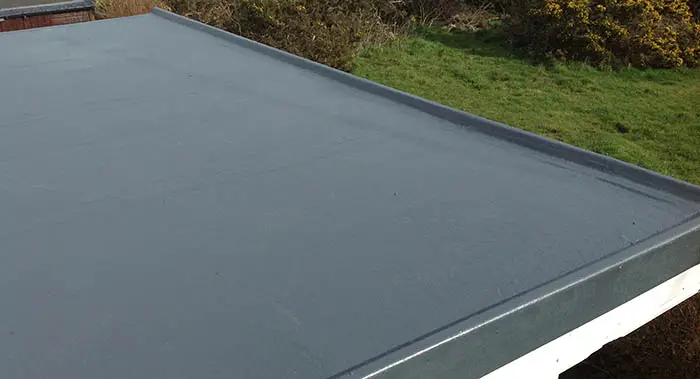 Lifetime usage of a GRP flat roof
The best part about GRP roofing is that it will easily last 25 to 30 years without any visible signs of degradation or deterioration. According to one study conducted by the BRE (Building Research Establishment), the projected lifetime of a GRP roof was 28 years.
Since there are no seams, joints or welds, there are no obvious structural weak points. And since the paint coating is also resistant to fire and chemicals, you don't have to worry about man-made problems either.
GRP is the environmentally friendly choice
One key aspect of a GRP installation is that it is environmentally friendly. It is good for the environment in the sense that much less energy is used to produce it compared to other roofing materials.
It is also "cold applied," which means that hot sources such as burners and torches are not used at all. Overall, there are no toxic byproducts.
Conclusions about a fibreglass flat roof
GRP flat roofing is a great choice for so many reasons, and mostly because of its imperviousness to the natural elements. Once a GRP roof system has been bonded to the decking, it is impossible to remove it without also removing the surface from the boards.
It holds up well, even in the most unfavorable weather conditions, and every GRP system is almost entirely maintenance-free.
When calculating the costs and benefits, then, you have to take into account that you won't be replacing your flat roof system every few years; instead, you will have a reinforced system that will last for at least 25 years.
Hi, I'm Jim. I was a roofing constructor for 20 years, before deciding to start myrooff.com and gather the best content about roofing. I love woodworking and construction and it was only natural for me to start this passion project of mine. Thank you for visitng.