Investing in a quality roof can give you considerable savings over the entire lifetime of your home. In fact, the lifetime of a roof can vary anywhere from 20 to 50 years, depending on the materials and the installation process used.
For example, hiring a fully accredited roofing specialist with expertise in your geographic area and using premium metal roofing materials can add years to the expected lifetime of your roof.
Nearly 80% of residential homes are constructed with asphalt or composition roofs. In general, these roofs are affordable and look good, but they do not last nearly as long as roofs made with premium roofing materials.
According to a recent survey from the National Association of Home Builders (NAHB), these traditional roof types (both asphalt and asphalt-composition) are projected to last around 20 years.
However, upgrading from asphalt to fiber cement can add another 5 years of lifetime to your roof. And premium materials – such as cedar wood shake, metal or slate – could add a decade or more to the lifetime of your roof.
Based on data from the National Association of Home Builders, here are the projected lifetimes of the different roof types (in years):
Slate or tile: 50+
Metal (copper): 35 to 50
Wood shake: 30
Fiber cement: 25
Asphalt: 20
So, as you can see, there is really a trade-off involved in choosing the perfect roof type.
While it is more affordable and convenient to have an affordable roof, it may only have one-half the lifetime of a roof made from truly premium materials.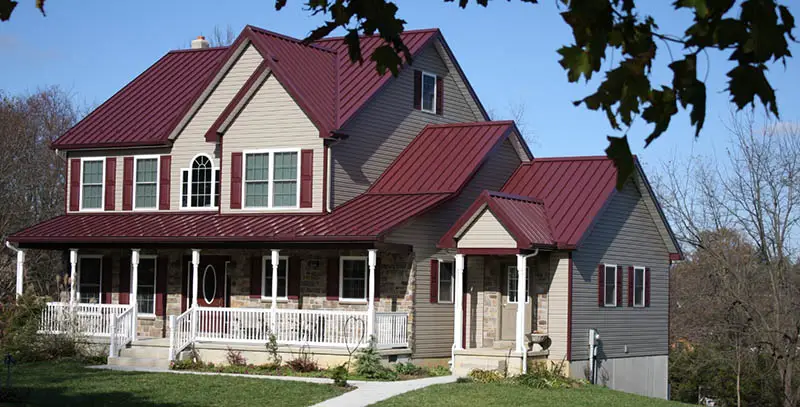 Other factors affecting roof lifetime
According to roofing specialists and roofing contractors, there are a variety of factors that can influence the life of your roof, but there is perhaps no more important factor than weather.
A major hailstorm or a particularly brutal winter can take time off the projected lifetime of your roof. Here are just some of the weather conditions that can impact your roof:
High winds
Hail
Snow and ice
Extreme sun exposure
In general, metal, slate and tile roofs will be more impervious to these factors than traditional roofs. Moreover, roofs with a strong underlayment (the final layer beneath the roofing materials) will have a longer lifetime.
Wind and roof lifetime
Extreme gusts of wind are far more damaging to a roof than even torrential rainfall. Roofs are made to withstand rain and water, but they are much less able to withstand huge gusts.
Wind erodes the value of a roof by pushing up roofing materials along the edges. When these materials have been significantly loosened, they will then pull off during any sustained gusts.
That's why you'll often see many signs of roof devastation after extreme wind events (including tornado-like storms), even when the actual housing structure remains upright.
The problem here is that each loosened shingle has an incremental impact on the shingles around it.
In other words, once you've loosened 2-3 shingles on your roof, it's only a matter of time before you have more sustained problems. The new gaps where the old shingles used to be become particularly vulnerable to damage.
And high winds, of course, can cause even more extensive damage. Downed trees and power lines, if they come into contact with your roof, could be disastrous.
And don't forget that your roof does not consist only of shingles – it also includes protruding structures like chimneys. Any loosening of the flashing around these structures will also weaken the integrity of your roof.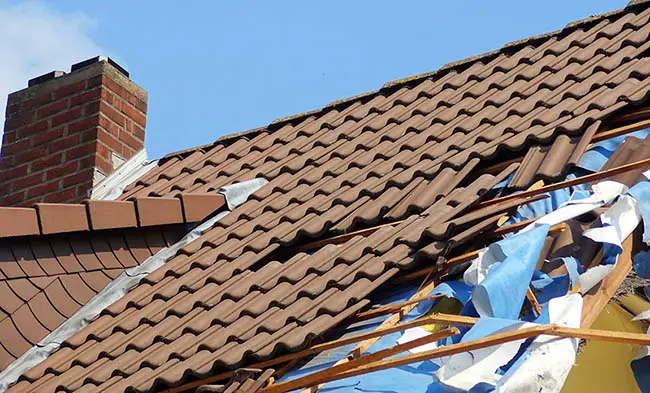 Hail, snow and ice: Impact on roof lifetime
If there's one type of weather that homeowners especially fear, it's hail. During any hail storm, many small granules of ice rain down on your roof. It's the equivalent, really, of someone tossing small stones against your roof.
Typical shingles are made to withstand a nominal amount of damage, but not a major hail storm.
Most homeowners fear snow and ice, and rightfully so. When snow builds up on the roof, it can weaken the underlying roofing materials.
And snow melt is even more dangerous, because it can lead to significant water damage. Even on a wood shake roof, for example, water damage can lead to new sources of mold and fungus.
Warranties and maintenance
Anytime you get a new roof lifetime guarantee, you usually have to take into account other factors, such as weather and roofing materials.
A 20-year warranty does not guarantee 20 years of lifetime use. It simply gives you a guideline for understanding roof lifetime, similar to the ones predicted by the NAHB.
A strong underlayment on your roof, for example, can insulate it against brutal winters.
Working with roofing specialists to create a whole roof system that takes into account many factors such as ventilation and flashing can boost the performance even of basic roofs.
By far, the single best step you can take to preserve your roof and ensure that it lasts as long as possible is to commit to a regular cycle of inspection and maintenance.
There are plenty of good warning signals that you can spot just by going up on your roof:
Shingles curled up at the edges
Roof gutters filled with granules
Surface flaking of shingles
Water damage of any kind
Rusted or damaged flashing
Mold, fungus or green moss on your house
Some homeowners, in fact, prefer to inspect their roof after every major storm, just to make sure that their roofs have not sustained any damage.
Conclusions about roof lifetime
A new roof typically lasts anywhere from 20 to 50 years. Some types of metal roofs, in fact, can last as long as 80 years. But for most residential homeowners with traditional roofs, the reality is much different.
The average lifetime of the roof of your house is less than expected, and that lifespan can be shortened significantly without regular inspections and maintenance.
Hi, I'm Jim. I was a roofing constructor for 20 years, before deciding to start myrooff.com and gather the best content about roofing. I love woodworking and construction and it was only natural for me to start this passion project of mine. Thank you for visitng.