Roofing cement for shingles is an essential component in the roofing industry, yet often overlooked by many homeowners and professionals alike.
As a versatile material with numerous applications, it can be the key to solving various roofing problems and extending the lifespan of your roof. In this blog post, we will delve into the world of roofing cement for shingles, exploring its various applications such as patching holes and leaks, securing joint connections, and sealing seams in plastic underlayments.
We'll also discuss different types of roof cement available today, like Coal Tar Pitch Roof Cement or EPDM Rubber-based Cement. Furthermore, you'll discover popular brands and products that have proven their worth over time.
In addition to understanding how to use roof cement on shingles effectively through techniques like 3-course or 5-course repairs,
we will cover proper application methods including cleaning surfaces prior to applying roof cement as well as waiting periods between coats for strong adhesion. Finally,
weather considerations and safety precautions such as ideal temperature ranges during application processes are crucial aspects that must not be ignored when dealing with this indispensable tool in our arsenal against common roofing problems.
Table of Contents:
Types of Roofing Cement for Shingles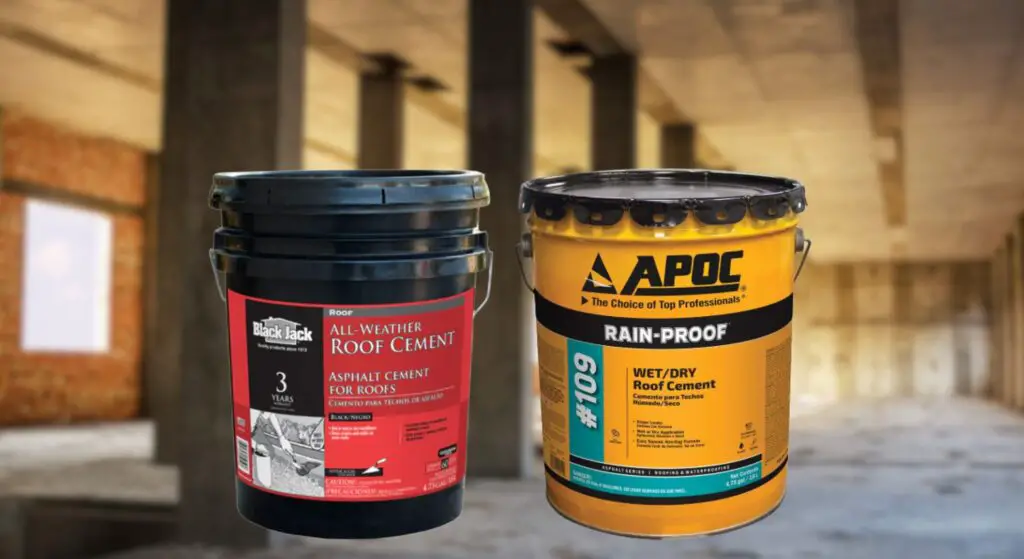 The type of roofing cement for shingles required varies depending on the material. Different materials require specific types of cement to ensure a secure and long-lasting bond. Let's explore some popular options based on your shingle material:
Coal Tar Pitch Roofing Cement
This type is ideal for coal tar pitch roofs, providing excellent adhesion and waterproofing properties.
EPDM Roofing Cement
EPDM roofing systems benefit from specialized EPDM cement that creates strong bonds without damaging the rubber membrane.
PVC Roofing Cement
If you have a PVC roof, using a compatible PVC cement ensures proper adhesion while maintaining the integrity of your roof's plastic components.
TPO Roofing Cement
Last but not least, TPO roofs need their own unique blend of adhesive – TPO-specific cement are designed to work with this versatile roof material.
Now, let's talk about an upgraded option: rubberized roof cement. This impact-resistant cement offers better durability, but it comes with a higher price tag. It's worth considering if you're looking for added protection and longevity.
So there you have it – choosing the right roofing cement is crucial to ensure your shingles stay put and your roof remains leak-free. Remember, always consult with a professional roofer before making any decisions about which type of cement to use on your specific roof material.
If you're experiencing roofing issues such as loose asphalt shingles or need to reattach shingles, roofing repairs may be necessary. In some cases, a roof replacement may be the best option. Don't forget to use roofing nails for added security, and consider hiring a professional for any major roofing projects.
For more information on roofing materials and techniques, check out Myrooff – a valuable resource for individuals building their own roof or roofing professionals, such as contractors, surveyors, and architects.
Popular Brands and Products for Emergency Leak Repairs
Let's discuss some of the top brands that can come to your rescue when you need to fix leaks or minor damage.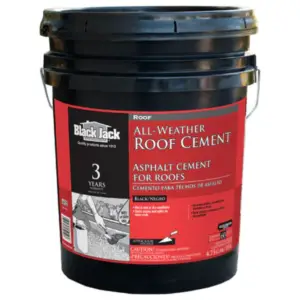 Black Jack All Weather Plastic Roof Cement is a well-known name in the industry, perfect for emergency leak repairs on your roof.
This versatile product works wonders on various roofing materials such as rolled roofing, loose asphalt shingles, metal roofs, and more.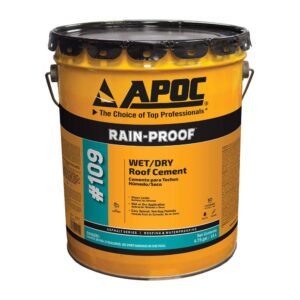 Moving on to another highly praised option – APOC 365 Eterna Flash White Elastomeric Patch & Repair Sealant.
Both professional roofers and homeowners alike love this stuff because it provides excellent adhesion while remaining flexible enough to withstand temperature fluctuations.
TIP: Remember always to choose products compatible with your specific roofing material. Consult an expert if unsure.
If you're looking for a temporary solution before calling in the pros for more extensive repairs or even a full roof replacement, these two options are definitely worth considering.
Bear in mind that using these products doesn't replace regular maintenance checks by experienced professionals who can identify potential issues early on – prevention is key.
In any case, having one of these handy repair solutions at home will give you peace of mind knowing that help is just within reach should any unexpected leaks occur.
Techniques for Using Roofing Cement for Shingles
Two popular techniques involving the use of roofing cement for repairing a roof are the "3-course" and the "5-course" methods.
The "3-course" and the "5-course" methods involve using roofing cement to secure loose tabs on asphalt shingle roofs or seal seams in plastic underlayments as part of a comprehensive repair process.
Let's dive into each technique.
3-Course Technique Explained
This method involves applying three layers of roofing cement and reinforcing fabric between them.
To start, apply a layer of roofing cement beneath the damaged area, then press a piece of reinforcing fabric into the wet cement.
Add another layer of cement over the fabric before placing another piece of fabric on top. Finally, cover this with one last layer of roofing cement for optimal protection against leaks and damage.
5-Course Technique Explained
If you're dealing with more extensive damage or want added reinforcement, consider using the 5-course technique instead.
This method is similar to its 3-course counterpart but includes two additional layers: an extra application of roofing cement followed by another sheet of reinforcing fabric after step three above.
Now that you're familiar with these techniques, it's time to grab your roofing nails, cement, and fabric – let's get started on those repairs.
When Not to Rely Solely on Roofing Cement
Let's face it, folks.
Although roofing cement can be a lifesaver in certain situations, there are times when it just won't cut it.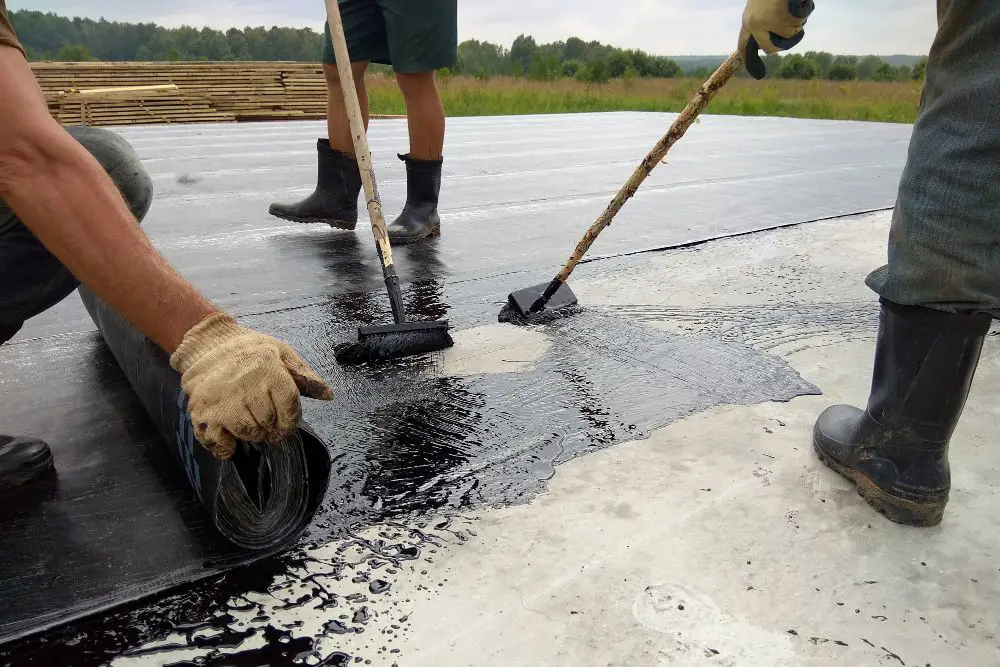 In fact, experts often recommend working with experienced roofing companies to replace damaged areas with permanent materials instead of relying solely on roofing cement as a quick fix.
You see, improper use could do more harm than good.
Note: Some savvy professionals suggest using asphalt-compatible coatings rather than traditional cement for better results and longer-lasting repairs.
Why You Shouldn't Always Depend on Roofing Cement Alone
Durability issues: While roofing cement can provide temporary relief from leaks or minor damage, it may not hold up against extreme weather conditions or long-term wear and tear.
Potential complications: Applying too much cement or using an incompatible product might lead to additional problems down the road – think trapped moisture and weakened shingles.
Limited effectiveness: In some cases (like large-scale damage), simply slapping on some roofing cement won't suffice; you'll need professional intervention for proper repair work.
To sum things up: Don't hesitate to call in the pros if your roofing issue goes beyond what a little dab of roofing cement can handle.
Proper Application Process for Effective Results
Let's get into the specifics of using roofing cement for a successful repair job.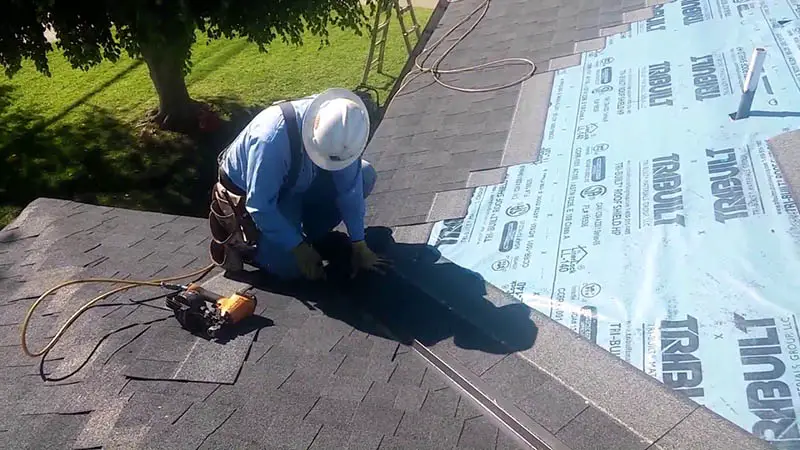 To achieve a successful repair job, you need to follow these steps:
Cleaning the Surface
First and foremost, clean the area thoroughly. This means removing any debris or dirt that might prevent proper adhesion between your shingles and roof cement.
Filling Cracks and Holes
Now comes the fun part: filling those pesky cracks and holes. Apply enough roofing cement to completely cover them while ensuring it doesn't exceed 1/8 inch in thickness (remember, less is more).
Waiting Period Between Coats
You're almost there. Hold your horses – there's still one more step. To ensure maximum bonding strength without causing further damage, wait at least twelve hours before applying another coat if necessary.
Myrooff provides even more details on how to properly apply this essential material.
Remember: when dealing with loose asphalt shingles or other roofing issues, following these steps will help you achieve long-lasting results. And as always, consult a professional roofer for advice if you're unsure about anything.
Whether you're an individual building your own roof or a roofing professional such as a contractor, surveyor, or architect, it's important to know how to properly apply roofing cement. Rolled roofing, metal roofs, and other roofing materials can all benefit from the use of roof cement for repairs or even a full roof replacement.
So there you have it – now go forth and conquer those roof repairs with confidence.
Working With Roofing Cement in Cold Weather
When it comes to roofing repairs, temperature is a crucial factor to consider. Ideally, you should work with roofing cement when outdoor temperatures are above 50 degrees Fahrenheit.
Colder weather can negatively affect the performance of your trusty roof cement. But don't worry – I've got a nifty trick for those chilly days.
If you must repair your roof during colder months, try leaving the roofing cement inside overnight before using it outside. This will help maintain its consistency and effectiveness despite low temperatures. Roof cement is an essential material for fixing loose shingles and other roofing troubles or issues.
TIP #1: Keep an eye on weather forecasts and plan your repair jobs accordingly. This way, you can avoid potential issues caused by cold temperatures or precipitation that may interfere with the application process.
TIP #2: If possible, choose warmer days (or even sunny afternoons) to ensure optimal conditions for applying roofing cement effectively. Remember: patience is key.
TIP #3: Don't forget about safety. Make sure to wear appropriate protective gear like gloves and goggles while handling roofing materials in any weather condition. Safety first.
In conclusion, roofing cement is an essential material for roof repairs and to reattach shingles. Working with it in cold weather requires some extra care, but with these tips and tricks, you can ensure a successful repair job no matter what Mother Nature throws your way.
If you're not comfortable working on your roof, consider hiring an expert roofer to handle the job. Happy roofing.
Safety Precautions When Using Roofing Cement
Let's talk safety, folks.
Roofing cement may be a lifesaver for your roof repairs, but it can also pose some hazards if not handled properly.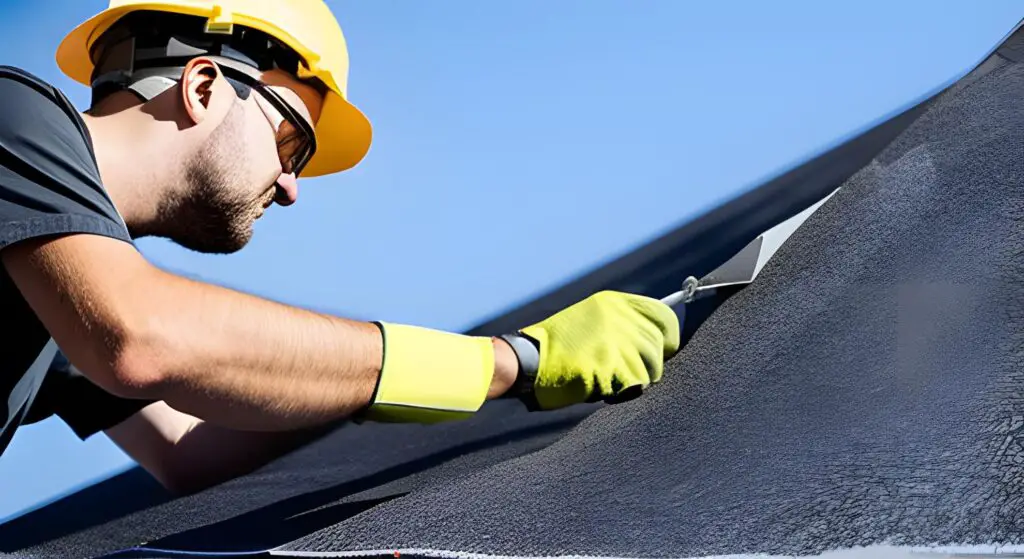 Fear not. We've got you covered with essential safety tips to keep in mind while working with this handy material.
Keep It Cool and Flame-Free
First things first: roofing cement is combustible. Yikes.
remind us that we should never use roofing cement near high heat or open flames.
Suit Up For Safety
You wouldn't go into battle without armor, right?
The same goes for using roofing cement – gear up with appropriate protective equipment like gloves, goggles, and masks to avoid potential hazards associated with handling these materials.
Ventilation Is Key
Rooftop work can get stuffy; make sure you're working in a well-ventilated area when applying the product.
Ladder Safety 101:
Climb cautiously: Always maintain three points of contact (two hands and one foot or two feet and one hand) on the ladder at all times while ascending or descending.
Solid ground: Ensure the ladder is set on level ground before climbing.
Don't overreach: Keep your body centered between the side rails of the ladder and never lean too far to one side.
Want more roofing safety tips? Check out this comprehensive guide from NRCA.
In conclusion, always prioritize safety when working with roofing cement. Heed these precautions and you'll be well on your way to a successful roofing job.
Repairing Leaks Using Roof Cement
The leaky roof got you down?
No worries, we've got your back with a step-by-step guide on repairing leaks using roofing cement.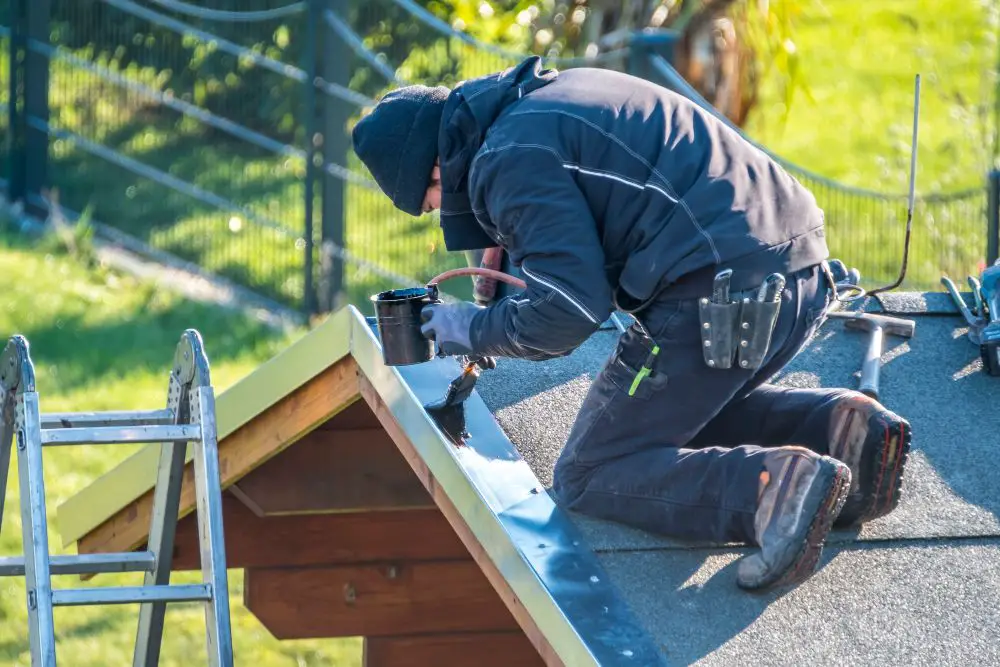 Let's dive right in.
Removing Loose Material
The first thing to do is remove any loose material from the damaged area using chisels or razor edges.
This ensures that the roofing cement adheres properly and provides a long-lasting repair solution.
Cleaning Surfaces Before Application
A clean surface is essential for successful repairs, so make sure to thoroughly clean the area before applying roofing cement.
detailing how to clean surfaces effectively.
Applying Multiple Layers If Necessary
To repair small holes and cracks, fill them with roof cement while working it into surrounding areas for better adhesion.
If needed, apply multiple layers of roofing cement but remember not to exceed 1/8 inch thickness per layer.
walks you through fixing leaks from inside your home if you can't access the exterior.
With the right roofing cement and proper application techniques, you can repair leaks effectively and keep your roof in tip-top shape.
However, if you're unsure about tackling this project yourself or have more extensive damage, it's always best to consult with a professional roofer.
Happy repairing.
FAQs in Relation to Roofing Cement for Shingles
Can Roof Cement Be Used on Shingles?
Yes, roof cement can be used on shingles for repairing leaks and sealing gaps. It is essential to choose the appropriate type of roofing cement for shingles based on your specific needs, such as coal tar pitch, EPDM, PVC, or TPO. Proper application techniques are crucial for effective results.
What Cement Is Used to Bond Shingles Together?
Roofing professionals typically use a specialized adhesive called roofing sealant or asphalt plastic cement to bond shingles together. This adhesive provides strong adhesion between overlapping layers of shingles and helps prevent wind uplift and water penetration.
Roofing Cement for Shingles – A Recap
Roofing cement is a versatile and essential material for anyone building or repairing a shingle roof. It can be used to patch holes, secure joints, seal seams, and more. Different types of roofing cement exist, each with its own characteristics and uses.
To properly apply roofing cement on shingles, it's important to follow proper techniques such as cleaning surfaces before application and waiting for appropriate drying times between coats. Safety precautions should also be taken into consideration when handling combustible materials.
Hi, I'm Jim. I was a roofing constructor for 20 years, before deciding to start myrooff.com and gather the best content about roofing. I love woodworking and construction and it was only natural for me to start this passion project of mine. Thank you for visitng.