Great post for types of roof vents. One of the most overlooked features of your roof is the roof vent. However, if you live in a climate with a lot of heat and moisture, they can play a very significant role in the cooling of your home.
Their basic purpose is to remove hot air and moisture from the home, and specifically, from the attic.
Roof vents come in various sizes and shapes. Moreover, they are often powered differently. Some use wind power, some use solar power and Zamp Solar 115-Watt Expansion Kit, Add More Power to any Roof Top Solar System, and some use electric motors that are powered by your home's electrical network.
The choice of which type is optimal for your home comes down to a number of factors, including cost and efficiency.
For example, while static vents have no moving parts and use the process of natural convection to remove heat, they are also not nearly as effective as those with a power source.
Below, we'll look at some of the most popular options for homes. Overall, residential homeowners have a choice of seven ways to cool their roofs and remove heat and moisture:
Precision balanced 14" fan blades
Precision balanced 14" fan blades
Evenly ventilating rooflines
Evenly ventilating rooflines
7 Best T

ypes Of Roof vents

& Styles
One of the most common varieties is known as the box vent. As you might be able to tell from the name, the shape of a box vent resembles a box.
Other names for this type include low profile, flat or turtle vent. The box vent is also known as a static vent, because it has no moving parts.
Instead, the box vent is installed over a hole cut out of the roof. It uses the process of natural convection so that hot air and moisture can escape into the surrounding air.
Sale
In terms of aesthetics, box vents come in a variety of colors, as well as a variety of materials (metal, hard plastic, etc.). This gives homeowners tremendous flexibility in getting the perfect aesthetic for their roofs.
The turtle vent works best if it is installed close to the roof ridge. This is just pure physics: Since the roof ridge is the highest point of your roof, it allows for the optimal exhaust of air and moisture.
However, this flat vent does not offer the same sort of energy efficiency as other roof vents, and as a result it may require the home owner to purchase more flat vents than originally anticipated in order to achieve the necessary cooling and ventilation goals.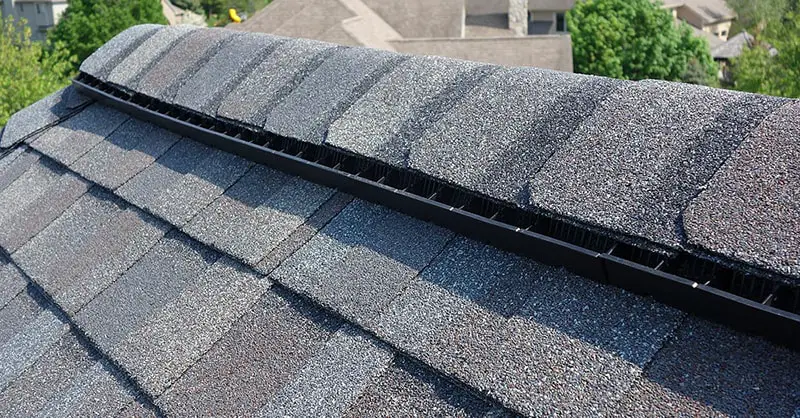 Another popular type without any moving parts is known as the ridge vent. In terms of appearance, many have compared the shape of a ridge vent to a book that has been opened up and then placed, face down, on top of the ridge of a roof.
In most cases, the ridge vent will run the entire horizontal length of the roof. If installed optimally by ventilation experts, these ridge vents will blend into the overall roofline – a casual visitor to your home might not even know that they exist!
Ridge vent are most effective when they are combined with a ventilation feature known as a soffit, which is form of under eave venting.
Overall, ridge vents are excellent at evenly distributing heat across the roof. Unlike other ventilation structures which often suffer from the problem of hot zones and cold zones, depending on airflow, the ridge vent is specifically designed for a very even distribution of heat and moisture.
Over the long run, this will help to preserve the value of your roof. You'll notice fewer effects of roof aging, and you won't have to worry about any curled up old sections of the roof that appear dissimilar to other sections of the roof.
One important note here is that Ridge vent do not increase in power with higher winds, so there are no ventilation advantages from living in a very windy area.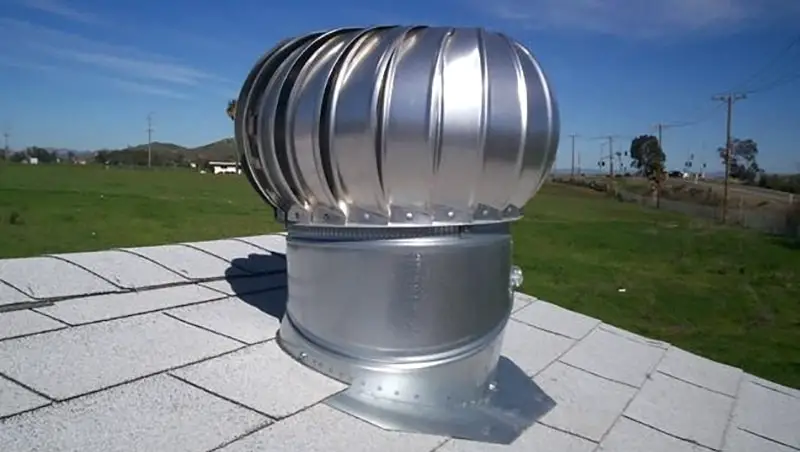 If you are looking for a more powerful type of vent with moving parts to increase overall airflow, one of the most popular is the wind turbine vent, also known as the whirlybird vent.
In terms of appearance, it looks like a giant chef's hat. What really separates the wind turbine vent from its competitors, however, is that it is powered by the wind.
Ventilator, Turbine, 4in
As the wind blows, it turns the moving parts of the vent, which in turn helps to draw out hot air from your attic. Since it actively moves, it will, of course, be more effective than just a box vent.
There are several factors to keep in mind with this kind of vent. For example, you will need to understand the various components of the spinning mechanism.
For a silent, very efficient turbine, you will want to make sure that you have a mechanism that is using permanently lubricated ball bearings. This helps to reduce the incidence of squeaking noises caused by cheaper models and improves ventilation.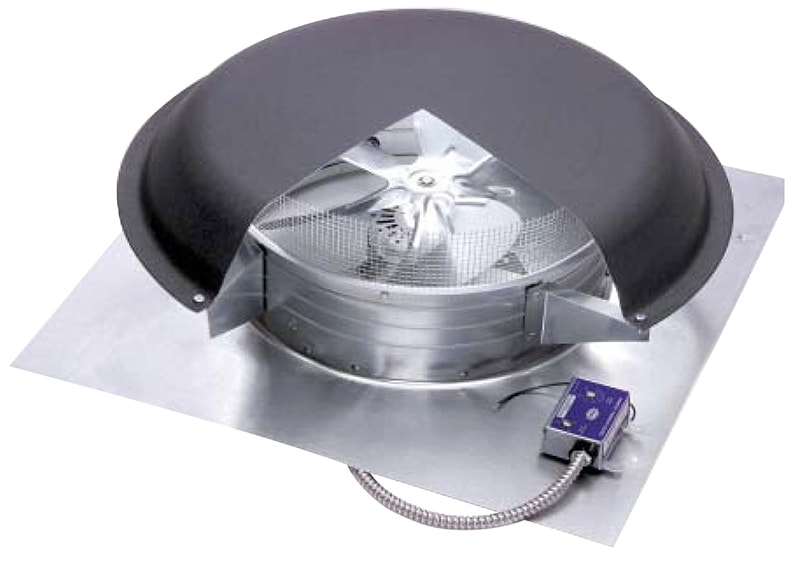 This type of vent is also known as a power attic vent (PAV). As you might surmise from the name, this style relies on a power source to speed up the process of removing heat exhaust from your house.
MaxxAir Roof Mount/Mounted Power Attic Ventilator (Black)
Heavy Duty : No brittle plastic, baking and chipping in the sun - our unit is rugged galvanized steel. 6-point suspensions (anchor points) for stability and wind resistance.
Max Air : 1080 CFM (1600 sq. ft attic) from precision balanced 14" fan blades for minimum vibration and no heat distortion.
Energy Efficient : 2.6 amp draw with a heavy duty PSC thermally protected motor, that's engineered to run cool for long life and dependable service.
Worry Free : Assembled in Texas with a 2-year limited warranty. We stand behind our products and stand behind our customer.
Modern Design : Our low profile dome has galvanized steel mesh grilles to protect against insects, birds, and rodents yet allow adequate air intake.
Motors inside turn large fans, which in turn, help to drive out heat and moisture. You can make this system as sophisticated as you would like. For example, an adjustable thermostat can automatically trigger the power vent to start working. The same is true for an adjustable humidistat.
The one drawback to this model, however, is that it runs on electricity. And electricity – unlike wind power – is not free.
There are two ways to generate this electricity: You can either connect the power vent to your home's electrical system, or you can add a set of solar panels which will convert the sun's natural energy into electricity.
On the plus side, power vents run very smoothly and are very quiet. They are so quiet that you might not even know when they are running!
Generally speaking, you should keep an eye on costs, since these power vents are so powerful that they could be pulling conditioned air out of your home while they are drawing heat and moisture away from your roof.
In other words, your home air conditioning could end up working much harder, which will impact costs.
#5: Soffit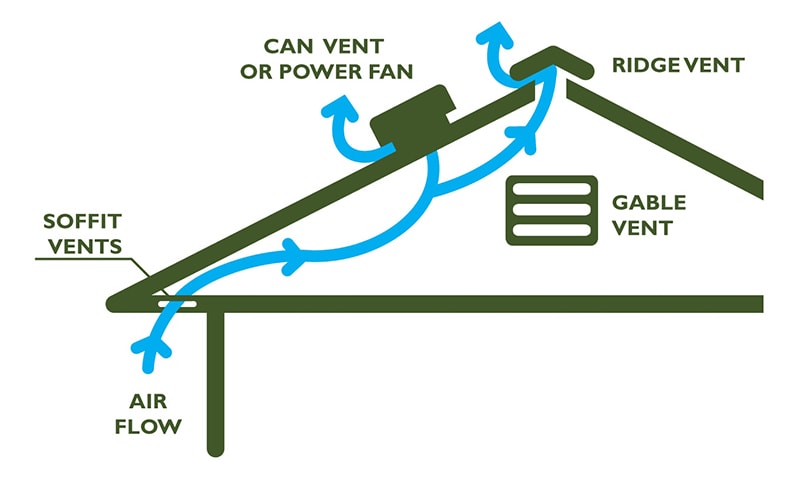 These vents enable air intake into a roof's ventilation system. They are typically installed on soffits and eaves, and are made of either aluminum or PVC.
These vents, working together as part of a roof network, can dramatically improve airflow. They are most effective when used together as part of one continuous ridge.
#6: Off ridge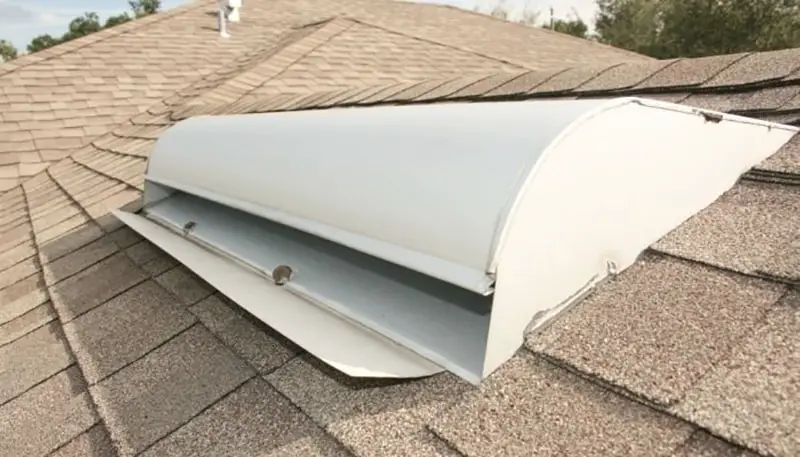 These vents are similar in function to box vents and don't have any moving parts. However, while box vents are square-like in shape, these off ridge vents are long and thin. They are typically placed over a cut section in the roof near the ridge.
As a rule of thumb, you will need a series of these off ridge vents all working together as part of one exhaust system in order to cool off your roof.
This vent style is primarily decorative in nature, and is simply a more elaborate form of box vent. Cupolas typically sit high atop a roof ridge and help to present an architecturally pleasing opening to a roof cooling structure.
Sale
Manchester Vinyl Cupola, Perfect Size for a Small Shed, 18" square x 22" high, Pure Copper Roof, Quick Ship
Ships in 3 business days.  The perfect size for a small shed.  Complete your "weathervane ready" cupola with a perfectly fitted Good Directions "Cottage size" Weathervane.
MAINTENANCE FREE, ROT FREE, ROYAL BRAND SOLID CELLULAR PVC VINYL – expertly crafted using a CNC Router, for a precision cut every time. May be painted with exterior acrylic latex paint.
24 GAUGE PURE COPPER ROOF – Grade 1, 16 ounce pure copper roof will naturally patina over time.
SUPERIOR STRENGTH – Roof has reinforced rafters. Louvered mid-section equipped with interior wood framing brace. 18 gauge Heavy Duty staples used instead of single nails to prevent components from shifting and for increased strength and durability.
DIMENSIONS – Assembled: 18"Sq x 22"H. Square size measured at roofline. Fits up to a 10/12 pitch roof (most roofs). When calculating the size of your cupola, use our steadfast builder's rule of thumb: 1.5 inches of cupola width for every foot of unbroken roofline. See photo for more information.
They easily allow hot air and moisture to escape, but are very limited in overall functionality since they do not have any motors, spinning turbines or other moving parts to speed up the process of cooling, exhaust and airflow.
If you live in a residential neighborhood with very strict zoning laws, you should also make sure that the size and shape of the protruding cupola is well within the guidelines established by these zoning laws.
Cost estimate
As a rule of thumb, you will need 1 square foot of vented area for every 300 square feet of attic space if it has a vapor barrier, or 1 square foot of vented area for every 150 square feet of attic space if it does not.
So, for example, if the total roof area in question is 900 square feet, you would typically need at least 3 square feet of vented area. In many cases, you could use soffit vents for additional air intake.
The beginning stage of any project, then, is simply figuring out how much area you need to cool, and then coming up with some back-of-the-envelope calculations for how many units are necessary to do the job.
Conclusions
As you can see, each of the above types of roof vents offers a slightly varied approach to the problem of heat and moisture in your house. Roof vents for houses can have moving parts or not.
Moreover, they can come in different shapes, sizes, colors and materials. As a result, the choice of which types of roof vent style is best for you is really a decision that must be based on factors such as cost, aesthetics and energy efficiency.
In very hot and humid climates, you may need a more powerful roof ventilation system that can work very efficiently to keep your home cool.
Last update on 2023-07-04 / Affiliate links / Images from Amazon Product Advertising API
Hi, I'm Jim. I was a roofing constructor for 20 years, before deciding to start myrooff.com and gather the best content about roofing. I love woodworking and construction and it was only natural for me to start this passion project of mine. Thank you for visitng.