A popular topic about intensive green roof. Nowadays, green roofs are one of the most popular roof systems which not only add extra points to the design of a home or business area, but also alleviate urban environmental problems commonly associated with heat and storm water quantity and quality.
But apart from that, intensive green roof systems as a part of the green roof technology in general provide better thermal insulation as well as enhanced biological processes.
Considered as the future of roof systems, intensive green roofs have been adopted by many large cities with the creation of modern roof top bars and restaurants in roof gardens.
Therefore, it can be concluded that green roof technology has undoubtedly triggered the environmental aspect of modern urbanization.
Intensive Green Roof Systems
Considered by many to be 'the green oasis in a modern cityscape', intensive green roof systems come with a whole new technology based on environmental consciousness, directly improving the air, pollution, heat and many other issues.
Intensive green roof plants require the deepest soil but also have the greatest impact on structural design.
However the opportunities for intensive green roof plants to be accommodated into the roof system are endless, as the planting designs are endless  with no absence of large shrubs and trees as well.
By allowing the designer to create a setting of an urban park on a building's roof, an intensive green roof design comes with a unique value proposition.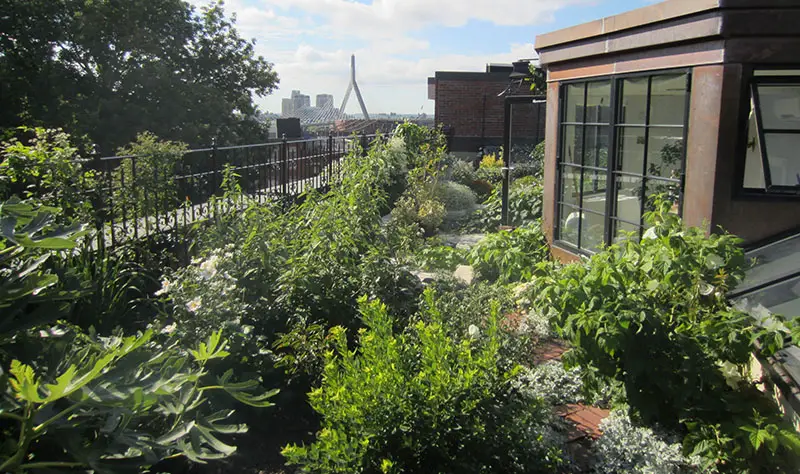 An intensive green roof weight varies from 35 to beyond 100 pounds per square foot when dry. With that in mind, the real variable in the weight is the depth of planting material.
The depth of an intensive green roof is tied to the soil depth, which is obviously affected by the frequency of mounding that is used.
Therefore, a significant amount of attention should be always paid to the waterproofing issues as well as root barrier details, as modern tray systems are not a viable option for this type of roof.
Therefore, by using lightweight soils along with perfectly developed water storage and drainage components, an intensive green roof system can be finished with great detail and a traditional landscape design.
However, the weight of an intensive green roof will remain at only a fraction of the actual one used elsewhere, complimented by the fact that the build-up will be drastically shallower.
In general, an intensive green roof system is used for mainly recreational and leisure purposes. is the details are limitless, which gives a tremendous opportunity to create a green environment similar to a modern park or a garden.
However, an integrated approach is definitely needed when implementing an intensive green roof system.
There are some valuable specifics of both the waterproofing and landscaping components which must be researched so that the maximum effectiveness and the desired outcomes are achieved.
Intensive Green Roof Systems – The Advantages
Apart from the effective intensive green roof weight, depth and thickness, there are also a number of benefits that apply to the overall green roof concept. Intensive green roofs incorporate all these advantages as well as provide a pleasant atmosphere to spend time in.
The main advantages of intensive green roofs are:
Roof Membrane Protection– An intensive green roof system protects the roof membrane from many conditions such as UV radiation, heat, cold and hail. Intensive green roofs absorb the heat in summer and protect from cold and hail in the autumn and winter seasons.
A New Habitat– Intensive green roofs provide an opportunity for a new habitat of plants and animals to be incorporated into an urban structure.
Utilizing the Modern Roof Area– By being a pleasant environment to regularly visit or live in, an intensive green roof system assures a better quality of life.
Rainwater Retention– The intensive green roof thickness reduces rainwater run-off as its weight absorbs the water in an effective way.
Reducing Energy Costs– Thermal protection is yet another benefit of the intensive green roof weight and the whole system in general, which drastically reduces heating and cooling costs.
Noise Protection– Intensive green roofs reduce exterior noise while enhancing maximum sound insulation.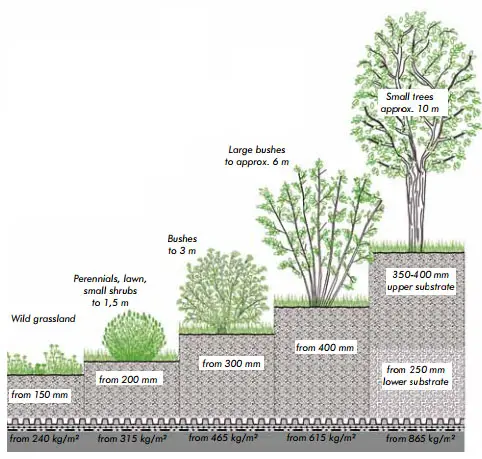 Modern Intensive Green Roof Designs
The most popular  designs incorporated into the intensive green roof system include the garden roofs, system roof summer plains, intensive roof underground car park decks, lavender plains and many other tailored to the needs of the customer.
The weight of an intensive green roof system  is critical for a particular type of plant, and the minimum intensive green roof thickness should ranges from 150mm for a wild grassland, 300mm for bushes, and 3 meters in height and at least 400mm upper substrate and 250 mm lower substrate for small trees of approximately 10 meters.
When it comes to pools, intensive green roof decks also incorporate this concept with a solid drainage layer and a special plastic membrane added in every installation.
Therefore, if the pool ever leaks the water will eventually flow to the regular roof drainage system. These pool roof systems require at least 300mm depth of water to be compensated for the high evaporation on high and exposed buildings.
In the end, the installation of a modern green roof intensive system certainly gives a step ahead to better living, along with the assurance of the highest quality of technology.
From an environmental standpoint, it also adds to the greener city concept, or in other words a scenario of more plants and trees incorporated into urban areas.
This concept has been adopted by many large cities, allowing many building owners and homeowners to take part in installing and customizing intensive green roofs.
Hi, I'm Jim. I was a roofing constructor for 20 years, before deciding to start myrooff.com and gather the best content about roofing. I love woodworking and construction and it was only natural for me to start this passion project of mine. Thank you for visitng.