Available resources for roof garden design can be found on this post. Making a roof garden will definitely improve the quality of your house. It will not only make you put your hands into the soil, but also bring nature to your house.
There are a number of benefits of having a rooftop garden in your house. First, it improves the life and longevity of your roof; second, it is good to eat freshly grown vegetables and fruits in your house.
Below, we mention several roof garden design ideas that can surely make your roof garden a success.
Know the scope of your project: The first step is to know the scope of your project. While it could be long term or short term or both, know what you want from a garden. Some homeowners want to let nature into their house, while others want a rooftop garden because it is pretty. Depending on how you are going to use your garden, you can formulate your next steps.
Choose vegetables/herbs to grow: You could utilize your roof garden design to grow small shrubs as well as vegetables. There are various tools online which you could use to make a blueprint of your roof garden. With the help of a garden planner tool, you can choose the design of the garden, where you should place veggies and where the irrigation system should be.
Irrigation System: Irrigation remains the biggest problem of any roof garden. Water is necessary for plants to survive and grow. At the same time, having an irrigation system on the top of your roof could cause dampness, moisture marks or peeling on the inner areas of your ceiling. Therefore, consult with an agent who can help you decide the location of the irrigation system.
Sunlight and air: Sunlight and air remain fundamental factors for any plant to grow. Therefore, you should place your roof garden where there is adequate sunlight and air. Place plants at a distance from each other so that they do not have to struggle for sunlight and air. This will ensure healthy growth of the vegetables.
Use similar plants in a square pallet:Different vegetables require different growing conditions. Therefore, to ensure healthy growth of vegetables, it is suggested that you grow similar crops/vegetables in the same square pallets. This will help you provide each crop with the optimal growing conditions.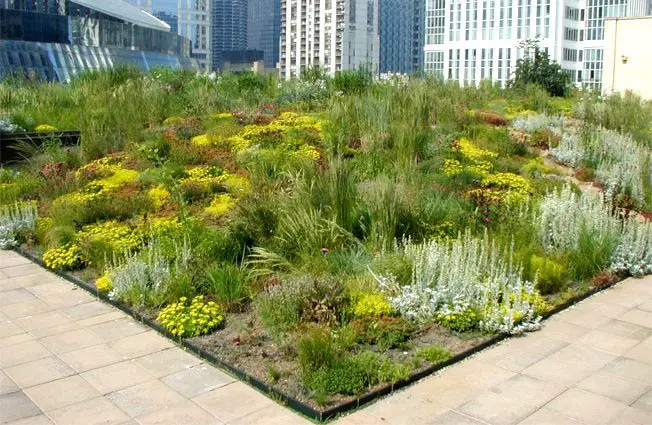 You can plan to build a new roof on a new or existing building. There are a number of factors to which you must pay attention.
The number-one factor is how much weight your roof can bear. Depending upon which type of roof garden design you choose to build, it can be made to bear six pounds to 20 pounds.
A roof terrace garden design could be made with three to five inches of roof. When it comes to choosing an irrigation system, ensure that water gets delivered deep into the surface. This will avoid the loss of water due to evaporation.
SELECTING PLANTS FOR ROOFTOPS
Gardens are designed in a number of ways, and the types also vary according to the plants used. Whatever the design, make sure that the plants used are ecologically compatible with the location and are resistant to insects and disease.
The types of plants depend on the type of roof garden design, whether you are installing an extensive or intensive one.
Usually, the plants installed should have shallow root systems and should not be damaged by walking. In addition, try to choose plants that are hardy and non-invasive and that require less maintenance.
The most preferred plants are Sedum, Jovibarda, Delosperma and some types of grass.
Roof gardens that contain these plants require less maintenance than others and are resistant to common forms of damage and disease.
You may be surprised to know that Sedum comes in various colors and helps you add more beauty to your roof garden design and construction.
HOW does ROOF TERRACE GARDEN DESIGN IMPROVE THE LONGEVITY OF YOUR ROOF?
This remains an important question that troubles many homeowners who believe that the longevity of their roofs will be affected by a terrace garden.
However, this is not the case. Having a rooftop garden design enhances the life of your roof by 20 to 30 years. It protects your roof from harsh climatic conditions and keeps your house cool during the summer and warm during the winter, thereby reducing your utility bills.
It preserves the flora and fauna of your house and lets nature come to you. There are a number of homeowners who have benefitted from rooftop garden design ideas.
You could also get several rooftop garden design photos for an idea as to how a rooftop garden will enhance the beauty of your home.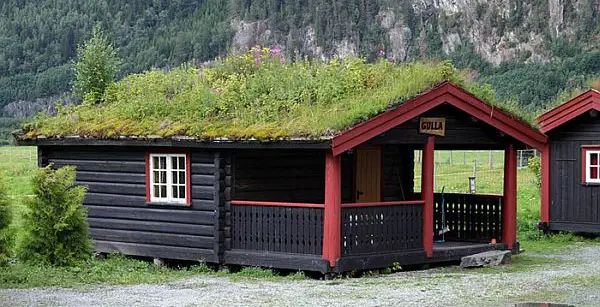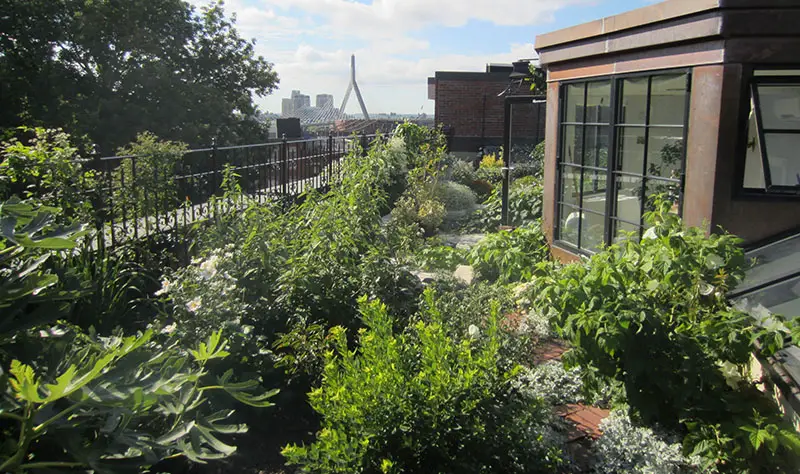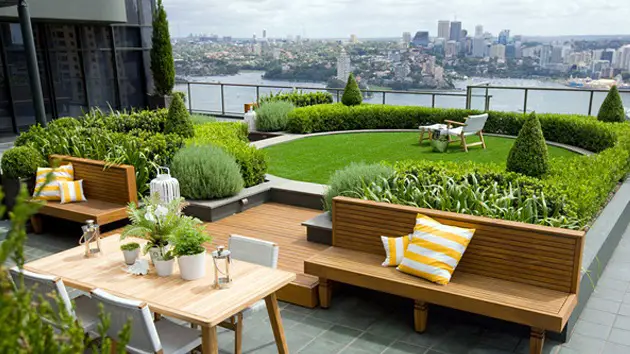 HOW CAN YOU MAINTAIN A ROOF GARDEN DESIGN AND CONSTRUCTION?
No matter what the type, a roof garden requires regular maintenance and care. The needs of extensive and intensive garden roofs are different. Intensive roof designs demand more care than do extensive roof gardens.
The maintenance plan directly relates to the types of plants you have grown and the exposure of the roof to the vagaries of the weather. Though green roof gardens are designed to be draught tolerant, they require proper irrigation.
As with normal crops, you need to provide fertilizer and other soil nutrients to give your vegetables a healthy growing environment.
Fungus and insecticides could damage your vegetables if they get drowned in water. Therefore, you should take proper measures to ensure that crops get optimum water—not too much and not too little.
If the crops are damaged, it could have an adverse effect on your health as well.
To maintain your rooftop garden landscape design, seek help from a professional company that has extensive experience in the field.
Professionals are skilled at what they do and can help you design a perfect garden depending upon your needs. You could also rely on professionals to maintain your roof garden.
They would professionally inspect the garden from time to time and suggest necessary solutions. With professional assistance, you can ensure that your garden remains in good condition.
Using rooftop garden design ideas, you can create an amazing roof garden that refreshes your mind and body and lets you witness plants growing and butterflies playing.
You can let your hands intermingle with soil and let life blossom. In addition to improving the aesthetic appeal of your house, a rooftop garden lengthens the life of your roof and reduces your utility bills.
When there are so many benefits of having a rooftop garden, why not install one? Consult the nearest designer who can help you choose a garden that best suits your needs.
You may also view roof garden design photos to get a better understanding of how it will really look.
CONTEMPORARY ROOF GARDEN DESIGNS
Everyone enjoys sitting in a place surrounded by greenery and breathing in fresh air, but why go outside if you can have this place in your home?
It will not only provide you with clean air, but will also provide you with a number of other benefits, like storm water retention, improved water quality, reduced heating and cooling costs, etc.
Contemporary roof garden designs have something more to offer. Along with all these benefits, they make your rooftop attractive—a beautiful place where you can enjoy activities like dining, gaming and many more.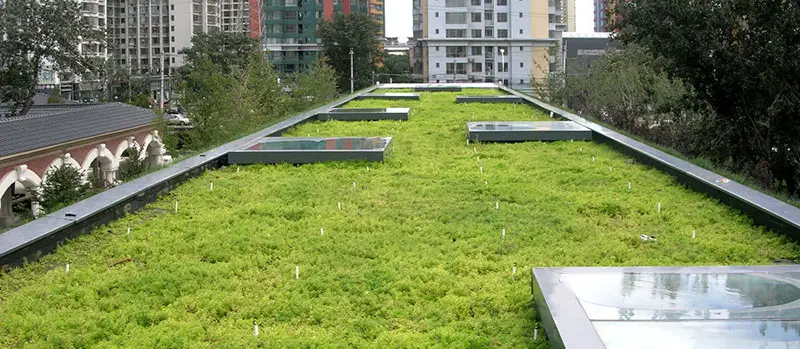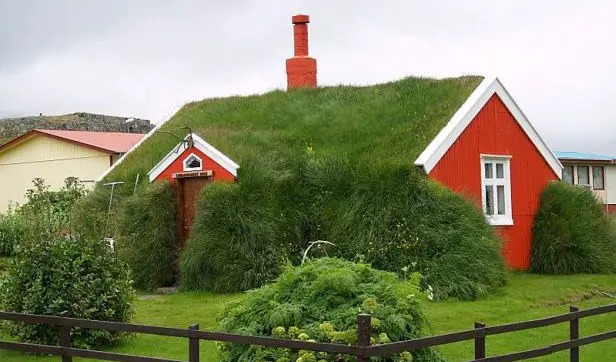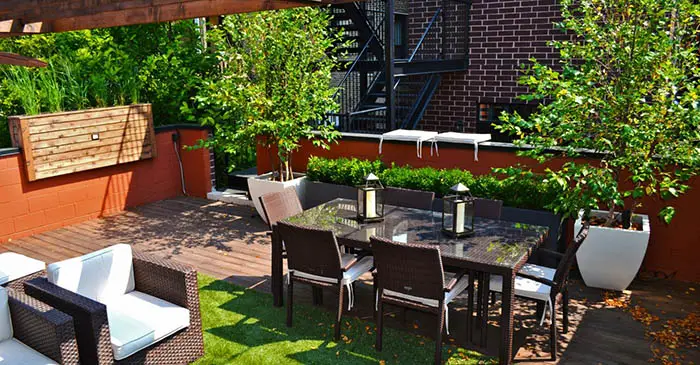 Let us explain some of these contemporary ideas.
In extremely hot conditions, even a green roof will not let you sit outside. Therefore, if you want your green terrace to enable you to enjoy the outside environment, you can install a canopy stand or a large umbrella.
Instead of planting trees in a scattered order, modern designs tend to plant similarly colored plants together. Or you can create a design by selecting plants of the same quality or that have some contrast.
Another trend that is common nowadays is creating a particular design, for example, the logo of a company, a full name or a letter of the alphabet. This design can be created by planting different plants or leaving spaces.
Lighting can add more beauty to your green roof. Not only that, it plays a significant role in setting the mood, highlighting the pathway and creating a stunning view by reflecting on different colored plants/flowers.
You can also create a contrast to the foliage by using white rocks or sand. This will highlight the plants and colors in the garden.
If you are not getting any ideas for designing a unique and attractive roof garden, you can check online for roof garden design photos, roof garden design ideas or roof garden landscape design.
You can also consult with any professional organization for the same information. They will not only guide you in selecting the perfect design, but will also get your roof garden installed.
Hi, I'm Jim. I was a roofing constructor for 20 years, before deciding to start myrooff.com and gather the best content about roofing. I love woodworking and construction and it was only natural for me to start this passion project of mine. Thank you for visitng.