Roof shingle colors – When it comes to home DIY, it's pretty safe to say that not everybody is an expert and not everybody is quite as capable as they may like others to believe.
As far as essential parts of your home are concerned, arguably your roof is the most essential of all as it provides protection against the elements, it helps provide insulation, it helps keep you warm, and above all else, it also helps to enhance the overall appearance of your property.
As far as roof shingles are concerned, many people these days are actually tackling the shingles themselves and are shingling their own roofs, with great success too in most cases.
When it does come down to shingling a roof however, more often than not, one of the most common mistakes that people tend to make is to not consider the best shingle colors for roofs.
Truthfully, not many really pay any attention to the colour of their asphalt roof shingle colors at all.
When it comes to roofing shingles colors choosing the right colors can make a world of difference and can literally transform any property, adding not only value to it, but also making it appear far more attractive in the process.
Here, we'll be taking a look at some of the best ways of choosing the best coloured shingles for your roof.
Dark or light – Some of the most popular roof shingles colors these days are now either very light, or very dark.
Whilst traditionally you may not be that used to seeing lightly coloured roof shingles, with popular varieties such as timberline, many timberline roof shingles color these days are now brightly coloured.
This can help make properties incredibly bright and vibrant and look very attractive, especially during the summer when the sunshine reflects off of the roof.
In terms of dark or light shingles however, it isn't just the appearance you need to consider.
For example, a number of studies have revealed that the joists located underneath black roofing shingles were, on average, 10 degrees hotter than identical white shingles on exactly the same type of roof in exactly the same location when the weather was sunny.
This can be both practical and impractical. During the winter for example, on sunny winter days, the black shingles would help provide additional heat, but on the flipside, during the summer, if you aren't a fan of the heat, those 10 degrees would become a big problem.
With more neutral colors such as greys or browns however, temperatures were largely unaffected.
Color coordinate – Remember, when it comes to finding the best shingle colors for roofs, we all have different tastes and preferences in mind, but even so, you should always remember to color coordinate your shingles with the color of your property.
For example, if you have a white property, to help add a little contrast, you may wish to go with a light brown color for your roof shingles as going for white shingles may be considered overkill, whereas the light brown would help tie everything in nicely.
Of course it's your roof so you can kit it out how you see fit, but generally speaking, you may wish to color coordinate to help tie everything in naturally.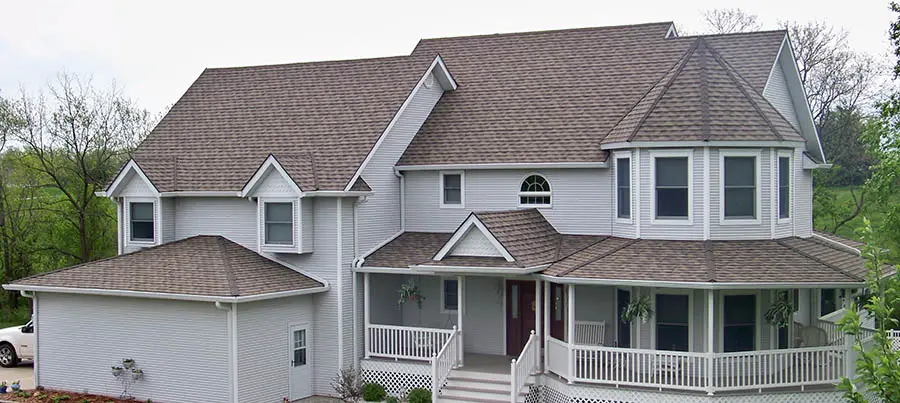 Choose shingles based on brickwork or woodwork of your home – It doesn't matter whether your home is made from bricks, from wood, or anything else for that matter, the colour, style, and texture of the exterior of your property should play a key role in determining which shingles you choose for your property.
With bricks this is especially noteworthy because if you were to fall in love with a roof shingle color and found that it didn't match your current wooden exterior, you could always paint your exterior to work with your new shingle color.
Brick however, cannot be changed anywhere near as easily.
Some of the most popular roof shingles colors are largely considered neutral and universal, meaning they work with pretty much any color, but even so, to ensure life is as simple as possible for you, make sure you choose shingles based upon the exterior of your property.
View shingles in different lights – Remember, as roofing shingles come in all shapes, sizes, colors, and textures, you should ideally view them in a variety of different lights to better gauge exactly how they may look on your roof.
For example, some shingles may reflect sunlight which could dazzle people and be considered too bright. Others may look dull and boring, even in sunlight and so in cloudy conditions they could make your house look depressing, dark, and uninviting.
Try to look at shingle samples in direct sunlight and in shade away from the sunlight to get a better feel of exactly how they'll look once attached to your roof.
On top of that, take a few samples and hold them up next to the exterior of your property to see whether the color and style works in different types of lighting.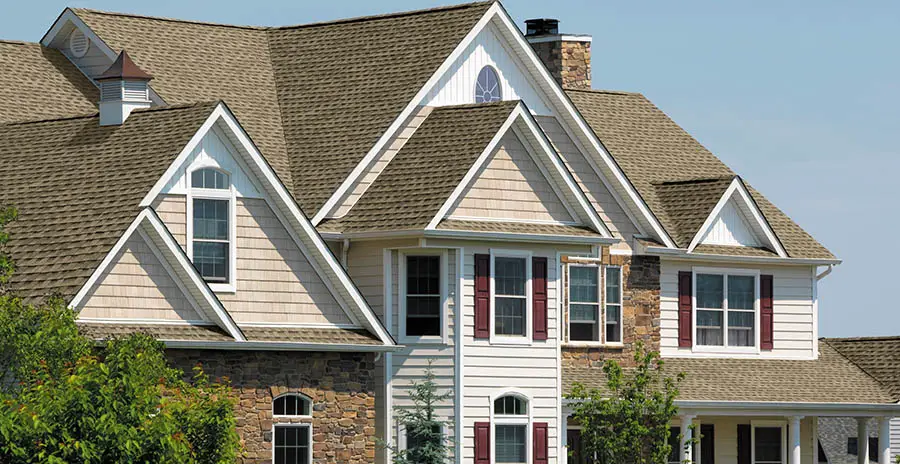 Don't be afraid to be bold – Some of the most popular shingle colors for roofs are actually considered pretty bold, bright, and vibrant and are perhaps not your more conventional roof shingle colors.
Whereas in the past people would often make conservative choices and go for dull and neutral colors, these days, people are becoming much bolder and braver and aren't afraid to push the boat out and try new things.
Brighter reds, greens, and even blues are now proving very popular choices, and if matched correctly with your existing brickwork or woodwork, they can look absolutely amazing.
Even if the initial sample that you see looks bright and you're worried it may be too bright, you'll find that once it's on your roof and contrasting with other colors and textures, that in actual fact it ties everything in perfectly and brightens up your home without looking too dramatic or over the top.
Don't forget about resale values – If you are anticipating possibly selling up and moving house a few years down the line, make sure you consider that when choosing your roof shingle colors. A bold and vibrant roof may look great to you, but remember that not everybody will share your tastes.
So if resale is on your mind, you may be better off going with more neutral and safe colors. If, however, you are planning on staying and turning your house into a home, if you wish to add charm to your property, go as bold as you wish.
Hi, I'm Jim. I was a roofing constructor for 20 years, before deciding to start myrooff.com and gather the best content about roofing. I love woodworking and construction and it was only natural for me to start this passion project of mine. Thank you for visitng.