Today, homeowners and businesses are consistently looking for new ways to reduce their carbon footprint while maintaining efficient housing structures. One of the best new strategies that many properties are incorporating is a green roof.
This style of roofing is not only integrated into the structure of the shingle system, but the plants that are provided with this type of roofing work to insulate a building while improving the environment.
Green roof installations are easier to start than you may think. A number of companies across the US and the world are now installing these types of green roofing systems full time.
A green roof system is perfect for over the garage, for example, and it can be integrated into almost any architecture style. This means that you can have a green roof that's best suited for flat surfaces, slanted roofs, and more.
It all comes down to the design as well as the types of plants that are added to the green roof.
HISTORY OF GREEN ROOFING
A green roof is also commonly called a living roof. These traditional subgroups actually have an extensive history.
These style structures have been found across history because of their amazing insulation properties. Before there were shingles, this was actually a very popular choice, and traditional sod roofs can be found throughout Sweden and in North America.
We can find this type of design in many historical sites, such as Viking settlements. The sod in these designs would provide a way to keep the heat in while also keeping water from trickling down into the home or property.
While these original configurations of green roof systems are no longer used, they provide some inspiration for modern architects.
Of course, historically, there was not the same number of guidelines and details associated with green roofing as there are today, but many people knew how to make a structure on top of their home that was green in the past. The architecture has changed as well.
The nice part about these designs is that they reduce the environmental impact that a home can actually have on the surrounding area.
Visually, a green roof can also blend a home or property into the surrounding area as well. We find this especially true in many ancient settlements.
When viewed from above or afar, the home or property can virtually disappear into the landscape, which can improve the aesthetics of a particular area.
ECO-ROOFS
A modern green roof, or eco-roof, can actually have a number of different connotations.
While many people commonly think of a green roof as a structure that contains a roof garden or sod, there are many that also refer to green roofs as spaces used for Zamp Solar 115-Watt Expansion Kit, Add More Power to any Roof Top Solar System designs and more.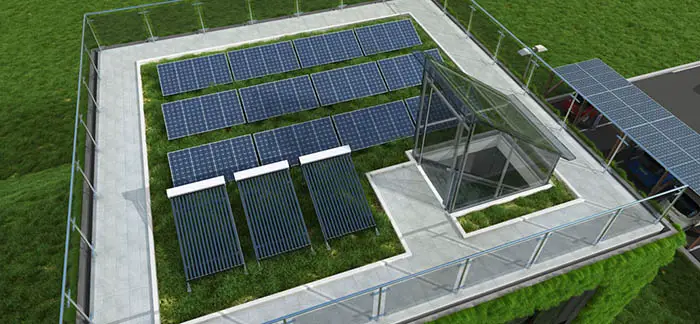 The top of a home or business with a solar thermal collector dish or green system of solar panels can be a fantastic way for the extra space to start generating some much-used power with a reduced environmental impact.
As more business owners integrate solar panels into their green roof designs, it is possible to have a green roof garden that utilizes both solar panels as well as grass and living plants.
A roof that can generate power as well as reduce the environmental impact for the surrounding area certainly has merit.
Modern eco-structures that use solar panels are not always found, but these are quickly becoming a plan for the future.
Other possible innovations that could come in the near future of green roof design could also include plants that can produce power through photosynthesis.
These types of algae and grasses are still in development, but in the near future, we could have a green roof that's capable of developing power without the use of solar panels.
THE OVERALL ENVIRONMENTAL BENEFITS OF GREEN ROOFS
A green roof can have many environmental impacts, and these have been recorded and studied by architects and environmentalists across the world.
There are guidelines regarding building these structures, but these details can be easy to follow. The following advantages and more have been discovered from the use of green roof installations:
Urban wilderness support: Bird nests and more have been found in green roof installations, and they can provide safe homes for plenty of urban wildlife.
Filtering pollutants: Green roofs can help with asthma as well as filtering out carbon dioxide and a variety of pollutants. This architecture is a perfect roof system for improving the air quality of a business.
LEED points: If you are interested in getting a LEED certification for your building, living roofs offer many points towards that certification. The LEED certification organization will regularly provide a guide for architecture professionals who want to create certified green structures.
Agriculture: With gardens on a green roof, it is possible to increase the space available for agriculture. If more businesses were able to maintain gardens, it's possible that we could produce more bountiful and regulated crops.
Sound: Green roofs work excessively well for filtering out sound pollution as well by blocking lower frequencies and industrial sounds.
Filtering rainwater: The runoff from green roofs is filtered with many of the heavy metals getting lodged in the green material. The architecture must follow specific guidelines for drainage, but with the right plants, it is possible to achieve better rainwater for watering grass, plants, and more.
Water is stored: Water gets stored by the plants rather than running off or evaporating. Runoff can be reduced by up to 75% during a serious rainstorm, which can prevent flooding.
Cooling load reduction: A green roof can actually work at reducing your overall cooling costs in the summer by 50-90% with its natural cooling and insulating properties.
Reduction in heat loss: A study by the University of Toronto suggested that green roofs can reduce the loss of heat quality and add a huge thermal resistance value to a property.
With these benefits and more, any property owner can see an overwhelming impact with their green roof.
COMPLIANCE
In order to install a green roof, a business often needs to fall in line with local government regulations as well as some fees. Guidelines are put in place to maintain drainage and safety configurations.
The main reason that there is a need for this type of compliance with a green roof is for runoff management. During a flood, the local government body needs to make sure that the green roof will drain properly and not affect any neighboring businesses.
Because green roofs can decrease the total amount of runoff from the roof, it's also very important that a building is structurally sound for a green roof.
A green roof can retain up to 75% of overall rainwater, and this can often result in a need for structural reinforcement. This can put excess loads on a green structure.
It is very important that you get the right people on your green roof design and make sure that the system is perfect for the structural system of your property.
By following the various guidelines for roof design, it is possible to not only get your green roof but to fall in line with any requirements of your local government.
COSTS
There are many financial benefits that can be received from a properly designed green roof system as well as some initial costs. Like many environmental improvements for businesses, there is an initial investment that can potentially pay back over time.
In most cases, the full development, planting, and installation of a green roof the system can cost anywhere between $108 to $248 per M2.
The costs mostly range from the type of plants that are required and structural supports that need to be put in place to the length of design. Some business owners have created extremely elaborate green roofs that go far beyond a simple installation of plants.
A group in New York even went as far as to create a beachside dune scene with their green roof, featuring boardwalks, sprawling sand, and plants.
Most of the materials used in a green roof can be recycled or salvaged, and this can dramatically reduce the overall cost of installation.
Some of the paybacks that can occur from the initial cost of a green roof include:
Extending the lifespan of your roof by up to 200% by covering up waterproof membranes that make up the roofing system.
Reducing loads on the environment by consuming carbon emissions from the surrounding area and potentially receiving a tax credit as a result.
Increasing real estate value: Houses that have green roofs could potentially increase their value by up to 7%.
Energy use reduction: With a 26% reduction in winter heat loss as well as a chance to reduce the need for air conditioning by 30-80%, a green roof can help you save on energy throughout the year.
Storm water tax reductions: Various regions offer rebates and tax reductions as a result of the environmental impact of a green roof as well as its ability to reduce the load on storm water management.
TYPES OF GREEN ROOFS
Green roofs are also divided into different types depending on the green roof design scheme. There are three main types of green roofs, which are characterized by the types of planting and vegetation that can be placed on them.
Intensive: Intensive-style green roofs are the most detailed and strongest of them all. This style of green roof is capable of supporting 82-150 pounds of vegetation per square foot.
An intensive green roof often contains more soil for the production of large roots, a wider root barrier, and more.
Green roofs of this type can include bushes and small trees, gardens, and more. This style of roof requires regular maintenance, including weeding and pruning. These areas are more like small parks rather than roofs.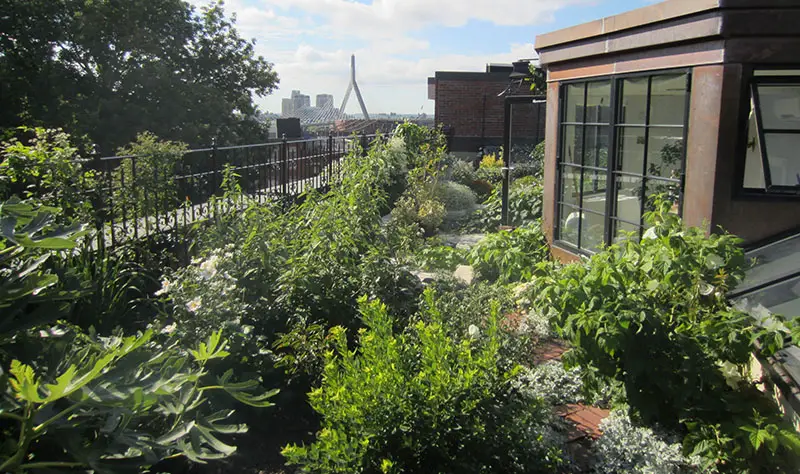 Semi-intensive: Semi-intensive roofs can support between 25-50 pounds of vegetation per square foot. This style is perfect for minimal maintenance with some more interesting plants than typical moss.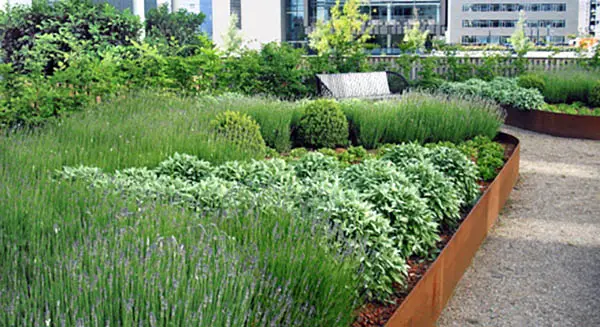 Extensive: Extensive green roofs are usually designed for 10-25 pounds of vegetation installed per square foot on the green roof.
This style of roof is usually designed to be almost self-sustaining with very minimal weight or maintenance. Just once per year, weeding or slow-release fertilizer is required to boost growth, but often, this style of roof just contains mosses or sedum species.
It does not allow room for large plants or a roof garden.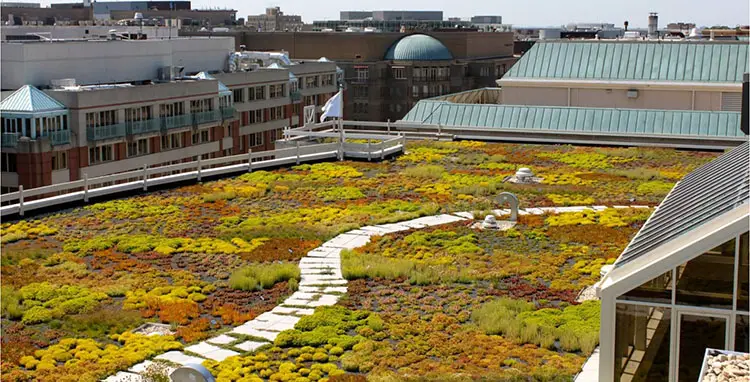 GREEN ROOF EXAMPLES IN THE USA
The United States has perhaps some of the largest and most extensive green roofs in the world. Ford Motor Company, for example, in Dearborn has installed 450,000 square feet of roofing with sedum and moss.
This is one of the largest green roofs in the entire world and an excellent example for many large-scale industrial companies.
Another example of a famous green roof is the largest one in midtown Manhattan, which sits on top of the United States Postal Services Morgan Processing & Distribution Center.
The vegetation has an expected lifespan of 50 years, and it saves the United States Postal Service around $30,000 per year in heating and cooling costs.
Chicago City Hall also has an extensive rooftop garden with over 20,000 plants and 150 different species.
The garden is regularly studied to see how it affects urban areas for rainwater runoff, which types of plant species are best for Chicago's climate, and more. The rooftop is not normally accessible to the public, but it can be viewed from any neighboring buildings.
Whether you are interested in getting a green roof for your home or for a major commercial building, we can see how they have many different advantages.
Incorporating green roofing elements into your roof design can make use of space that is normally wasted as well as help you to reduce your impact on the environment.
Last update on 2023-07-04 / Affiliate links / Images from Amazon Product Advertising API
Hi, I'm Jim. I was a roofing constructor for 20 years, before deciding to start myrooff.com and gather the best content about roofing. I love woodworking and construction and it was only natural for me to start this passion project of mine. Thank you for visitng.