Mmetal roof
styles">etal roof styles. Metal roofing is not just for barns or cabins anymore. Many homeowners are replacing their old roofs with metal panels for protection from ice, snow, fire, and rot.
The styles are anything but plain and look great with any architectural style, from Spanish ranch to Victorian.
The residential roofing panels can replicate European clay tiles, slate roofing, cedar shake, and even asphalt.
Popular kinds of residential metal roofing include:
Shakes
Shingles
Tiles
Slate roofing
Standing seam
Metal Shakes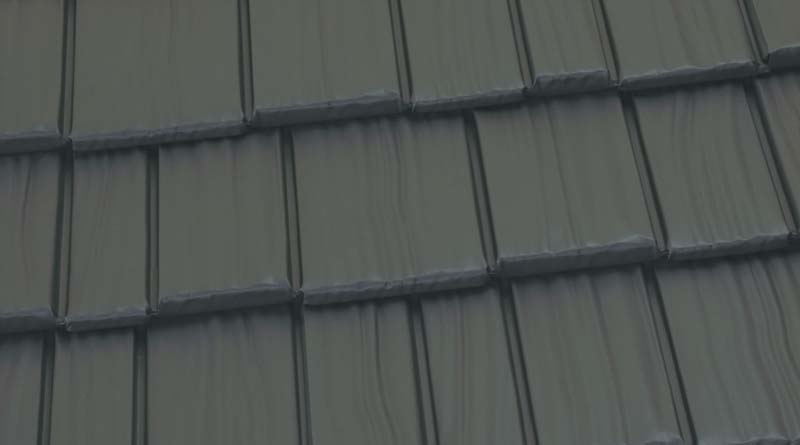 This roofing style resembles wood shakes, without requiring the constant upkeep of real wood or the risk of splitting or cracking.
A range of colors are available, and you can get hues naturally found in wood like cedar, oak, and pine.
Metal shakes are not only long-lasting but also lightweight, and contain recycled materials, which is great from an environmental standpoint.
The modular parts give your ranch style home a custom crafted appearance, upping its curb appeal. Metal roofing materials are also energy efficient and weather resistant.
Slate Roofing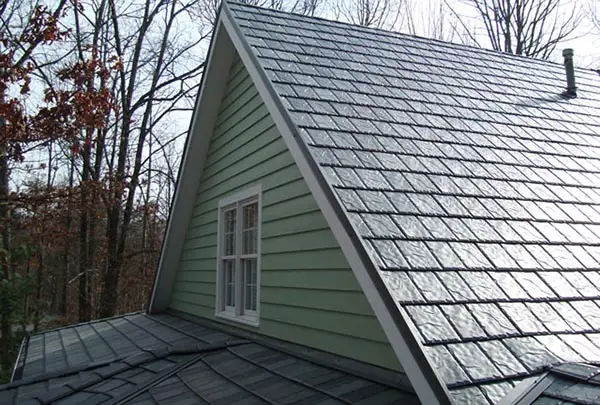 The quaint appearance of slate roofing on a ranch style abode and the impressive performance of this material make it a popular choice with property owners. Unlike with asphalt roofs, slate-style metal roofing, with its durable coating, is free of issues like:
Cracking
Splitting
Shingle blow-off
It provides the authentic look of slate that ups the curb appeal of your residence, while being significantly lighter and thinner than real slate. It is also easier to install.
Metal roofing keeps the interior cooler in summer and shields your family from storms or other unpleasant weather conditions. Slate-style metal roofing is an affordable luxury at a fraction of the cost of traditionally installed slate.
Metal Shingles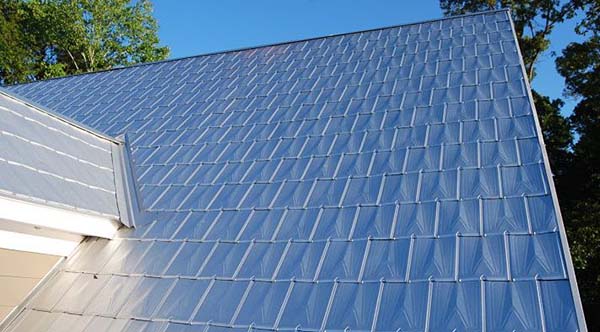 For beauty and efficiency, metal shingles are a great option. Shingle-style roofing is designed to look like thin-cut wood shingles and comes in a range of appealing colors.
Each shingle has a hard-wearing coating, with interlocking edges that are nailed to the roof surface for excellent protection that surpasses other roofs.
The shingles will never rot, warp, or mold, and the interlocking system provides great protection against harsh winds.
Choices include shingles made from galvanized steel and aluminum; aluminum is more expensive but is longer lasting and more robust.
Aluminum is the best choice for beach houses or other residences on the coast where there is a lot of salt spray in the air. At the end of its lifetime, the roof, which contains eco-friendly materials, is recyclable.
Standing Seam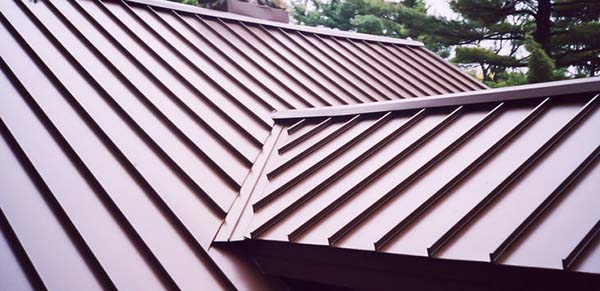 Vertical seam metal roofs are often simply known as standing seam. They have vertical panels that go up the roof to create a clean, simple, and timeless look.
The vertical lines draw attention to the attractiveness of your home and have an appearance that flows well. The design is very practical too, providing unmatched strength and a long lifespan, all with low maintenance.
A standing seam roof is perfect for:
Lower sloping ranch style residences
Roofs with longer spans
Property owners who like the bold look of raised seams
Special coatings can not only add beauty to your residence but also reflect the sun to help reduce your cooling costs.
Steel Tiles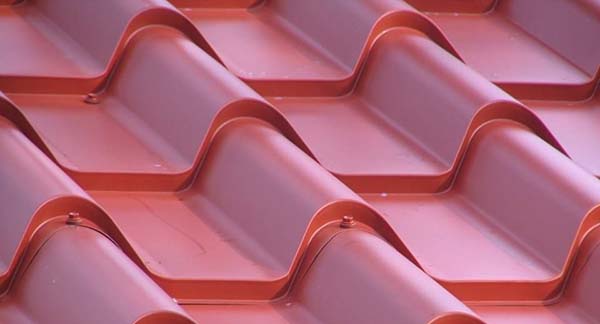 These tiles are strong and versatile. Their benefits include being hurricane resistant and energy-saving. The clay roofing normally seen on Mediterranean buildings gets an update with lighter stone granule-coated steel.
These modern roofing tiles have a scalloped design for a sophisticated look and come in many hues.
The shape of this high-quality material creates a stronger roof than traditional clay tiles; it can be walked on without any of the tiles falling off and stands up to hurricane-strength winds, unlike their clay counterpart.
Enjoy energy savings too, as residential steel roofing can reflect upwards of 60 percent of the sun's rays. Different finishes are available, including smooth and pebble embossed.
Copper Roof Accents
Due to the high cost of copper, this first-class metal rarely covers the entire roof. However, copper looks elegant and is more durable than steel or aluminum so it is a great material to have on a rooftop.
Rather than splurging for a full copper roof, homeowners can use copper for architectural detailing along the roof, such as low slope areas and towers. There are various options:
Shingle to diamond or slate looks
Shades vary from the classic distinct orange-brown to a modern blue-green
Copper roofs can last centuries, rather than just decades, which increases the property's value considerably.
It is low maintenance, as the metal will not corrode or rust. Plus, as it is a natural material, it does not need a coating or finish, so it will not need to be repainted or refinished later.
Choosing the Right Metal Roof Styles for You
The best metal roofing profile will depend on the architectural style of your home and the look you want to achieve for the exterior.
A new metal shake roof, for example, can provide an instant, incredible transformation for a traditional ranch-style structure.
Also, take time to select the right color for the roof based on the overall style of the structure, as well as considering the color of the siding, windows, doors, and landscape.
Aim for a unified look color-wise and keep in mind that a metal roof will not need to be repainted for many years.
The interlocking shingles or vertical panels stand the test of time as they will not crack, leak, or rot the way that many other common roof materials do. They provide better weather and thermal protection than asphalt roofs, too.
Little Maintenance and Eco-Friendly
Metal roofs require only minimal maintenance and the roof can contain upwards of 30 percent recycled metal content, depending on the kind chosen.
Metal roofs will never end up in the landfill either. When you want a different look for your home or it's time to replace the old roof, metal roofing provides a great solution, available in many styles. Protect your real estate investment by installing a new metal roof.
Hi, I'm Jim. I was a roofing constructor for 20 years, before deciding to start myrooff.com and gather the best content about roofing. I love woodworking and construction and it was only natural for me to start this passion project of mine. Thank you for visitng.