A post tackling roof insulation
cost">roof insulation cost. The price of insulating a roof is dependent on the unique characteristics of a home. The size of the attic will influence the price, and the rating of the materials used also has an impact.
Hiring a general contractor will also be a factor. Being able to install the right product yourself can save you a lot of cash.
Here are the various factors that will need to be considered and the amounts associated for those considerations.
What Product is the Best Option for a Home?
Having the correct materials to stabilize the temperature within your attic is one of the best investments a homeowner can make.
Even if the home is not a long-term residence, the right materials will reduce heating and cooling costs all year long.
In order to calculate a proper estimate for this installation, you'll need to consider which of these four options is the best to use in your home.
Spray Foam: This product will fill in gaps and various leaks that exist in the current structure of the home.
Closed-cell foam products have the highest ratings in this category, but may need to be installed by a local contractor.
Blown In: This is the traditional protective product used in the US for many years. It is made from paper or cellulose.
Although manual installation of this material is possible, it works better to hire or rent a mechanical blower.
Fiberglass: This is the easiest product to install from a DIY perspective. Just unroll it in the place it needs to be.
Called "batts," you may need to cut the product to size. How much cutting is required depends on the spatial requirements of the home. Measure the attic space, use a utility knife to cut it, and always wear gloves when handling this product.
Reflective (Radiant): This product may include boarding, plastic film, or reflective aluminum materials.
Not every community allows for permanent reflective installations. You will need to check local building codes before this project.
What Does the R-Value Rating Mean?
The R-value of insulation material is a measurement of its resistance to conductive heat flow. The value offered is an indication of the product's thermal resistance.
A higher R-value will provide a much greater overall protective effect for the home. What R-value is required depends on the home's location.
When a home is located in a colder climate, then building codes may require a higher R-value installation.
Because higher R-values indicate thicker or denser products, there is a higher price associated with it.
Different types of roofing materials may also influence what R-value may be required for a home. A metal roof will perform differently than traditional shingles. Wood shingles, tile, or tar may also have specific requirements.
The US Department of Energy offers these basic guidelines in regard to R-value. These apply to attics which are considered to be unfinished:
Cold climate minimums: R-49.
Temperate climate minimums: R-38.
Hot climate minimums: R-30.
You can determine what R-value a product has because it must be placed in a prominent visual location. Once installed, the primary advantage will be an improved comfort level within the home. You may also experience these additional benefits:
Reduced noise pollution from the outdoors.
Fewer health triggers, such as pollen or dust.
More resistance to pest infestations.
Improved control over humidity levels.
Better precipitation control in colder climates.
Up to 90% of homes may have deficiencies in the amount of protection they have. By making an investment now, a future crisis could be adverted.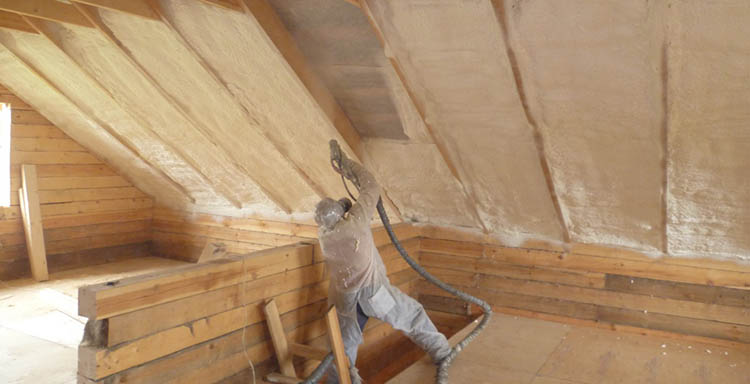 How to Calculate A Roof Insulation Cost
Each product category has its own base pricing which must be considered to determine the final investment requirement. The following are the core pricing rates for each product category.
Spray Foam Cost: $0.35-$2.00 per board foot.
Blown-In Cost: About $1.00 per square foot.
Fiberglass Cost: $0.60-$1.20 per square foot.
Reflective Cost: $0.15-$0.30 per square foot.
Once you've determined the product you wish to use, you'll need to measure out the installation space. You must be able to determine the amount of square feet that will be covered by this project.
To calculate your area, the easiest method is to multiply the length of your attic by its width. For attics of irregular shape, break each section into a rectangle for best results.
Then use the length by width equation to determine the size. Finally, multiply the square feet by the estimated roof insulation cost of the product being used.
A 500 square foot attic would have the following estimated costs.
Final spray foam cost: $175 to $1,000.
Final blown-in cost: About $500.
Final fiberglass cost: $300 to $600.
Final reflective cost: $75 to $150.
There May Also Be Rebates or Credits to Claim
When the decision is made to weatherize a home, there may be some financial benefits that can reduce the final installation cost.
Although in the US there are very few national-level tax credits available, various local and state credits and rebates exist.
There may also be discounts offered by local utility companies that come in the form of bill credits. Rebates may also be offered.
Is it Time to Start Your Next Project?
The best time to start this project is before the hottest or coldest months of the year arrive, so spring or autumn are the usual recommendations.
When these products are in high demand, the scarcity can affect the final roof insulation cost. Off-season purchases may provide a discount.
In return for this investment, you will be able to save energy and money throughout the year. If you have a room that feels colder than the others, then make this investment today. If your upstairs feels cooler than downstairs, then this is a project to take on this year.
Follow these steps and you can estimate what your final costs will be. Then you can begin to experience the savings that this project can provide.
Last update on 2023-07-04 / Affiliate links / Images from Amazon Product Advertising API
Hi, I'm Jim. I was a roofing constructor for 20 years, before deciding to start myrooff.com and gather the best content about roofing. I love woodworking and construction and it was only natural for me to start this passion project of mine. Thank you for visitng.