I took up the task of painting my metal roof during the fall two years ago. I tried to use what I thought was the best paint available. When the summer rolled around, our home was boiling inside. We paid an outrageous electricity bill to keep the air conditioning cranked up high.
I started to question the caliber of the paint I used – as the house was even hotter than before I started painting! A quality coat of roof paint should keep your house cooler, not heat it. I was talking about it with my friend, who happens to be a professional painter. He informed me I wasn't using the best paint for my metal roof, not even close! I also felt silly when my friend told me that fall is not the best time of the year to paint roofs.
Colors
Black / White / Gold / Red / Silver / Blue
Special Features
Weather and corrosion-resistant
High Solar Reflectivity (91%)
Best for Sealing & Repairing
Does not flake, peel or chip
So, this spring, I am all geared up to use the best paint for corrugated metal roofs. My friend also informed me that acrylic coating is the best paint for galvanized metal roofs if you choose to paint on a dry and sunny day. If you want to learn from my mistakes, read on to find the 5 best paints for metal roofing out of the 20 I reviewed.
What Is The Best Paint For Metal Roofing?
Have you been thinking about painting your metal roofing? It is essential to get a paint that is long-lasting and ideal for metal roofing. Good quality paint for metal roofing contributes to the roof's durability and energy efficiency. It will also help prevent rust caused by constant weathering.
In addition to the protective nature of these paints, they will also give your home or building a brand new look.
Paint for metal roofing must therefore be multifunctional. It should not only give your roofing protection and durability for years to come, but it should also give the roof of your house a sleek appearance and ensure that the color of the paint does not fade away with time.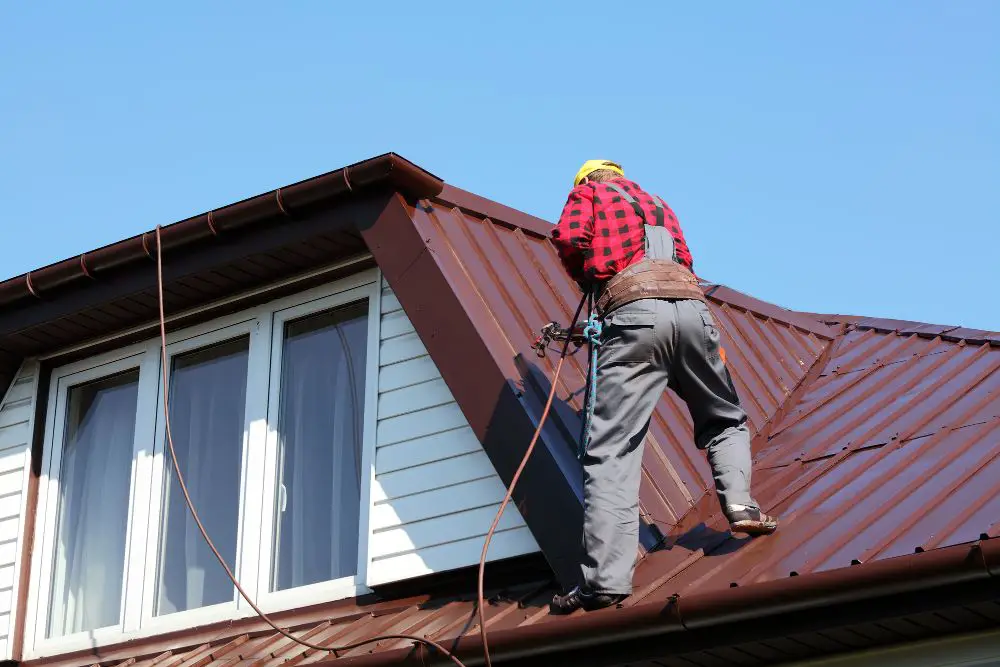 Thus, purchasing the best paint for metal roofing is extremely important for durable and corrosion-free roofing for your house. Of the nearly two dozen paints we reviewed, the following list features our top 5 paints for metal roofing.
#1. Hammerite DTM Paint
If you want rust-protective paint for your roof, Hammerite won't let you down. Its Dualtech feature acts as a protective layer between water and your metal roof. Rusted metal roofs are rejuvenated with a single coat of Hammerite metal paint.
Its thick coat is guaranteed to give you the rich look you deserve. A double coating is more durable and protects your house for eight years. You would be surprised how well it works on a variety of surfaces, leaving behind nothing but smooth glossy sheen.
Features
Perfect for all kinds of iron, steel, wood, and plastic roofing.
Smooth glossy finish.
Eight years of protection.
The quick-drying formula takes only 2 hours to dry.
Resists dirt, dust and rain.
3-in-1 formula.
Available in a variety of colors.
Rust Resistant: Coating your roof with the rust-resistant formula of Hammerite 5084857 will let you live in peace for about eight years without having to think of repainting (unless you want to). Its chemical components will prevent the deterioration of your metal roof.
Saves Time: You can apply it directly onto a rusted metal without pre-coating it with a primer. While other paints stretch the roof painting project from two to four days, Hammerite metal paint dries within two hours. It is ready for the second coat in four hours. You can wrap up your roof painting job in a single weekend with Hammerite.
Synthetic-Based Resins: This is the best paint for galvanized metal roofs because it has synthetic-based resins ideal for rusting metals. The optimum weathering properties work great even on the most deteriorated surfaces.
Direct-To-Rust: The high-tech 3-in-1 formula contains undercoat, primer, and topcoat liquid paint. You can apply it directly to rusted or flaky metals without applying primer and undercoat. It is easy to use and offers a smooth sheen.
Pros
Easy on your wallet as the primer, undercoat, and topcoat are available in one can.
Applicable on all kinds of surfaces, such as ferrous and non-ferrous metals.
Quick air drying of the decorative coating.
Imparts gorgeous sheen in a single coat.
You can apply the paint directly on rusted metals.
Hides the flaws of damaged roofs.
Provides eight years of protection.
Cons
Intermixing Hammerite smooth and satin finish may not give the desired result.
Suppose you live in coastal districts, your metal roof may be contaminated with salt. You would get the best result out of Hammerite if you scrub and rinse the abraded metal surface before application. The paint is easy to apply only when the surface is dry.
#2. Rust-Oleum Metallic Brush-On Paint
This is a superb quality metallic aluminum paint by Rust-Oleum. It is very protective and prevents the formation of rust on any surface it has been put on. The Rust-Oleum metallic brush-on paint is one of the best paints for metal roofing.
Features
It can be used for the protection of building exteriors.
Glistening enamel paint, which is long-lasting.
Metallic colors for an enhanced sheen for your metal roof.
It gives a glossy look to painted surfaces.
It prevents the formation of rust.
Weather-resistant.
Dries quickly.
Gloss Finish: This weather-resistant paint provides a glossy or semi-glossy look to any surface which has been painted. This paint also provides a flat finish.
Fit for Outdoor Use: It can be used for outdoor coating on a building or the exterior of a roof. The paint can also be applied on furniture placed outdoors and provides complete protection from weathering and rusting.
Long-Lasting: This paint for metal roofing is exceptionally durable. It is made out of an oil-based formula that resists rust formation and avoids any chipping, abrasions or color fading.
Fit for Multiple Surfaces: You can apply this metallic paint for roofing on many surfaces like metal, wood, concrete, masonry, etc.
Dries up Quickly: Once this paint is applied on a surface it dries up very quickly and is fit for being touched within 2 to 4 hours of painting.
Pros
This paint for metallic roofing is highly durable and not only protects against rusting and weathering but also resists chipping, corrosion, abrasion and color fading.
Not only does it give a glossy and shiny appearance, but it also gives a flat look to the surface painted.
Cons
It has a stickiness that can make the painting process difficult.
The Rust-Oleum metallic brush-on paint is one of the best paints for metal roofing. It is highly protective and adds life to anything painted.
#3. Henry Roof Coating
This paint for metal roofing by Henry has an acrylic base. This paint for metallic roofing is ideal for a protective coating over any surface that needs to be painted to avoid damage like rusting, weathering, abrasion or corrosion. This roof coating paint gives a reflective coating that appears sleek and makes the surface appear as good as new.
Features
Reflective roof coating.
Composed of an acrylic base.
User-friendly.
Very easy to apply.
Protects any surface against rusting, weathering and abrasions.
Stain-resistant.
Highly Reflective: Since it is reflective, it protects surfaces from overheating by reflecting the sun's heat which leads to a cooler temperature for your roof.
Acrylic Base: The acrylic base contributes to a bright and smooth-looking surface, even if it is added to a pre-coated surface.
Provides Weather Protection: The weather protection ability of Henry Roof Coating increases the longevity of your roof.
Stain-Resistant: As this paint has an acrylic base and is bright white, it resists any stain and protects the surface.
Pros
The Henry Roof Coating expertly controls and lowers your roof temperature and the protection it provides to painted surfaces resists the sun's UV rays, as it is highly reflective.
The acrylic latex coating is suitable for application on a pre-coated surface, leaving behind a smooth surface.
Cons
The paint chips off if not applied in the correct manner and on a suitable surface.
This acrylic latex-based roof coating is an ideal choice for a corrosion-resistant roof and can be applied on several types of surfaces such as wood, metal, asphalt and more.
#4. GacoRoof Silicone Roofing Paint
This paint for metal roofing by Gaco Western uses silicone as the paint's base. It protects the surface and repairs damage to the roof due to rusting or weathering. The enamel coating included in the GacoRoof Silicone Roofing Paint is easy to apply and appears to be very smooth.
Features
It is composed of a 100% silicone base.
It has a repairing effect on damaged surfaces.
Highly protective.
Adds to the durability of the surface being painted.
Suitable for both indoor and outdoor surfaces.
Perfect for flat and sloped roofs.
Repairing Nature: It has an unmatchable repairing quality for any damage to a surface caused by weathering or rusting.
Truly Protective and Durable: Coats every surface with additional durability and protection against the constantly changing weather, which ultimately contributes to the long-lasting ability of the surface.
Easy to Paint: The GacoRoof Silicone Roofing Paint is very convenient to apply on any surface.
Smooth Appearance: Provides a smooth appearance to the surface being painted and gives it a flat finish.
Suitable for Sloped Roofs: This paint for metal roofing by GacoRoof is well suited for flat roofs and is perfect for sloped ceilings.
Pros
The GacoRoof Silicone Roofing Paint acts as the perfect base for protecting metal roofing, and you can apply any other paint of your choice over a coat of this paint.
The GacoRoof Silicone Roofing Paint's repairing nature is unmatched and puts a damaged surface back in use with additional durability.
Cons
It is not very long-lasting if not applied to the surface correctly as directed by the user manual.
The GacoRoof Silicone Roofing Paint for metal roofing is an ideal choice if the surface of your paint has already undergone some damage and needs to be repaired.
#5 AMES Metal Paint
If you want long-lasting protection for your roof, AMES MSS5 is paint that you can depend on. It can withstand rough weather and works well in regions that regularly receive cold temperatures. What's even better is that it gives you the best protection against UV rays. The 98% reflection parameter on corrugated metal will lower your electricity bill and keep your house cool.
Features
Elastomeric paint.
Water-based metal paint.
Good adhesion.
Provides maximum reflection parameter of UV rays, up to 98% reflection.Easy application.
Nontoxic.
Waterproof: The premium quality roof coating has a watertight seal. The plastic paint prevents leakage and does not absorb water. It is composed of an acrylic polymer that allows rainwater and melting snow to slide off from your roof.
Safe to Use: AMES Research Laboratories Inc. ensures that their paint does not damage the environment. This eco-friendly metal roof paint does not contain any hazardous silicones. You can rest assured that painting your roof with AMES will lower your energy consumption while making you a considerate contributor to a healthier environment.
Durability: The long-lasting paint for metal roofs can stretch the life of your exterior metals by ten years. In comparison to other paints, AMES MSS5 has the edge over some of the other best paints for corrugated metal roofs.
Elastomeric Paint: High-performance rubber technology provides a 1000% elastomeric coating. The 98% UV reflection parameters will protect your home from damaging UV and infrared rays. You will save substantially on your electricity bill and still keep your house cool.
Pros
Provides exceptional mildew control.
Cost-effective as it provides excellent coverage while remaining affordable.
It covers damaged metal seamlessly.
1000% elastomeric coating.
Suitable for residential and commercial complexes.
Improves roof longevity.
750% of elongation adhesive.
Ten years of protection coverage.
Cons
Washes off if it rains within 24 hours of application of the paint.
Works best when the temperature is between 55 to 70 degrees Fahrenheit.
Suppose you forget to listen to the weather forecast before your first application of this paint. If it rains within 24 hours of painting the roof, all your efforts will go to waste. If the paint is allowed to sun dry for a day, it will stay on even on the stormiest night. You will get the best result if you start your roof painting project when the temperature outside is between 55 to 70 degrees Fahrenheit.
Buyer's Guide: Best Paint For Metal Roofing
Though you may be a pro on how to paint a metal roof with a roller, you could be in a dilemma while choosing between Sherwin-Williams metal roof paint or Rustoleum metal roof paint. If you are looking for the best paint for a corrugated metal roof but do not know how to evaluate different paints, this buyers' guide can be of great help to you.
DTM Paint for Metal Roof
If you are like me, you don't want to waste your time applying primer before the first coat. I prefer DTM paint for this reason. It not only provides UV resistance to your corrugated metal but also prevents rusting. Two coats are always better than one, but Direct-to-Metal or DTM paint for a metal roof offers uncompromising performance in a single coat.
Quick Drying Time
If you live near a coastal region as I do, you may see rainy days quite often. Asking for clear and sunny skies for two to four days in a row to paint your roof may not be possible. Don't worry! There are revolutionized paints that can dry within 15 minutes and let you apply the second coat after only an hour.
Oil-Based Formula
Let me tell you a little secret: oil-based paint is a wise choice for exterior metal as it is durable and acts as a protective layer for roofs in regions with lower temperatures. Its rich color and texture cover up flaws of chipped and abraded parts of the roof seamlessly.
Spray Paint
If you have no idea how to paint a metal roof with a roller, spray-painting with a corrosion-resistant formula will work for you. Spray paints form a protective layer on ferrous and non-ferrous roof metals, corrugated metal roofs, wood, concrete and more. The ability to spray from any angle speeds up the roof painting project.
Frequently Asked Questions: Best Paint For Metal Roofing
Q1. What Kind Of Paint Do You Use On A Metal Roof?
Ans. DTM paint for metal roofs is a good idea to use on metal roofs. An acrylic-based paint will never go wrong when it comes to exterior metal. It also protects the metals from harsh UV rays and stormy weather.
Q2. What Is The Best Paint To Use On A Metal Roof?
Ans. Rust-Oleum enamel spray paint provides convenience and saves time. Its quick-drying formula allows you to apply the second coat after an hour so you can quickly finish your roof painting project.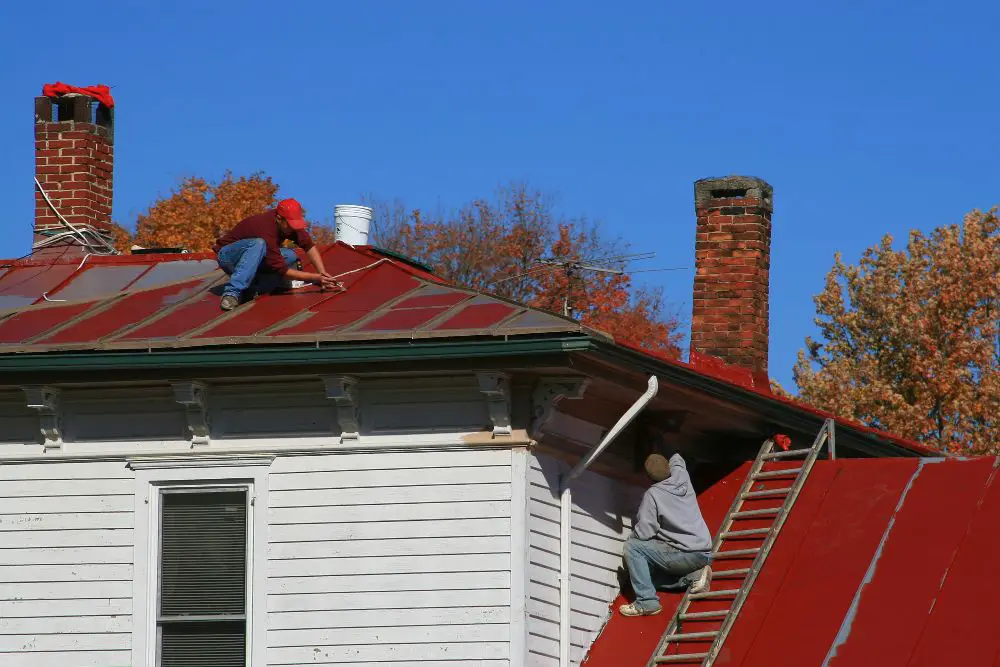 Q3. Best Paint For A Corrugated Metal Roof?
Ans. Rustoleum metal roof paint with oil-based formula is ideal for corrugated metal roofs. It is also the best paint for a metal barn roof.
Q4. How Long Does Metal Roof Paint Last?
Ans. The best paints for a metal roof are the ones with silicone-modified polyester coatings. The silicone increases durability and can last over five years. Check how long does a metal roof last. As the metal roof lasts much longer, you'll end up painting your roof 6-10 times over the years.
Conclusion
Among many options available for paints meant for metal roofing, choosing one of good quality is essential. The paint you purchase must have additional properties like color retention, enhanced protectivity, chipping and corrosion-free nature and reflectivity. A protective paint with a glistening and smooth finish is an ideal choice.
The Hammerite DTM Paint is my favorite choice among all the listed products and the one I would suggest for you. You can apply this paint directly on any metal – even when applied to the rusted metal without any pre-coating, Hammerite DTM will provide a glossy finish. It also comes in a variety of different colors.
Rust-Oleum metallic paint is the second-best choice on my list. This is because it is both weather-resistant and quick to dry.
If you are looking for a value-for-money option, you might want to consider the AMES metal paint.
Happy painting!
Last update on 2021-06-12 / Affiliate links / Images from Amazon Product Advertising API