Are you looking for roof extension and flat roof extension ideas for your existing house? If you have a two-story home, it's a great idea as the first story's flat roof won't block your view on the upper floor.
For a single-story residence, a flat roof over the extension can provide a contemporary look. Use this flat roof resource for finding the best design and cost for a well-constructed addition to your unique residence.
Roof Designs for Extensions
There are many flat roof designs to inspire your extension project, which you can find in books, magazines, and online. When done properly, a flat roof looks modern, in addition to being reliable. Here are some of the leading trends: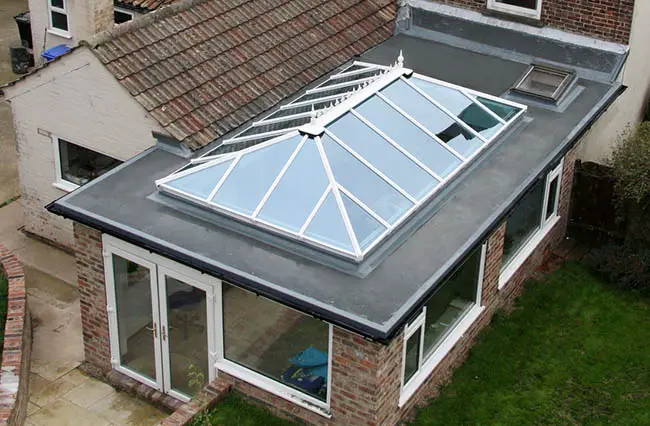 Glass Roof Extensions – With glazing technology, panes are stronger, bigger, and more environmentally friendly than before. It can radically transform the look of your home and alleviate dark spaces, replacing them with sun pipes and an abundance of natural light.
Bungalow with Balcony – Another idea is to create a balcony by extending the roof of your single-story home. Many homeowners are doing so and enjoy having more outdoor space with the balcony roof, which can increase property value and even include a garden.
Slope Savvy – roofs are not completely flat; instead, they have a slight slope to enable easy drainage of rainwater. One design idea is to slope the roof more than the usual 1.5 degrees. Slope it to 10 degrees (it's "flat" as long as it is less than 15 degrees) and slope upward to the garden for a more expansive view and a roomier feel inside.
Long Overhang – Another conversion idea is to construct a deep overhang, rather than just sitting the roof's edge on top of the wall it sits on. Add detailing to the overhang for the illusion of slenderness and a less boxy feel. The look is akin to horizontal and vertical planes.
Roof Lantern – An orangery-style glazed roof lantern sits within a flat roof and, from the outside, looks as though the roof has timber and planting, which is aesthetically pleasing. The glazed lantern lets natural light flood in your home.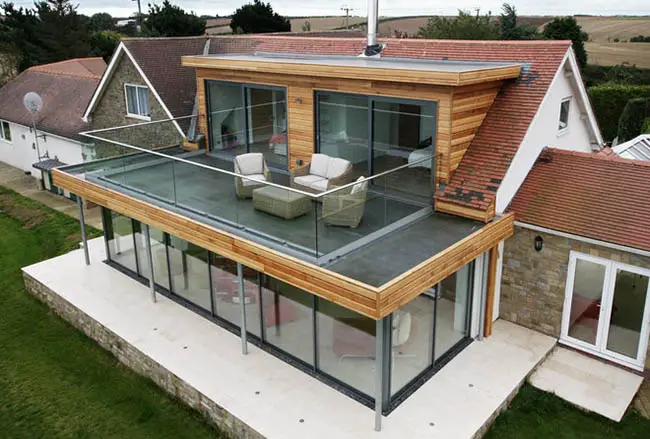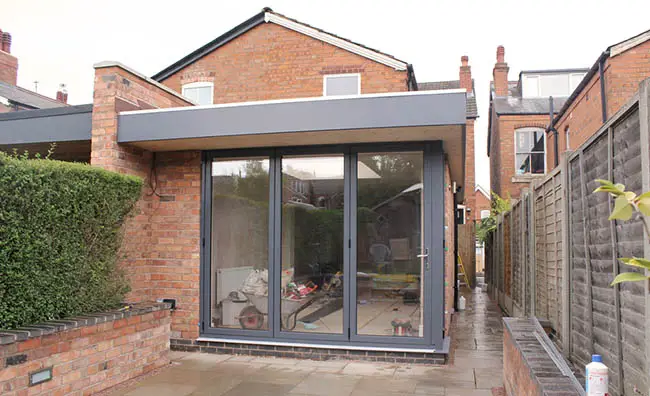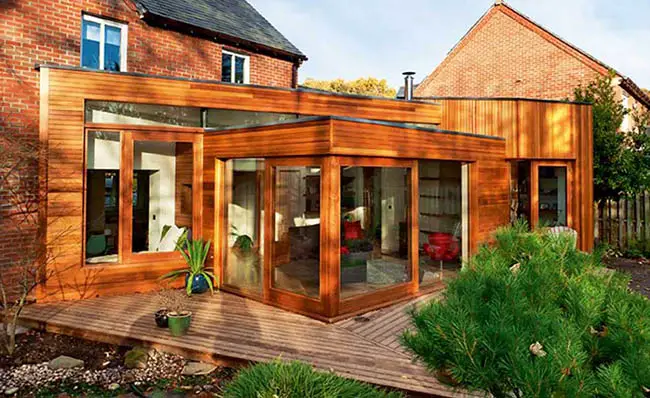 Before Deciding on Your Flat Roof Extension Design
There are obvious considerations to make before applying any of the new ideas presented above to your single-story or multiple-story house. Asking yourself the following questions will be helpful:
Do you want an architect to design it?
Does your builder have flat roof experience?
Do you want roof access? If so, how will you access the roof?
What roof color would you like?
Your answers to these questions may dictate your stylistic choices. We suggest you use a builder who has worked on flat roofs before to help safeguard against any structural issues with your idea.
In addition, many homeowners choose a roof hue that complements your house's exterior color scheme for a more cohesive look. Another consideration relates to money.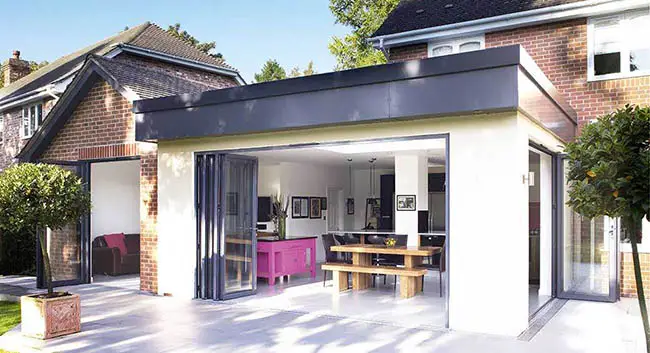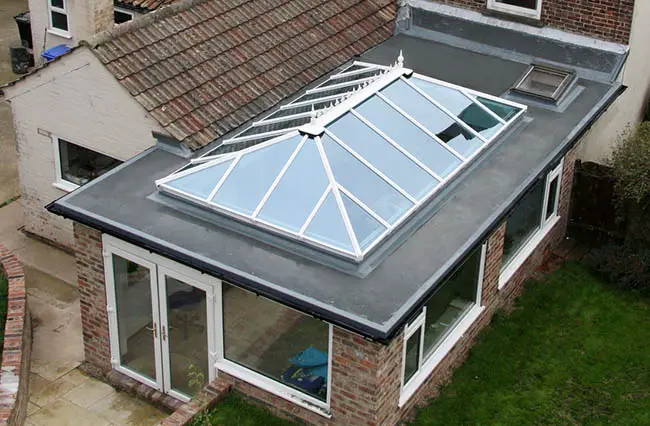 Roof Extension Cost
You will likely have a budget for the project and, in this case, learning that a flat roof generally costs less than a pitched roof will be good news.
This is because a flat roof requires less structural engineering and can utilize less expensive materials than the pitched variety.
As for what price to expect, it can depend on several factors, such as:
Location – A large city will have higher costs than a remote location.
Accessibility – What is the height and is it easy to get to?
Materials – The higher the quality of materials, the more you can expect to pay.
Size – A small roof will be more affordable than a large roof.
You can expect to pay about $1,500-$2,000 USD per m2 for a single story extension, with variation depending on the four details listed above.
Meanwhile, an estimate for the build cost of a double story extension would be roughly double the single story quote. Also, add 10-15 percent for the architect, structural engineer, and other professional fees necessary for a quality build.
However, if you do not have a choice as to which option you get, you may have to install a pricier pitched roof. Ultimately, the idea that provides the best long-term solution is ideal, whether it is the less costly flat roof extension or not.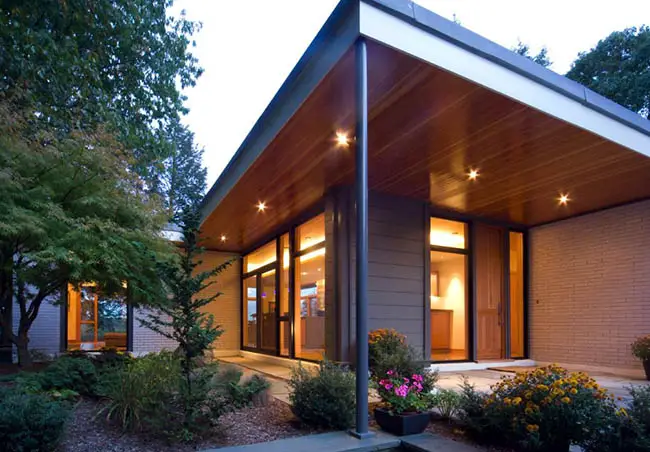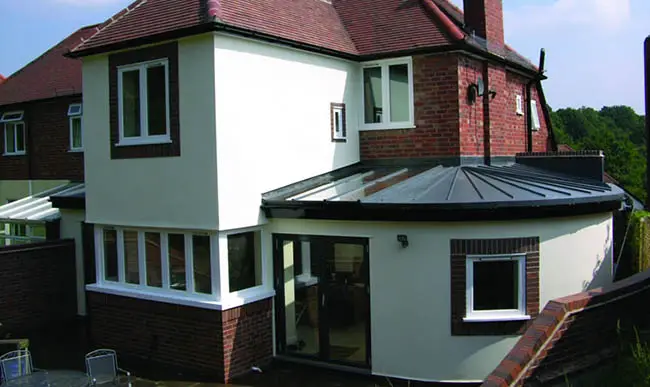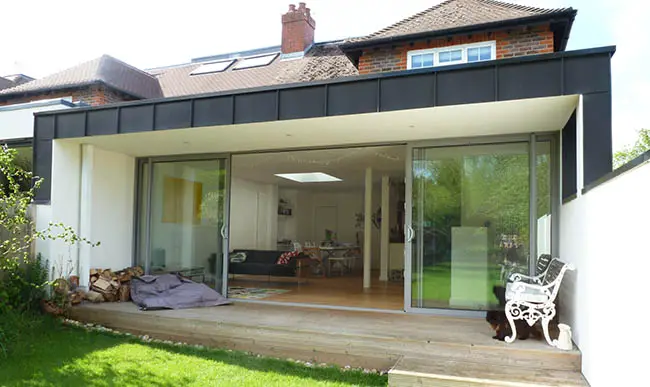 Applying Flat Roof Extension Design Ideas
The flat roof extension is more on trend than it once was, and is free of the dreaded leaks that haunted this type of structure in the past. Moreover, the costs of a flat roof extension today are typically lower than for a pitched roof. Take inspiration from the ideas above to create an aesthetically pleasing extension for your unique home.
Hi, I'm Jim. I was a roofing constructor for 20 years, before deciding to start myrooff.com and gather the best content about roofing. I love woodworking and construction and it was only natural for me to start this passion project of mine. Thank you for visitng.