This post is about froof materials
">lat roof materials. Every residential homeowner must realize that a flat roof is fundamentally different from a traditional pitched roof.
As a result, some of the types of flat roof materials – such as asphalt shingles, concrete tiles and corrugated metal – cannot be used when installing a flat roof.
Instead, residential homeowners must choose between a mix of different types of materials, including PVC, EPDM rubber, TPO, modified bitumen, BUR and silicon spray, when it comes to protecting a flat roof.
Also, keep in mind that each of these types of materials come with their own pros and cons for making a comparison. Some, for example, may offer a more impenetrable seal against moisture, but they may also come with a higher price tag.
So which type is best for you given your price range?
Key issues when choosing the best flat roof materials
The main thing to keep in mind about materials for flat roofs is that a flat roof must be 100 percent sealed off against water, snow or ice damage.
Unlike a traditional pitched roof, a flat roof has no way of "pushing" or "sliding" any accumulated water or moisture off the roof. Thus, there is always a risk of water accumulating on the roof in small "ponds."
This risk is especially high after a major snow or ice storm due to the melting effect.
In general, if there are any holes, gaps, or seams, water will find a way into them, and that could lead to structural damage of the roof and the interior of the building with the flat roof.
In short, the biggest threat to any flat roof is water of any kind, so the best flat roof is one that's completely waterproof.
Thus, every flat roof construction method puts a premium on keeping water out as effectively as possible. There needs to be an impenetrable barrier between the roof, decking and outer material that can withstand any rain or snowstorm.
The planning process
You may be looking at the roof and decking and wondering how to cover it most effectively at the right price. There are two basic types of solutions: you can either cover it with a moisture-proof barrier or you can coat it with tar or silicon spray that will repel the water.
The most common choices involve the much cheaper option of creating a waterproof barrier, and that generally means a single-ply PVC or EPDM rubber membrane.
As we'll see in the list of flat roof materials below, there are six major flat roof options and types of flat roofing materials that residential homeowners can use to protect their roof and decking at different prices.
OPTION #1: PVC membrane
Easily the most popular option for protecting the roof or decking is the single-ply PVC membrane. Contractors in particular tend to favor this because it is the strongest and most durable option, and thus, is most likely to hold up to a lifetime warranty.
No matter how big the roof and decking is, it can be covered with a single-ply PVC membrane.
That's because the seams can be heat-welded together to form a watertight bond. Each seam, in fact, is actually better at keeping out water and moisture than the regular membrane.
Best of all, homeowners can select a PVC membrane in any of several different colors, including white which is known to be particularly energy-efficient because it reflects sunlight.
This keeps down utility bills for homeowners, an important consideration to keep in mind.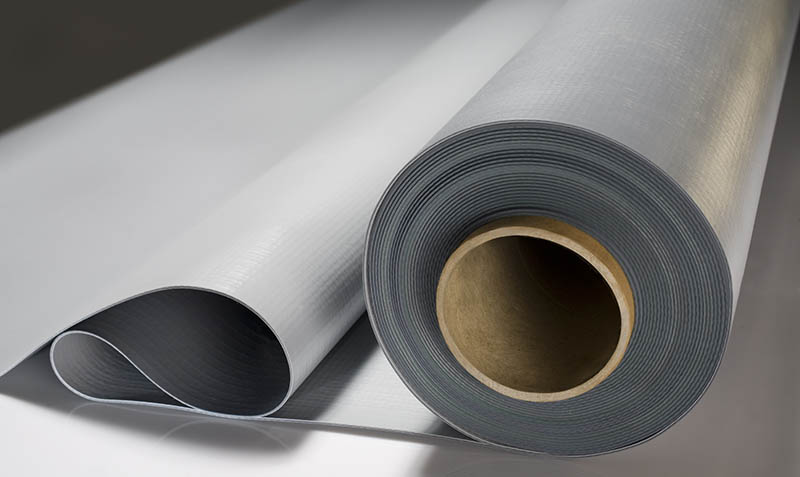 OPTION #2: EPDM rubber
EPDM, which stands for ethylene propylene diene terpolymer, is an extremely durable synthetic rubber roofing membrane.
When contractors talk about a rubber roof for the decking, this is what they have in mind. In terms of popularity, EPDM rubber ranks a close second to PVC.
While this rubber solution is a cheaper solution than PVC, it comes with three major drawbacks:
Its rubber seams are not as strong, no matter how much heat is used to weld them together;
It tends to absorb rather than reflect heat, making it not terribly energy efficient;
It's not environmentally friendly, because both ethylene and propylene (the E and P in EPDM rubber) are made from oil and natural gas.
The big selling point of rubber, though, is the cost. Generally speaking, rubber is cheapest when it comes to protecting a roof or deck.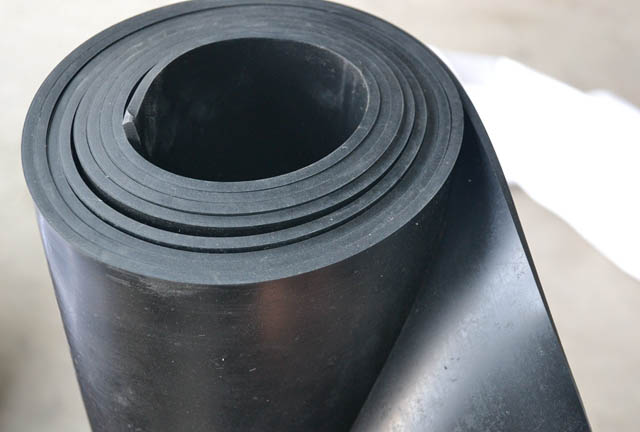 OPTION #3: TPO membrane
Another popular way to protect a roof or deck is the TPO membrane. TPO, which stands for thermoplastic polyolefin, is a single-ply reflective roofing membrane made from polyprophylene and ethylene-propylene rubber polymerized together.
As you can see, this is really a hybrid of PVC and EPDM rubber. This gives the membrane some desirable properties:
It's nearly as cheap in price as regular EPDM rubber.
It has welded seams that are almost as strong as PVC seams.
It comes in white, which makes it very energy efficient.
This TPO method first started appearing in the 1990s, thanks to advances in new rubber polymer technologies. What makes it relatively easy to install is that it comes as a single-ply roofing membrane.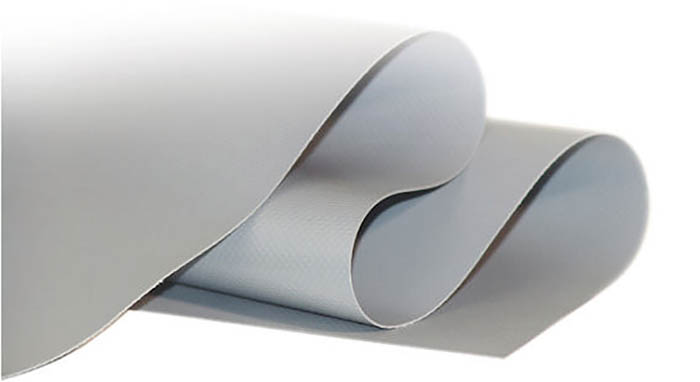 OPTION #4: Modified bitumen
The modified bitumen roof, unlike the previous three options, is a multi-ply membrane for protecting the roof and decking. That means the construction of this membrane is more complex than simply using a single-ply membrane.
Remember:
The key concern is protecting the roof or decking from moisture, so all layers of the membrane have to adhere together very efficiently.
In general, the first layer (known as the base layer) is attached to the roof, and then a single-ply overlap is sealed to the base layer with a permanent adhesive. At that point, it's time to add the final layer – a granulated surface top. This multi-layer approach leads to two key advantages:
It's harder to puncture, rip or damage than either PVC or EPDM;
It can be used on flat roofs where homeowners are trying to create a certain aesthetic look (due to the granulated surface).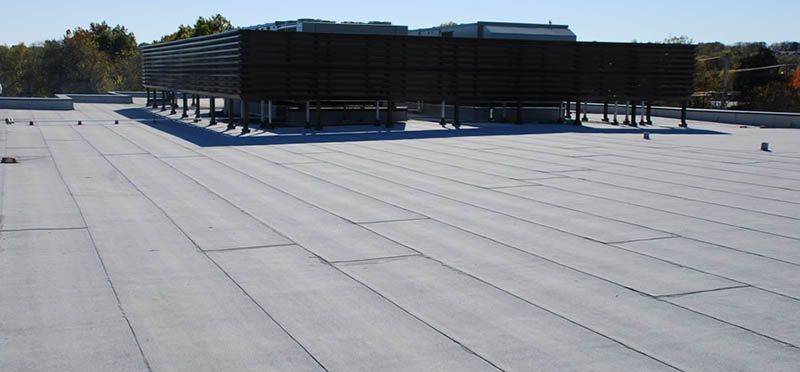 OPTION #5: Built-up roof (BUR)
The BUR method is known in the roofing trade as the "tar and gravel roof." And for good reason – it uses alternating layers of asphalt coal tar and gravel. It's called a "built-up" roof because these layers are gradually built up, one on top of the other.
In most cases, there are at least four layers of alternating tar and gravel.
This BUR method has a long history, dating back nearly a century. If you examine the flat roofs of commercial structures, you'll often see the BUR approach used to protect the roof and decking. It's not terribly environmentally friendly, but it gets the job done.
In fact, since it can be built up to many more than 4 layers, it can also support more weight than other roofs. But that also comes with a trade-off, because it is heavier in itself. You have to make sure the decking can hold up all that weight.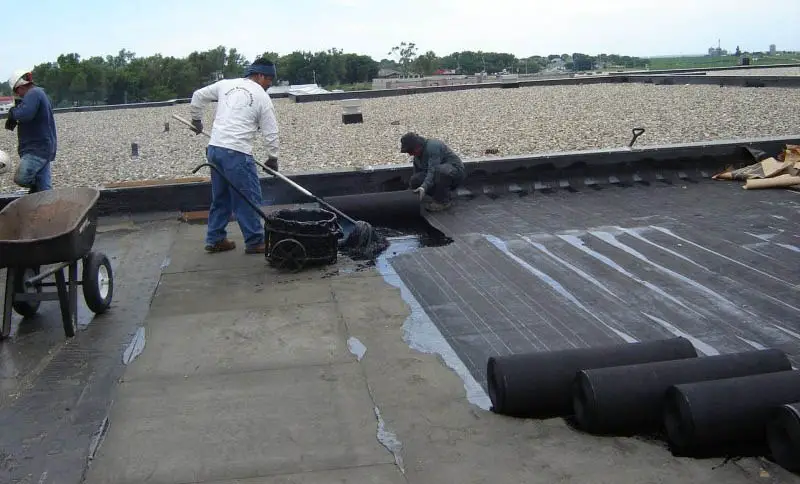 OPTION #6: Silicon spray
A "spray on" roof doesn't sound particularly safe or effective, but this is actually one of the most expensive forms of roof coatings.
Unlike the previous five methods which all focus on creating a barrier or membrane to protect against water and moisture, this approach uses a coating to repel water. This method comes with one major advantage: there are no seams.
And, as we've seen above, if you want to protect your decking, you want to make sure that any seams are 100 percent impenetrable. Even better is having no seams whatsoever!
Creating a roof deck
When it comes to creating a new flat roof, there's one choice that has become increasingly popular with residential homeowners: the construction of a roof deck.
This deck area can be used for anything from being a casual place to relax, a place to host small parties or events, or a place to work out. Just imagine taking your yoga mat out to the roof and meditating in the early morning!
However, given the increased weight involved and the need to ensure a non-slip surface for guests, certain factors need to be kept in mind.
Most importantly, such a roof has to be able to bear the increased load and it has to remain completely waterproof. Finally, all this must be done at a reasonable price.
That's why, when using the roof as a deck, many people prefer to use a PVC membrane and a floating deck assembly on top. Or, as another choice, it's possible to buy a roof deck membrane made out of PVC that looks beautiful.
In other words, guests won't think that they are stepping on top of a cheap rubber roof! A PVC membrane for a roof deck will be completely watertight, durable and long lasting.
In order to create this roof deck, here is the basic process to follow:
Lay out the PVC membrane over any roof substrate layer that might already exist;
Mechanically attach the PVC membrane to the substrate (typically with screws and plates);
Heat-weld any seams, roof-to-wall joints or flashing around posts and along walls;
Attach the floating deck assembly by using slippers to cushion the wooden deck on top of the PVC membrane layer.
If all this is done properly, it will result in a beautiful roof deck that you can enjoy for years. And it will be completely waterproof, so you won't have to worry about leaks from this deck assembly.
And, as noted earlier, you also have the choice of using a special slip-proof PVC membrane layer as a surface layer as well. In the end, this could end up being the more cost-effective choice for your roof deck.
Trade-offs to keep in mind
Obviously, homeowners and business owners have choices when it comes to protecting their roofs or flat roof replacement options. In general, there are seven important factors to keep in mind when comparing the choices:
Cost
Performance
Ease of installation
Environmental impact
Energy efficiency
Aesthetic look
Climate and weather
For most homeowners, the two key factors to keep in mind are cost and performance. However, there's a price/performance trade-off that people must consider. Generally speaking, the better the performance, the higher the cost.
In most cases, homeowners tend to emphasize performance over price, which is why PVC typically outsells EPDM rubber. After all, who wants to repair a roof at some point in the future?
The other four factors can vary in terms of the impact that they might have on the choice of materials. If it's easy to install, that's obviously a major plus if this is a DIY job.
And, depending on where this flat roof will go, aesthetic concerns may or may not play a significant role. For example, if the flat roof is going on top of a garden shed or detached garage, it may not be as important what it looks like or how energy-efficient it may be.
However, if the flat roof will function as a deck area, then aesthetic concerns might be very high on the list.
Conclusions
Homeowners have a lot to consider when installing a flat roof. First and foremost, they need to make sure that the flat roof is 100 percent protected from water and moisture.
Secondly, they need to take into account the various trade-offs involved with the different types of flat roof materials: PVC, EPDM rubber, TPO, modified bitumen and tar and gravel.
They also need to consider whether they need a membrane layer or a coating – something that might be determined by the local climate and weather.
Finally, they will need to decide if they plan to turn their flat roof into a private deck area.
The good news is that there are plenty of choices at different price points to make flat roof construction or replacement a very attractive choice, even for the DIY homeowner on a limited budget.
Last update on 2023-05-02 / Affiliate links / Images from Amazon Product Advertising API
Hi, I'm Jim. I was a roofing constructor for 20 years, before deciding to start myrooff.com and gather the best content about roofing. I love woodworking and construction and it was only natural for me to start this passion project of mine. Thank you for visitng.