A green roof house is a house whose roof is partially or completely covered with a growing medium upon which different types of vegetation have been planted.
Sometimes they can feature a waterproofing membrane, a root barrier and drainage and irrigation systems to enhance their functionality and increase the longevity of the roofing material.
Green roofs provide various benefits to not only the homeowners but also the general public and the environment.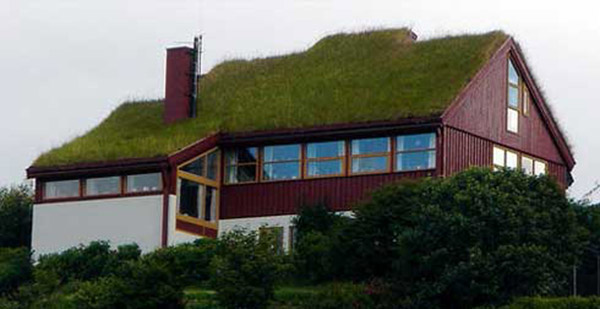 It is important to remember that there is already increased awareness of the environmental concerns that come with clearing vegetation, and green roofs present a unique opportunity to reduce this phenomenon in a small way.
Whenever possible, homeowners are highly encouraged to invest in houses with green roofs to take advantage of all the benefits that such roofs have, including a reduction in energy bills.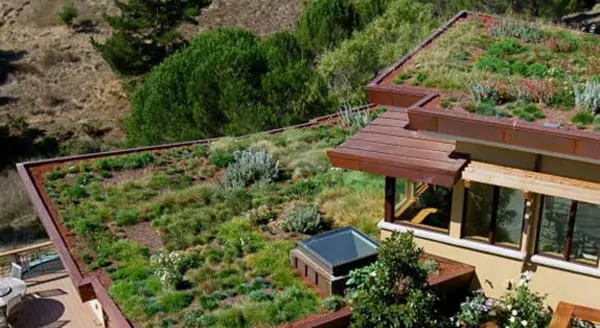 TYPES OF GREEN ROOF SYSTEMS
There are principally three types of green roof house plans that can be adopted for different kinds of houses. These types are dependent upon the type of building as well as the intentions of setting up the green roof.
Intensive Green Roofs
Also known as rooftop gardens, intensive green roofs are becoming increasingly popular in urban areas.
They are comprised of about 8 -12 inches of growing medium and will always be found in fully landscaped roof top gardens.
Various plants and trees can be planted on them, and since they are just like normal gardens they require regular care and maintenance to keep them in good condition.
Extensive Green Roofs
Extensive green roofs are primarily designed for environmental solutions. They feature a growing medium of between 3-6 inches thick and they are suitable for buildings with large flat roofs such as large residential apartments.
They can also be used for retrofits or low sloped residential roofs. Succulent plants and desert grasses are the predominant plants for this kind of roof since they require low maintenance with no regular watering necessary.
It might require weeding once a year to prune out the tree seedlings or other plants brought by wind and birds.
Semi-Intensive Green Roofs
A semi-intensive green roof house plan is a combination of both intensive and extensive green roof house plans. They are adopted to take advantage of both the diverse gardening capabilities as well as the environmental benefits that come with the two roof types.
Once installed, semi-intensive green roofs will require manageable care and maintenance practices to keep them in good condition.
BENEFITS OF GREEN ROOFS
Green roofs have private, environmental and public benefits. In no particular order, the following are some of the rewards owning houses with green roofs.
Aesthetic appeal – Green roof houses easily beautify the built environment and also increase the value of investment opportunities. The houses appear beautiful when viewed from the top, either from the air or from an adjacent taller building.
Storm water management – Storm water management is a serious menace to many city planners. Green roof houses provide a number of remedies to this problem. For instance, the roofs will absorb some of the rainwater and store it for the plants' future use, keeping it from hitting the ground drainage system. The roofs are also excellent in delaying the time of the runoff, thus reducing the velocity and the intensity and making it easy to manage the flow once it reaches the ground.
Energy efficiency – Green roof houses have good insulation which goes a long way in reducing the amount of energy needed to regulate the temperature of the building. Roofs are always a great source of heat loss in winter and they also increase the temperature during the hot months of summer. With a green roof however, there will be a significant reduction in the temperature fluctuations leading to reduced energy bills for the homeowners.
Increased durability of the roofing membrane – Houses with green roofs will experience decreased exposure of the waterproofing membrane to temperature variations as well as ultraviolet radiation that might lead to micro-tearing of the roofing membrane.
Noise reduction – Green roofs are also excellent noise absorbers. Intensive green roofs can absorb up to 50 decibels of sound while extensive green roofs can absorb up to 40 decibels of sound.
Fire retardation – Green roofs have a low burning load as compared to conventional roofs. This is an advantage as it slows the fire down when it reaches the green roof, allowing for a longer response time.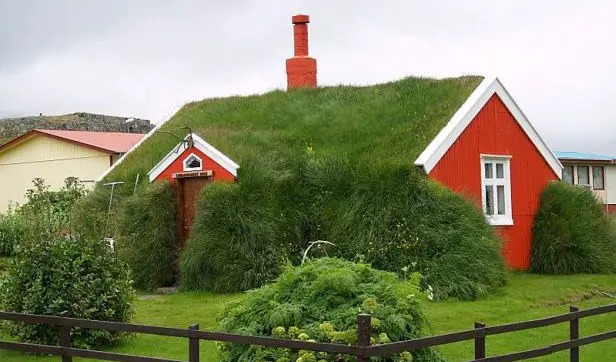 GREEN ROOF HOUSE CHALLENGES
Despite the many benefits of the green roof house systems, there are a number of challenges that come with the installation of these roof types.
Though the challenges can threaten the integrity of the entire structure they are manageable, and with proper care and maintenance they should not present major headaches to the homeowners. They include the following:
Structural Limitations
Green roof housing systems are only possible on flat or gently sloping roofs. This means that houses with steep roof inclines may not benefit from them.
Green roofs also require the roof and the load bearing walls to be strong enough since they usually have considerable weight that affect the structural integrity of the building.
Installation and Maintenance Costs
Many people find the cost of installing a green roof to be very prohibitive. In most cases, the cost is double the amount needed to install a conventional roof.
Though regular maintenance may not be necessary, it is usually labor intensive to install and thus more expensive.
Limited Plant Choices
The range of plants that can be planted on green roofs is rather limiting. Suitable plants are those which are drought tolerant with shallow root systems.
These mostly include lichens, low-growing grasses, sedums and mosses. They are leafy and look lush most of the time, thus making the rooftops appear green and beautiful.
Having other robust plants on the white house green roof may be a challenge due to the shallow root system requirements as well as the strong winds that rooftops normally experience.
Hi, I'm Jim. I was a roofing constructor for 20 years, before deciding to start myrooff.com and gather the best content about roofing. I love woodworking and construction and it was only natural for me to start this passion project of mine. Thank you for visitng.