Green roof installation – What if your roof could become an oasis, much like your backyard? This is the opportunity a green roof offers. A green roof offers a sustainable option that will give you a living roof for a cost comparable to traditional shingles.
This option also offers an environmentally friendly benefit for the cost.  Green roof installation is easy, and you can find out how to do that with this guide.
WHAT IS A GREEN ROOF AND WHY DO I NEED ONE?
This roof type offers any building the chance to have a layer of living vegetation. It is a little different from "going green" from an environmental standpoint, because you're planting vegetation instead of using environmentally friendly products.
This thin layer of vegetation lives, breathes, and grows on a flat surface.
This green roof installation may be used for any existing roof. You need only to follow these steps and you'll be able to start the project.
Install a rubber or plastic waterproof membrane on your roof decking, and then cover that membrane with a sheet of plastic to serve as a root barrier.
Add a thin layer of foam insulation or pour a thin layer of concrete to provide a firm foundation and improve the R-value of the roof.
Set your dimple mat or drainage mat on top of the insulation layer with the felt side facing upward.
Frame the sides of the roof so your green additions will stay in place.
Add soil, set your plants, and then water them so the roof settles.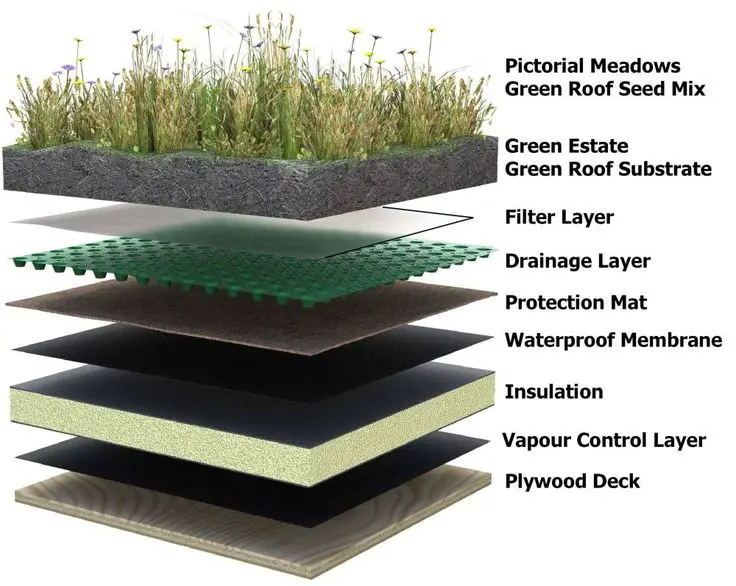 Now that you know the basics, you're ready to explore the options available to you. This way, you'll maximize the benefits of having a roof that is truly green, not just environmentally friendly.
YOUR TWO OPTIONS FOR A GREEN ROOF INSTALLATION
A green roof may be shallow [extensive] or deep [intensive]. Each has unique engineering challenges to be met, but extensive vegetation typically works better on commercial buildings. Homeowners can take advantage of the shallow designs suitable for almost any architectural design.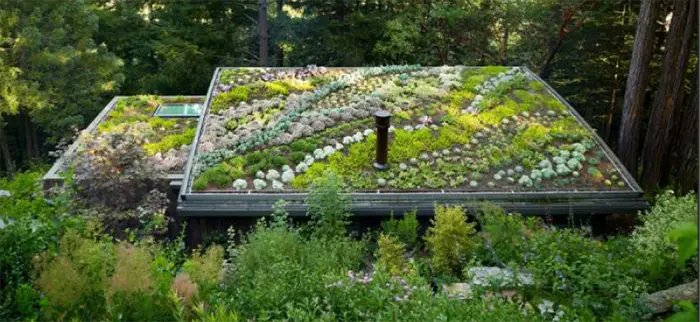 This installation method gives you 3 key advantages for your home or commercial building.
You have better precipitation control: A vegetative planting system, including the soil, reduces the precipitation runoff you experience on your property. This improves your peak volume rates, filters away potential contaminants in the runoff, and reduces the stress on your local treatment system.
It naturally improves local air quality: Plant life filters airborne particles that may be considered a contaminant out of the air, allowing for naturally better air quality.
Lower utility costs: Green roof installation creates a naturally temperate internal environment, giving you more control over daily temperatures. This may reduce your heating and cooling costs.
Longevity is also an advantage. Green roofs last longer with reliable installation.
WHICH ROOFING SYSTEM IS RIGHT FOR YOUR BUILDING?
How you intend to use the vegetation and what access you want to have to your roof will determine if an extensive or intensive option is right for you.
Extensive roof systems are not accessible for routine use, offer shallow planting areas, and have a maximum depth of 6 inches usually.
Only plants with shallow roots are typically used with this roof system, but plant maintenance is also kept to a minimum.
Intensive options give you more accessibility, but require supportive structures due to their increased weight of up to 150 lbs. per square foot.
You can add traditional landscaping features such as flagstone paths or resting benches with the installation of an intensive option.
However, you should avoid a conventional waterproof membrane for either option, and here's why:
A vegetative roof could be wet 100% of the time, which may exceed the tolerances of a traditional membrane product.
Tapered concrete is often added to extensive and intensive roof systems to provide better drainage and support, something that a conventional membrane may not support.
Traditional membranes limit the green vegetation available for planting on the roof.
The environmental benefits this roof can provide are clear. The cost-savings of this green option may be achieved immediately. As long as your structure is properly maintained, it could be the right solution for your installation needs.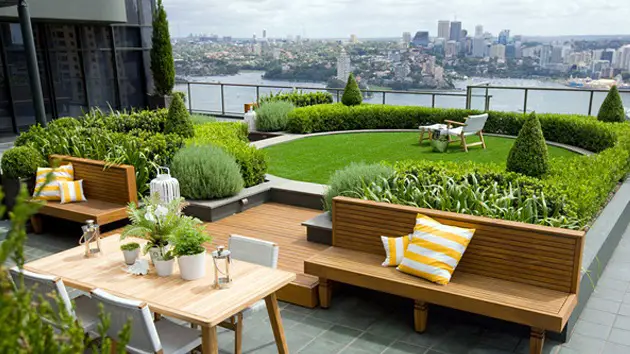 HOW TO DESIGN A BENEFICIAL GREEN ROOF
Because this is such an individualized structure, it may be necessary to avoid a pre-made green roof installation system.
These boxed options have the potential to work, but because every structure is different, your needs might not be 100% met by a standardized product.
Think about your overall goal. Are you looking to reduce sound pollution issues around your home or building?
Do you want to experience a prolonged return on your installation investment? Is your primary goal to conserve energy?
The answers to these questions will dictate the final design of your roof. If you want more acoustic benefits than conservation benefits, then you might consider a 6-inch extensive design instead of a 2-inch design.
If you want comprehensive water filtering to avoid pollution because you live near a sensitive ecosystem, then you'll focus more on the runoff portion of your design.
Cost is also a factor that must be considered. Although some communities may offer financial incentives for the installation or upgrade to a green roof, it isn't guaranteed.
Only a subsidized roof can offer a positive return. This means many designs look for the most cost-effective options to meet budget demands.
You may wish to consider your available budget first to have the most beneficial design possible.
WHAT ARE SOME COMMON PROBLEMS ASSOCIATED WITH GREEN ROOF INSTALLATION?
Not only does the plant life need consistent watering to stay alive, but also you must remove unwanted weeds and materials that may grow. You must be one-part landscaping technician and one-part structural maintenance expert.
Roof repair is also an unexpected challenge that may be faced. Should a water leak occur with your roof, the top vegetative layer may need to be removed.
This process is much more challenging than a typical repair, especially since this structure is supported by a waterproof membrane.
An interior water leak can travel along a membrane for some distance, requiring extensive investigation to find the leak.
Being proactive about your maintenance needs will help to reduce the potential for damage.
Inspect the interior underneath your roof monthly for evidence of water leaks.
Water your roof regularly when precipitation levels are light to maintain the health of your plants.
If wildlife is using your roof, you may wish to inspect the exterior of your structure 1-2 times per month.
Depending on your local environment, some homeowners or building operators may discover that increased insect life is a roof health issue. Some of this is controllable by planting attractive vegetation for the desired birds and wildlife.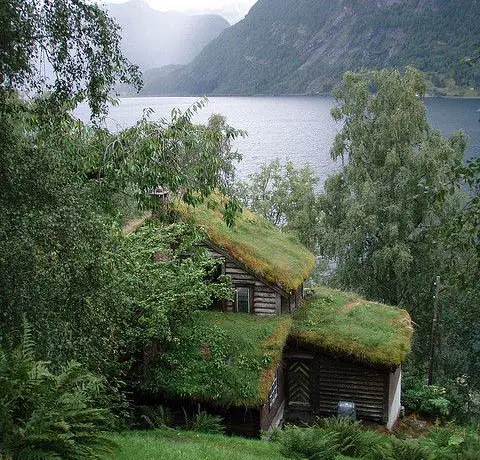 HOW YOU CAN IMPROVE YOUR CHANCES FOR SUCCESS
Once you've determined the structural design and the vegetation you intend to include for your roof, then you're ready to think about your secondary systems. These are the components your system requires to experience the long-term success you're expecting from this investment.
Root barriers will help prevent plants with deep rooting structures from damaging the waterproof membrane or other components of your home or structure.
Condensation reducers will help to prevent moisture buildup from occurring in gaps between the physical structure of your intensive or extensive system and the membrane.
A water retention layer can help keep a reservoir of moisture available for your plants, so your roof will withstand a dry spell for a prolonged period.
Drainage composites, often made from plastic sheets molded to the shape of your structure, help you to filter precipitation and control runoff to avoid unintended pollution in your local environment.
One of the most overlooked design elements is the base flashing utilized. In a traditional shingled design, the top edge of your base flashing is 8 inches above the waterproof membrane.
For a roof that incorporates vegetation elements, the base flashing must have its top edge 8 inches above the top of your planting system.
Every structure will have unique needs, which must be met by secondary components. There is no definite answer that can be offered here because there are many variables.
From precipitation levels to building size to plant preferences, it is up to you to determine what combination is appropriate for your needs.
IS A GREEN ROOF INSTALLATION RIGHT FOR YOU?
Almost every building benefits from having a green roof installation, even slanted roof designs can incorporate green elements successfully.
If your home is seeing dramatic temperature changes during seasonal transitions or your commercial building's internal environment is expensive to keep consistent, this design could provide immediate benefits.
You will want to look at the details of this project every step of the way to make sure you receive the maximum benefit. Minimize root penetration that may cause harmful leaks with routine inspections.
Use gravel around the perimeter of your design for better precipitation flow. Utilize dual-level drains to make sure falling precipitation won't continue to build up and cause flooding issues.
If trees or vegetation with deep root structures are highly desired, then you may wish to consider the inclusion of planter boxes within your design.
In doing so, you will discover that this idea for your home or building is more than just something pleasing to the eye. It can also help you manage your monthly utility expenditures.
Hi, I'm Jim. I was a roofing constructor for 20 years, before deciding to start myrooff.com and gather the best content about roofing. I love woodworking and construction and it was only natural for me to start this passion project of mine. Thank you for visitng.