This topic is all about metal roofing pros and cons. When you want your house to have a durable roofing cover, the solution is the application of metal roofing materials.
Roofing is the pinnacle of any construction. Buildings appear substantially completed after the roof is installed.
Roofing materials have been in existence for as long as the buildings have been constructed. Various roofing materials have been utilised in different housing all over the world. Each region have a different and preferred construction methods and materials.
These are determined by historical, cultural and environmental factors.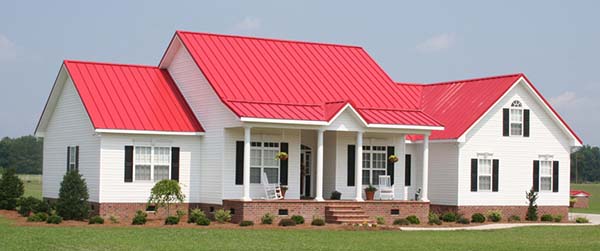 Due to globalization, standards have been set and adapted in various building spheres. These rules are intended to create harmony to all aspects of development, including the roofs.
With the different standards and building technologies available, different roofing materials have been used in intricate construction sites. However, metal roofing materials have stood out and gained prominence.
Metal roofing materials are applied in high precision environment and extreme situations, including salt pans production facilities, onshore oil explorations platforms and even building of extra terrestrials spacecrafts.
For normal construction, builders and homeowners attach much importance to the materials they would apply for roofing.
Before settling down on the best roofing structure, most people usually consider the pros and cons of metal roofs against other competing components.
These will include concrete tiles, timber as well as asphalt. In most cases, metal roofing materials such as steel, aluminum and other metals roofing sheets dominate these choices. These have arisen out of the trust and durability of the metals roofing materials.
The advantages and disadvantages of metal roofing are below: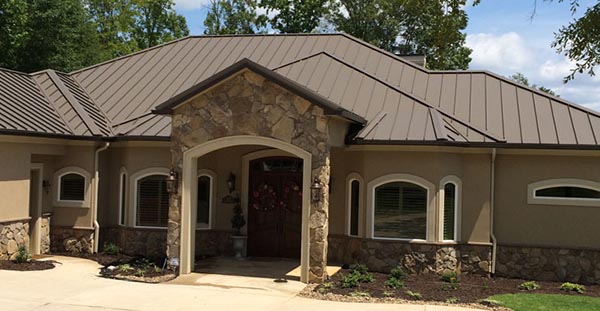 Benefits
The main benefits of metal roofing materials are as described underneath.
Long lasting: Numerous roofing materials have been in use for a long time. When aged buildings undergo renovation, those with metal roofing materials tend to require little or no repairs at all. There are metal roofs that stay intact in spite of the buildings being over 50 years ago. Since most metal roofs last between 40 to 60 years – depending on the materials used and the construction style – many manufacturers provide warranties of 30 years on their roofing products.
Durability: Another advantage of metal roofs is the durability. Metal roofs can stay for a long time without being damaged or require any replacement.
Safety: Steel roofs are safer than other roofs. They are not combustible; therefore, they offer better protection against fire. These fire resistance properties make them the preferred roofing materials in areas prone to wildfires. Furthermore, insurance companies recommend them as the best roofing materials against fire hazards.
Energy efficiency: This is another benefit derived from metals roofs. Most metal roofs are manufactured using highly-reflective materials. They quickly disperse heat and sun rays. As such, they help maintain a comfortable temperature between the roof and the ceiling or cellar. What is more, the fast heat dissipation abilities of the metal roof metals contributed to enormous energy savings which would otherwise be used for mechanical cooling the house – especially during the midday heat.
Weight: Metal roofing materials tend to weigh much less than their competitors. The metal roofs can be picked in shingles and layered very fast by one or two workers. Due to the light weight, the roof installation is quick. Another benefit of metal roofing materials' light weight is the ability of the trusses to support additional structures. Unlike on the concrete roofing tiles, bulky items such as the solar heater panels, satellite dish, and other components (meant to create homeliness) to be soundly installed on the metal roof without the fear of additional dead weight.
Easy to instal. Almost all metal roofing materials come in a corrugation pattern. The shingled metals enable easy assembly on site and quick installation. It is simple to master; hence, many roof installers prefer it to the intricate methods of carefully interlocking tiles and other timber roof materials.
Better pitching: Metal roofing materials can be installed properly on a gentle gradient roof without presenting any leakage issues. In the event of any leaking, a single defective shingle can be removed and promptly replaced by a new one without interfering with the entire roof.
Protection against rain and snow: Heavy rains, hailstorms, and snow present serious problems to all roofing surfaces. Due to the smooth terrain of the steel roofing materials, the rains and snow get dispersed quickly. Furthermore, due to high heat conductivity, the metal roofs allow the snow to melt quickly with the slightest temperature increase, immediately freeing it of the substantial weight. As such, it significantly improves the longevity of the roof.
Maintenance: Metal roofing sheets are general maintenance-free after their installation. In the event of need of any repairs, only the affected piece is removed and cheaply replaced with new material. Further, the metal materials are widely available, making repairs fast and cheap.
Compact: The design of the metal roofing materials makes it easy to interlock. This interlocking helps improve the roof's resistance to high wind. It also contributes to better structural integrity of the entire building.
Variety: Metal roofing materials comes in many materials and designs. These materials include tin, zinc, galvanised steel, copper, and aluminium. Further, there are many different sizes, gauges, and finishes to select from for each of the metal materials.
Drawbacks
Even with the benefits presented above, there are several disadvantages to the use of steel roofing materials. They are as below.
Metal components are expensive to manufacture. The cost of installing metals roofing materials area is, therefore, high. The cost per unit area is more than the timber tiles. However, this cost is normally recouped due to the long lifespan of the metal roofing materials.
One of the disadvantages of metal roofing material is noise. Although some residents like the sound of the rain pouring down the steel roof, most complain about the high noise level produced by the incessant thumping of the rainstorm, hailstorm or snow onto the metal roof. Rainfall lasting hours becomes even more irritating for small children seeking tranquillity during sleep time. What's more, a simple conversation between people turns into shouting matches.
Metals have a disadvantage of being prone to getting more indentationss than other roofing materials. For the soft metal roofing materials, massive pelting can be made by simple hailstorms. The uneven surface makes the roof appear unsightly.
Accidents: Roof surfaces have to be inspected or repaired occasionally. Metal roof material tends to be smooth and shiny. Due to the smoothness – particularly when the gradient is steep – accidents can very quickly occur as a result of slipping down or harsh light reflection. Undertaking repairs on wet metal roof surfaces increase the probability of accident happening.
When we consider the metal roofing pros and cons, we conclude that benefits far outstrip the disadvantages. As the metal roofing material lasts for long, the decision to select will depends on how much you are willing to spend. After all, you will enjoy the benefits of metal roofing materials for as long as you last in your new home.
Hi, I'm Jim. I was a roofing constructor for 20 years, before deciding to start myrooff.com and gather the best content about roofing. I love woodworking and construction and it was only natural for me to start this passion project of mine. Thank you for visitng.