metal roof
over shingles">Metal roof over shingles – Homeowners looking to replace an aging roof have two basic options: they can either strip off the old roof and replace it with a new asphalt roof, or they can install metal roofing over the existing asphalt shingles.
Unless building codes require it, there is usually no need to tear off the old roof. Installing metal roofing over shingles is the best solution.
The metal used for the roof can be tin, copper, aluminum or steel. In terms of performance many homeowners choose a steel roof, making it the most popular option when it comes to creating a metal roof over existing shingles.
When choosing to install a metal roof, homeowners need to take into account several trade-offs involving cost and performance.
While metal roofs are more impervious to hail, rain and high winds, they are also more expensive on a square foot basis. But, whereas an asphalt roof may only last 20 to 30 years, a metal roof can last as long as 50 years. See our related post on how long does a metal roof last.
If your roof is leaking (or if you suspect that it might in the near future), it may be worthwhile to go with the metal roof solution. It will give you decades of peace of mind. So, from a purely practical perspective, the clear winner is performance over cost.
Issues You Might Encounter
Once you've made the decision to go with metal roofing over shingles, you will have several different issues to keep in mind:
Building codes;
Condition of existing asphalt shingles;
Aesthetics;
Ease of installation.
In terms of building codes, many municipalities now have placed limits on the number of layers of roofing a residential building can have before requiring a complete tear-off.
Usually this number is two, meaning that if your roof already has two layers you won't have the option of installing a metal roof over shingles until you've removed at least one of the layers.
Shingle condition also plays a role, since a large number of missing, deformed, or curled shingles may narrow your options, requiring you to use a steel shingle system rather than a standing seam steel system.
Also, if the existing shingles on top are not level or in very poor condition, you may need to put a layer of roofing felt down or wooden frame over the shingles before installing the new metal roof.
In terms of aesthetics, you need to be careful in terms of choosing your metal roof solution so that it will blend into your surrounding neighborhood.
The traditional concern, of course, is that a metal roof will make your house look like a barn or storage shed if not done properly. But thanks to many different choices in color, size and shape, this is no longer a major concern.
Metal roofs on houses can look very attractive and dramatic.
Finally, you need to take into account ease of installation. Generally speaking, homeowners may not be able to create a seamless steel panel solution by themselves.
This method requires special tools usually available only to professional roofers. The best option for DIY homeowners without a lot of experience is steel shingles.
Options
Metal roofs have a long history of use. They have always been popular on barns, commercial buildings, and storage buildings, but now they are becoming more popular on residential homes as well.
You have two basic options when it comes to installing a metal roof:
Stone-coated or painted shingles (also known as "pre-formed crimped");
Standing seam solutions.
With the first option, you place small panels in horizontal rows, giving them the appearance of traditional shingles. With the second option, long, single panels run vertically all the way from eave to ridge.
In general, metal shingle systems (both stone-coated and painted) can withstand winds of up to 120 miles per hour. In contrast, standing metal seam solutions can only withstand winds up to 80 miles per hour.
Step-by-step Guide
The following steps describe very briefly how to install a metal roof over shingles without incurring too many costs.
The basic idea with a metal shingle system is that you are screwing shingles to an existing frame of felt or wood that covers the asphalt shingles. This is what enables you to avoid tearing off your old roof.
STEP 1: Get a precise measurement of your roof surface
Getting an accurate measurement will help you determine the exact amount of material needed.
With a metal shingle system, you are placing small panels in horizontal rows, so you can do a quick back-of-the-envelope calculation of how many panels you will need once you know the total roof surface area.
You will need to measure and take into account valleys, dormers and chimneys on your roof. If you are installing a seam steel solution, you will also need to think in terms of each side of your roof.

STEP 2: Lay down roofing felt over the entire roof
Your goal with the roofing felt is to make sure everything is as straight and as square as possible. To do this, you might need to put wood strips in place as well.
Also, keep in mind that flashing will need to be installed for dormers, chimneys or any possible seam where you are especially concerned about water. The key here is that you are aiming for a very square, symmetrical look without the risk of water damage later.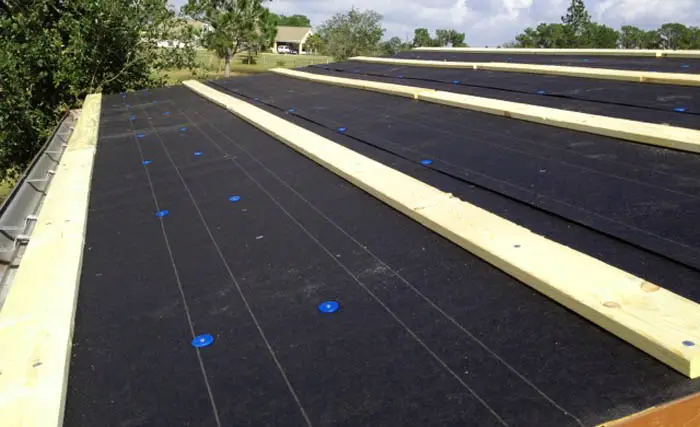 STEP 3: Start putting the metal panels into place
You want to make sure to start straight and keep the edges straight. Keep everything as square and symmetrical as possible.
This also applies to running the screws in a straight line. You can place the screws on either the flat surface or the raised ridges on the roof.
These screws are used for fastening the metal. Thus, the straighter they are, the easier it will be to fasten the metal.
When you install the panels, you will have to cut the valleys by hand. You can pre-measure closely and install them as you go along, or you can cut the panels close, leaving out some of the screws, and then come back later.
Also, be careful not to scratch the colored surfaces of the metal. If you scratch the metal now, it might lead to rust or other problems later. You want to keep any gritty substances from coming into contact with the metal.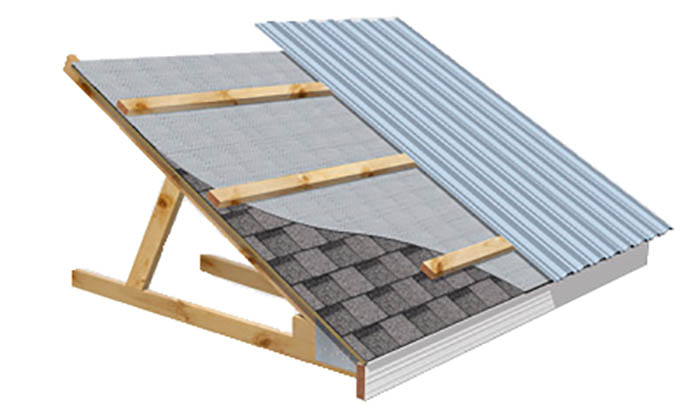 STEP 4: Install rubber or foam closure strips
When working with any overlaps (e.g. valleys, ridge cap, drip edge), you must install rubber or foam closure strips that match the shape of the metal to keep water from penetrating during violent rain storms or heavy snowfalls.
You also have the option of laying down and attaching rubber strips for any plumbing vents. The goal here is to prevent any water damage later.

STEP 5: Attach the ridge cap
The last step is attaching the ridge cap, which needs closures to prevent leaking. Another option is attaching a mesh designed to allow air flow which will create a ridge vent.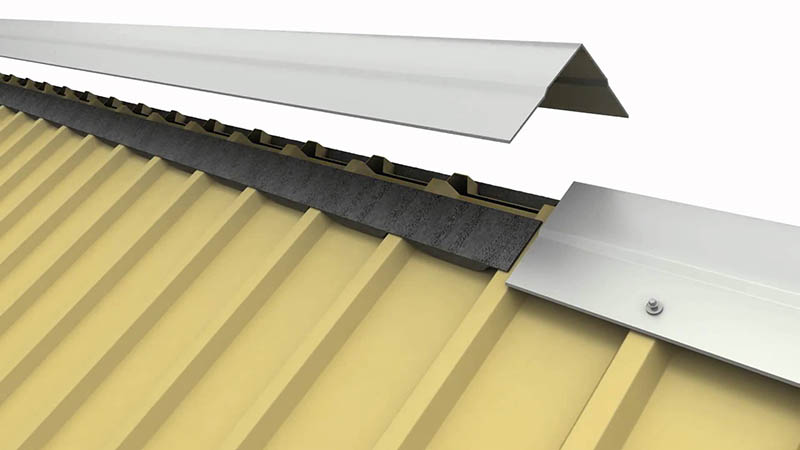 Following these basic steps will result in a solid, long lasting metal roof.
Safety
Working on a roof is always a potentially high-risk situation, so you must never compromise your safety. If you don't have a lot of experience working in high places, you may want to hire a professional roof contractor. You may need to include safety costs in the overall price of your project.
Look and Appearance
Metal shingles can be made using a specific color, shape and length, and there are many attractive options for homeowners. That's because they are produced by taking large flat rolls of colored metal stock and then shaping it with a large machine.
In many cases, it's possible to create a very dramatic-looking roof due to all the straight lines and no visible overlap seams.
Pricing
Here are the approximate costs of the different metal roof installation methods. In very general terms, the cost of a metal roof will be twice the cost of a new asphalt roof.
Stone-coated metal shingles
Materials: $200 to $350 per 100 square feet
Labor: $150 to $450 per 100 square feet
Painted metal shingles
Materials: $125 to $250 per 100 square feet
Labor: $150 to $650 per 100 square feet
Standing seam steel
Materials: $300 to $550 per 100 square feet
Labor: $400 to $1200 per 100 square feet
In terms of labor costs, the most expensive option is the standing seam metal solution, which is due to the professional expertise required. In terms of materials, the most affordable option is the painted metal shingles.
Conclusions
Metal roofing is expensive, but it lasts a lifetime. For homeowners who want the very best protection against wind, snow and rain, this might be the best possible solution from a return on investment (ROI) perspective. For a larger upfront cost, you will have metal roof that might last 50 years.
Residential metal roofs are growing in popularity, not just for their superior performance but also because they come in many different styles, types, colors and sizes. That makes installing a metal roof over shingles a great option for DIY homeowners to consider.
Hi, I'm Jim. I was a roofing constructor for 20 years, before deciding to start myrooff.com and gather the best content about roofing. I love woodworking and construction and it was only natural for me to start this passion project of mine. Thank you for visitng.