Green roof construction. In the 21st century, a green roof structure can address many problems that urban residents usually face; these infrastructures present a highly beneficial option for building owners as well as community planners.
A study of life cycle costing reveals that the cost of green roofs is much less than that of conventional roofing systems, and that a little investment in this type of structure leads to many environmental, social, and economic benefits.
Some of the common benefits of green roofs are: improved energy efficiency, increased lifespan of the roof membrane, proper sound insulation, and many more. In more scientific terms, green roofs help filter and clean air, as well as retain storm water.
This can lead to new opportunities in habitat creation as well as biodiversity preservation.
If you are thinking about constructing a green roof for your new house, you are in the right place. Here you will get complete green roof construction details.
One can implement designs on different types of construction, including reinforced concrete-type decks. Metal sheeting as well as wooden construction are some of the appropriate substructures for the roof.
The basic requirement for a green roof is waterproof construction and efficient load-bearing capacity.
GREEN ROOFING AND CONSTRUCTION
A green roof is a green space that is created by adding various layers of plants and a growing medium to the top portion of a traditional roofing system.
Note that it is not like a traditional roof garden, in which planting is done in free-standing containers as well as planters that are placed on an easy-to-access roof terrace.
Instead, green roofing systems possess some definite layers in a top-down manner:
Plants are specifically selected for intended applications.
It utilizes an engineered growing medium that does not contain soil.
It utilizes a filter-type cloth that holds the roots of plants and allows for the penetration of water.
It contains a specialized layer for drainage that incorporates built-in reservoirs for water.
It includes one roof membrane or a so-called waterproofing mechanism with some integral root repellents.
The traditional insulation is formed by the normal roof structure.
Generally, there are two types of green roof systems: intensive and extensive. They are differentiated on the basis of plant selection, growing medium type, and overall cost.
For both of these, we need to follow specific green roof construction and maintenance procedures.
A general characterization of the two types of green roofing systems follows.
Extensive Green Roofs:
Have low weight
Comparatively low capital cost
Reduced plant diversity
Fewer maintenance requirements
Deeper soil as well as greater weight
Increased capital cost
More plant diversity
More maintenance requirements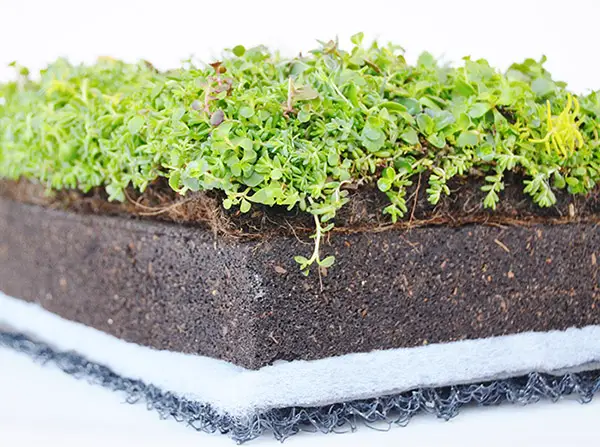 HOW TO CONSTRUCT A GREEN ROOF
Here are some easy-to-follow guidelines for the construction or installation of a green roof:
First, you need to install a waterproof membrane that possesses monolithic properties; it could be made of plastic or rubber, and it fits on top of the traditional roof decking.
Next you have to place one sheet of plastic with a maximum width of 6 millimeters over the already-installed waterproof membrane.
Now it is time to install one or more sheets of foam insulation with a 3/4-inch width over the plastic sheet; this layer provides proper contact with the damp soil.
If the space directly below the green roof doesn't have proper conditioning, simply provide some protection to the waterproof membrane. This protection can be made up of fan-board-type insulation or it can be a layer of building felt.
After this protective layer, you have to add one drainage mat with capillary spaces at the top portion of the insulation. To prevent soil from clogging over the mat, place the mat in such a manner that the felt side faces upward.
Now pay attention to framing of the sides of the roof. This can be done with the help of wood, mesh gutter-type guards, or some other type of edging material that can hold soil with more strength to keep it in the right place.
Sometimes it may require intermediate angle-type support to improve sturdiness over vertical edging.
The horizontal leg in this support system can be slipped under a drainage mat that is weighted with a specific amount of topping soil so that overturning can be avoided.
Once the structure is ready, add soil to the sections.
After this, set your plants in specific locations.
Finally, you need to water the area to allow for the proper settling of plants.
The above information can serve as a guide for DIY green roof construction; these roofs are environmentally friendly and can keep your house cool all the time. This is one of the best ways to enhance energy conservation in urban areas.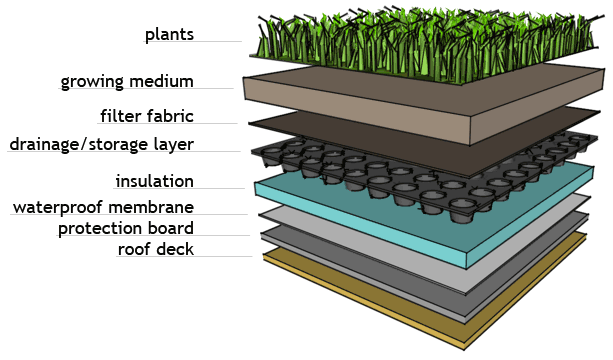 GREEN ROOF DESIGN AND CONSTRUCTION
Here are a few details about some of the most useful green roof designs:
Roofs without any thermal insulation:
This is the best choice to cover non-heated areas of your property, like porch roofs and garage roofs.
Roofs with thermal insulation:
Green roofs are installed after proper examination of the load-bearing ability of a traditional roof; thermal insulation roof installation can be done on:
They are also known as warm roofs; for them, we need a very-high-quality vapor barrier that is implemented right from the planning and design stage.
These roofs possess low weight-holding capacity, so we need to design a lightweight green roof construction; the cooling effect of these cold roofs is maintained with the help of specific layer construction.
Here the thermal insulation is installed directly above the waterproofing layer; it contributes to the area with variable levels of moisture.
These roofs consist of additional thermal layers that work like an advanced drainage mechanism.
Green roofs have been gaining in popularity over the last few years and can be easily seen in most cities and villages.
In some highly civilized cities or towns, you will find green flat roof construction over buildings that provide easy access to the complete portion and that offer easy maintenance.
On flat roof construction, you can add more vegetation, as it is easy to access. However, for this type of roof you have to make proper arrangements for rain water drainage; otherwise, it may cause damage to your plants or vegetables.
While constructing a green roof, you must take care when installing each layer and pay attention to the overall load carrying capacity of the building; otherwise, it may lead to a huge loss at a later time.
Some major factors that demand your attention during green roof installation are:
Vapor control layer that is placed directly above the roof structure.
Rigid insulation of slab so that it can handle additional loads.
Waterproof root barrier that must be created using specific materials such as polyethylene, slate-surfaced type layers, bitumen, rubber mats, etc.
Drainage layer must be capable of controlling rain water runoff.
Filter layer must add proper prevention in terms of soil placement and drainage.
Growing medium must be used as per the type of roof.
Vegetation selection must be done as per the weight handling capacity of the roof.
For proper installation and a long life for your green roof, one must properly plan prior to installation. It is a good idea to consult green roof construction drawings so that proper alignment can be done at each place.
Major consideration should go toward making decisions about the effective load of the green roof, the type of soil that can be used, and the vegetation that can easily grow over the roof.
If the creation of construction drawings with a planned structure is executed properly during the first stage, the chances of perfect implementation are automatically increased.
Some advantages of Green Roof Systems are:
Help improve the aesthetics in urban building constructions.
Make a healthy contribution towards landfill diversion.
One can execute efficient storm water management with green roofs.
Help with moderation of urban heat-island-type effects.
Improve quality of air to a great extent.
Create space for new amenities.
Help create local jobs.
Improve energy efficiency by a great amount; thus, are more suitable for urban areas.
Help reduce external noise.
Provide superior biodiversity facilities.
With green roofing, one can observe a great improvement in health and well-being.
Boost urban agriculture.
To achieve healthy construction designs, it is important to make a proper selection of green roof construction materials; these materials will determine the efficiency of the roof and keep your house free from trouble.
Green roofs are the best option for energy savings in urban areas and are gaining in popularity due to their easy construction and significant benefits.
Hi, I'm Jim. I was a roofing constructor for 20 years, before deciding to start myrooff.com and gather the best content about roofing. I love woodworking and construction and it was only natural for me to start this passion project of mine. Thank you for visitng.