Roof types and shapes. A roof serves several purposes other than protecting a house and its occupants from the elements. However, different roof shapes have different pitches, supporting structures, numbers of panels, and even materials, among other features.
As such, the right roof shape and style for your home will depend on the look and feel you want, your budget, needs, and preferences, and local weather conditions.
Gable Roof
Aside from being one of the most commonly used roofing styles in the United States, gable roofs, also called pitched or peaked roofs, are easily recognized by their triangular shape.
Thanks to an inherently simple design, gable roofs are easier and cheaper to install than many of their counterparts.
Gable roofs shed water and snow easily, allow much more ventilation, and can provide additional space in the form of attics or vaulted ceilings.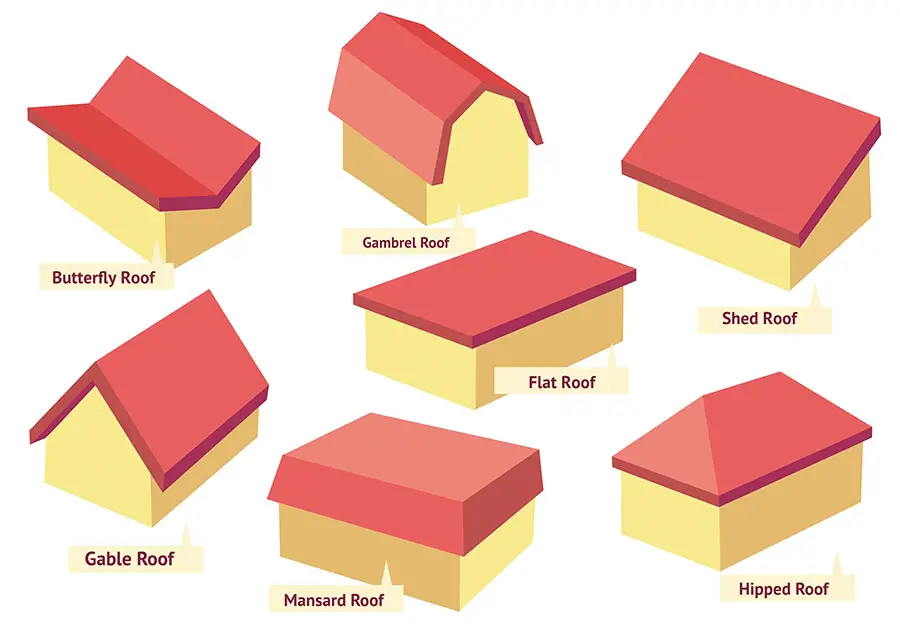 However, gable roofs can be problematic when used in high wind areas, particularly if the frames feature inadequate structural support or when there's too much of an overhang.
If you live in an area that experiences high winds, you'll want to use proper braces and have your gable roof inspected after a storm.
Clay or concrete tiles, asphalt shingles, metal, and cedar shakes are some of the roofing materials you can use for a gabled roof. Though a 40° angle or 10/12 pitch is recommended for snowy areas, using metal shingles or standing seam could help prevent leaks if the roof features hips and valleys.
Types
• Side gable roofs have a basic pitch with two similar panels sloped at an angle. These panels meet in the middle of a house, creating at a ridge. Those with an open triangle section are open gable roofs while boxed gable roofs are the opposite.
• Crossed gable roofs feature two sections placed together at a right angle with the two ridges perpendicular to one other. However, the lengths, pitches or heights can vary. Cross gable roofs can be used to accent various sections of the home like the garage and porch.
• Front gable roofs place the peaked triangle at the entrance, adding aesthetic appeal to the house. This design is common in colonial style houses.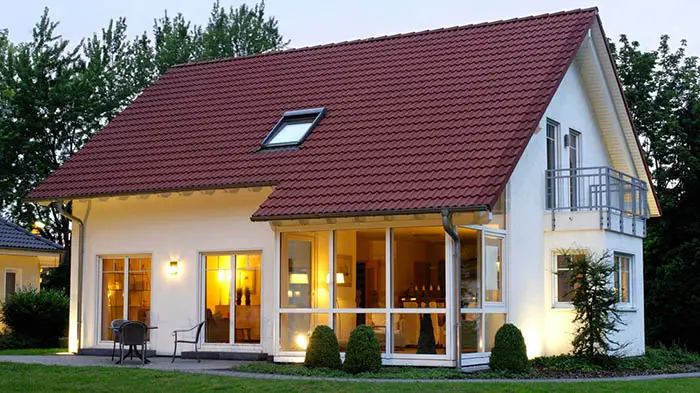 Hip Roof
Hip roofs have four sides with slopes of equal length that come together at the top, forming a ridge. Thanks to the inward slope of these four sides, hip roofs are sturdier, more stable, and can last longer than gable roofs.
In fact, hip roofs are an excellent choice for both snowy and high wind regions. The slant allows hip roofs to shed snow and water easily. You can also add a dormer or crow's nest for extra living space.
Although a pitch of 18.5°-26.5° or 4/12-6/12 is recommended for high wind areas, you can use almost any roofing material for a hip roof. Options include shingles, metal, and tiles.
Hip roof designs are more complex and require more building materials than gable roofs, making them more expensive to build.
Along with improper installation, the addition of a dormer could lead to the formation of water leaks in the valleys and several other issues, hence the importance of proper construction and maintenance.
Types
• Simple hip roofs have a triangle on two sides and a polygon on the other two. These four sides meet at the top, forming a ridge.
• The less common cross hipped roof is almost similar to a cross gable roof. Houses with different wings use separate hip roofs that meet at the valley. Proper waterproofing is a must because the valleys make it easier for water to pool.
• A half hipped roof, on the other hand, is a standard hip roof with two sides that have been shortened to create eaves.
Mansard Roof
Often referred to as the French roof, the mansard style features four sides, each with two slopes. The lower slopes are significantly steeper than the upper ones, which come together to form a low-pitched rooftop.
Aside from lending itself to open or closed dormers, this roofing style supports the integration of flat and curved sides, both capable of impacting the home's aesthetic value.
Additionally, mansard roofs can help create a significant amount of extra space, popularly used as habitable attics (garrets). Thanks to the flexibility they offer, mansard roofs make future additions possible.
You can save money when building a new home by starting with a mansard design and adding dormers or a garret at a later date. On top of adding value to the property, this roof shape allows you to make quick and easy additions as your needs shift.
Mansard roofs have low-pitched portions that are not suitable for areas that receive heavy snowfall. Because of the embellishments and details featured, mansard roofs usually cost more than the more traditional roof types and shapes. However, the added character and space can make up for any extra cost incurred.
Since this type of roof is uniquely designed, the use of a unique material is bound to make a mansard roof much more special. Metals like zinc and copper are great choices for the roof's steep portion.
While zinc and copper can cost more up front, they are excellent long-term options because they will require minimal maintenance.
When installed in a diamond pattern, wood or slate shingles can make mansard roofs stand out. Overlapping composition shingles aren't, however, a good option. But you can use regular-patterned asphalt shingles on the roof's steeper portion.
Regardless of the material used, the roof's low-slope part needs to be properly flashed and waterproofed.
Roof types and shapes: Mansard roofs come in a variety of shapes, the most common being straight-angle, convex and concave silhouettes.
Flat Roof
Flat roof shapes, as the name suggests, look completely flat to the naked eye. They do, however, have a slight pitch, one that enables water run-off and drainage. Although flat roofs are mostly used for commercial buildings, they are also great for residential houses.
Other than the fact that they can work well in both low and high rainfall areas, flat roofs offer an unmatched amount of outdoor living space.
While flat rooftops can be used as a site for partially enclosed penthouse rooms, gardens, or patios, the design also allows the installation of heating and cooling units as well as PV solar panels.
Compared to pitched roof designs, flat roofs require fewer building materials and are easier to construct, both of which help lower costs.
Though this type costs less to install, they can be more expensive than pitched roofs in the long run because of ongoing maintenance, repair, and replacement costs.
Also, the low pitch makes them more susceptible to leaks, which means flat roofs might not be an excellent choice for high rainfall or snowfall areas.
Materials that are continuous and do not involve any seams are the best option, especially since flat roofs must be waterproof. Tar and gravel, metal sheets, PVC, roll roofing, rubber membrane, and TPO are the most common materials.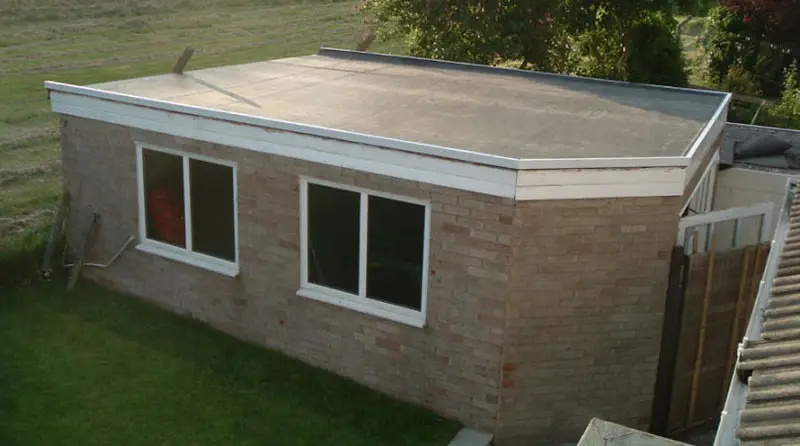 Skillion Roof
More commonly referred to as shed or lean-to roofs, skillion roofs feature just one slope. One end of the roof rests on a taller wall than the other. As a result, skillion roof designs may look like a more angled flat roof or half of a pitched roof.
Even though modern architectural styles have adapted this design to cover entire structures, skillion roofs are most commonly used for sheds, porches and home additions.
Aside from the fact that they are easy to assemble, skillions require fewer building materials than their counterparts. The steep pitch makes it easy for water and snow to run off. As such, skillions work well in high rain and snow regions.
While they are known to create architectural interest and add aesthetic value, skillions can be used for much more than design purposes. However, skillions can be problematic when used in high wind areas, and a high pitch can result in a very low ceiling.
Using standing seam gives a more streamlined look than the use of tiles or shingles while rubber skins and roofing membranes are not applicable due to the steep incline.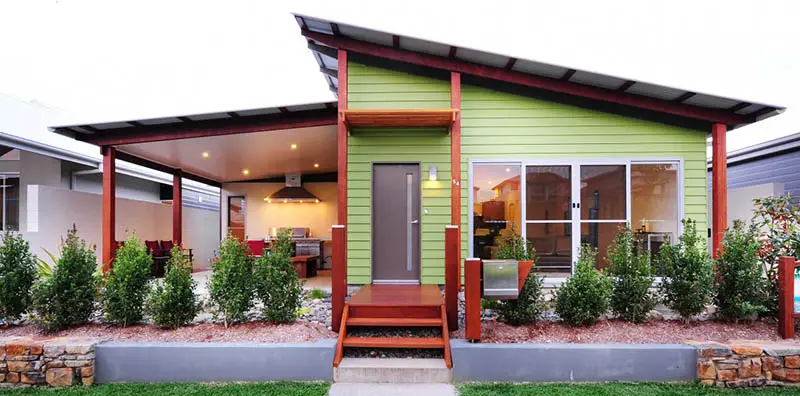 Gambrel Roof
Although it is almost the same as the mansard since both have two slopes, the gambrel or barn roof features two sides instead of four. Same as the mansard, the gambrel roof's lower section has a steep, almost vertical slope and a much lower upper slope.
Although the name is synonymous with Dutch Colonial and Georgian style houses, gambrels are often used on log cabins, farm houses, and barns. The gambrel is not only easy to frame out but offers extra living space as well.
This design involves fewer materials and is simple to construct, meaning significantly lower costs up front. The gambrel uses two roof beams and gusset joints.
In addition to being one of the greatest roof shapes for storage buildings and outdoor sheds, gambrel roofs have a shape that provides more room for storage without occupying more space than any of the other designs.
However, since this open style is susceptible to extreme pressure, it's not recommended for heavy snowfall and high wind areas. When installed in areas with extreme weather, reinforced trusses should be used to support the upper pitch.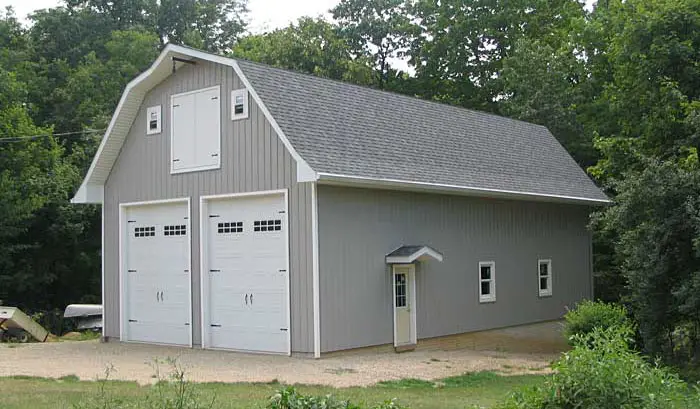 Although wooden, slate and asphalt shingles are some of the most widely used materials for gambrel roofs, the most suitable choice will often depend on the architectural style of a house. Even so, the use of metal has a significant impact on the amount of maintenance required.
Hi, I'm Jim. I was a roofing constructor for 20 years, before deciding to start myrooff.com and gather the best content about roofing. I love woodworking and construction and it was only natural for me to start this passion project of mine. Thank you for visitng.